2023 Wedding Trends To Make Your Magic Day More Memorable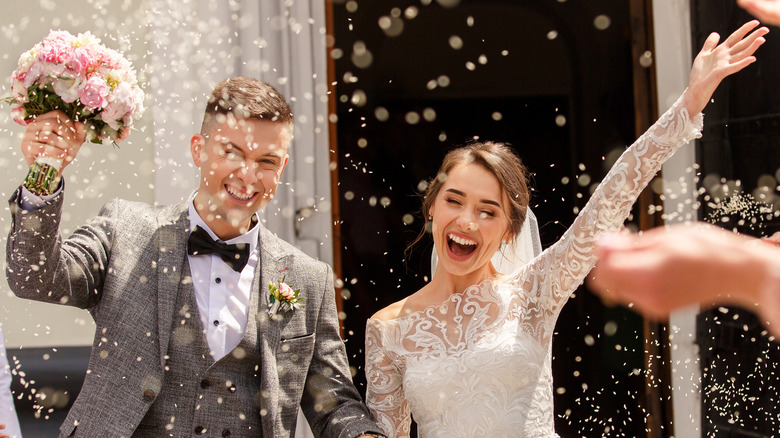 Wedding and lifestyle/Shutterstock
Every wedding's theme is love, but let's face it, getting the event details right makes the big day that little bit more magical. Following the restrictions of the pandemic, many couples postponed their wedding plans, leading to a 2022 wedding boom set to continue in 2023. With 2.24 million weddings predicted to occur in the United States and celebrations costing an average of $24,000 (via Wedding Report), we are dubbing 2023 the year of love. "Weddings are back and bigger than ever. I feel like this is the first real year back, and people are celebrating with larger parties since the world was put on hold in 2020-2021 and even into 2022," Danielle Rothweiler, owner and lead wedding and event planner at Rothweiler Event Design, told The List.
This year, following traditions, is out, and being original is on trend. "Couples are embracing 'their weird,'" says wedding photographer Kara Payton from KCM Studios. "Whether it's a favorite go-to midnight snack that they serve at the reception, an 'out there' themed food truck, a silent disco, a llama ring bearer, or a laser tag reception."
According to Jung Lee, wedding planner and founder of Fête and Slowdance, the excellent news for overwhelmed brides is that this year "grooms are more involved than ever in wedding planning and are even leading the process." Want to know more about the exciting ways couples say "I do?" in 2023? Here's your expert-based guide to the best wedding trends.
Bigger is better in 2023, with couples getting creative and breaking the rules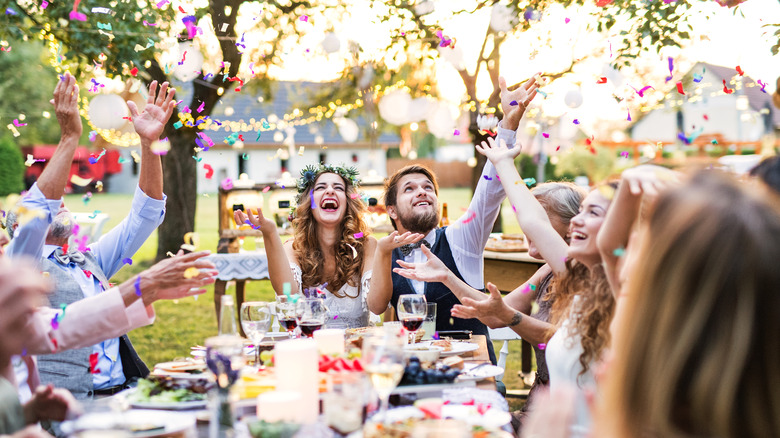 Halfpoint/Getty Images
Post-pandemic wedding vibes mean 2023 is the year of "extra," with couples upping the ante on their wedding celebrations. Modern brides and grooms are stamping their identity on their big day by customizing everything and even extending the celebrations.
According to New York-based event architect Jung Lee, weekend-long celebrations are a big trend in 2023. "Post-pandemic, people want to celebrate their love with multiple moments with their loved ones. So many couples plan weekends full of festivities rather than just one main event," Lee told us. Wedding photographer Kara Payton has seen her fair share of weddings and says couples are thinking outside the box this year. "Just about everything that makes a wedding, a wedding, is getting a facelift!" she told us. "We are saying 'I do' in greenhouses, libraries, museums, during festivals, art galleries, aquariums, ski resorts, train stations, and even in tree houses!"
This year couples are keeping their dancing shoes on after the wedding party because one party is simply not enough. "The trend is the rise in afterparties," New York-based event planner Louis Avanti of AMG Events told us. "Continuing the occasion with different music or entertainment. These can range from a cool club feel to a speakeasy vibe, depending on preference. This serves as a wind-down," he adds.
Couples are saying yes to engagement ring customization, and yellow gold has made a comeback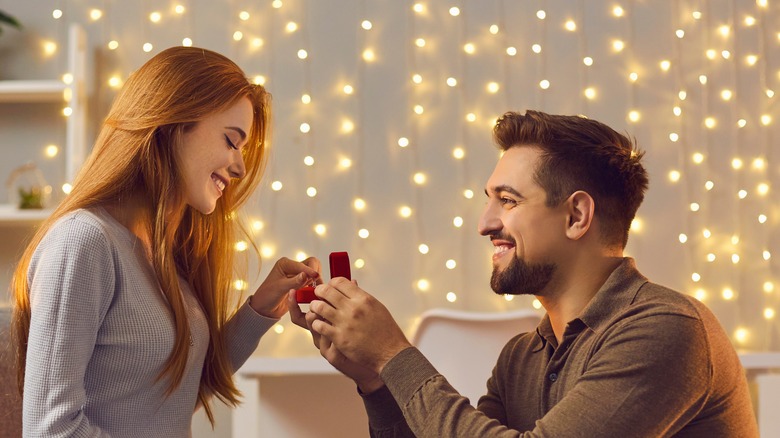 Studio Romantic/Shutterstock
As soon as a bride says "yes," everyone wants to see the ring. Whether in person or on social media, brides are flashing shiny stones, and it's no surprise that 2023 brides are opting for unique custom-made rings. "We are seeing a lot of brides come in wanting unique customized designs, and the modern woman wants to use her engagement ring to express her individuality," Abraham Tok, the operations manager at Tok Brothers, told The List. "There is also a shift toward yellow gold, whereas, in previous years, the preference has been white gold," he adds.
Diamonds continue to be a girl's best friend and are still the most popular choice for brides-to-be, and according to Tok, this year is the year elongated diamonds are in strong demand. "Oval, radiant, and emerald cuts are popular shapes for ladies who are choosing their rings right now, but when grooms are choosing, they seem to stick to simple, classic designs," he told us. In addition, Tok, a certified gemologist and diamond grader, says lab-grown diamonds have grown in popularity: "This year, more brides are loving the look and high-quality of lab-grown diamonds, which come at a more affordable price."
Statement floral arrangements are stealing the show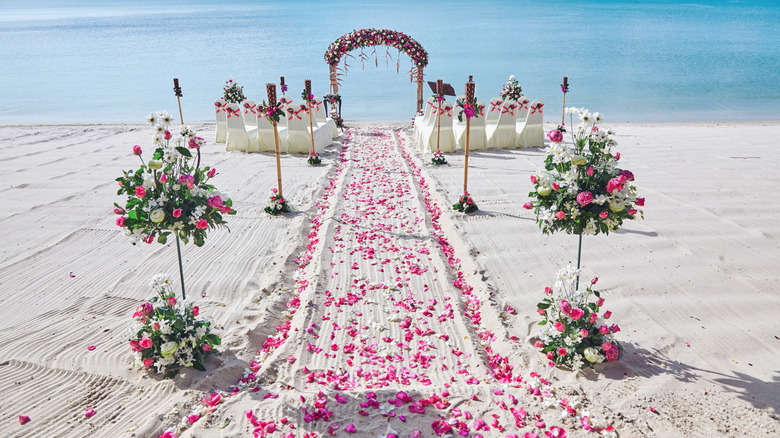 Eminor b5/Shutterstock
The floral industry is bouncing back after COVID-19 hit and caused a flower shortage in 2020. Now, brides and grooms are looking at ways to amp up their decor with statement floral arrangements that express their blooming love and their wedding's theme. ​​"Engaged couples are looking for extra customization in their floral wedding design. In 2023, we will see weddings with more architectural shapes of arrangements, large floral installations, and a variety of vases and vessels," Althea Wiles, owner and creative director of Rose of Sharon Floral Design Studio, told The List. According to Wiles, loved-up couples are repurposing potted plants and trees that they use to flank ceremony aisles and moving to the reception space. "After the wedding, the couple can plant a tree in their yard as they start their new home together," she explains.
Lily Garland Coleman, owner, and lead designer at Flowers by Lily Garland, has seen a surge in the popularity of baby's breath in 2023. "Baby's breath is back but in a much simpler manner," Garland Coleman told us. "No greenery, just white clouds or baby's breath with white roses."
The pandemic-style daytime wedding ceremony at an outdoor venue is here to stay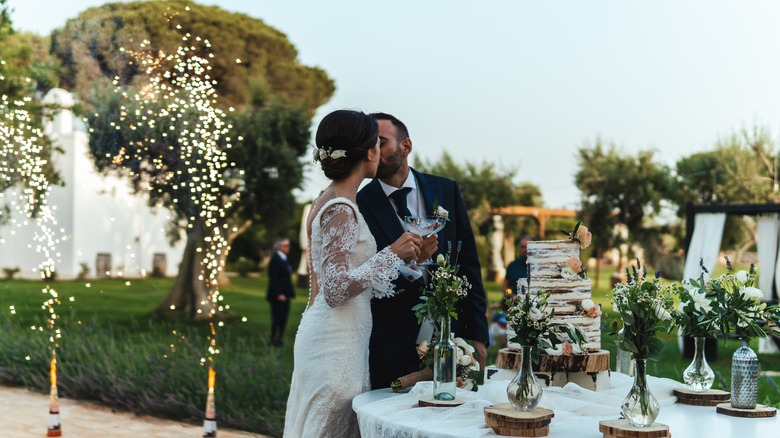 Fabrycs/Getty Images
This year, the wedding magic is all about originality and a touch of glamor. But some pandemic rituals have stuck with a preference for outdoor weddings."Nature is the creative driving force for new classics as we think about 2023 weddings," says New-York based wedding planner Jung Lee. "When you have a gorgeous background, it is an incredible foundational element for the design, atmosphere, and scene. This is a great way to focus on sustainability by embracing the natural beauty the venue has to offer," she adds.
After being unable to go out during the pandemic, couples are making up for all the lost time, and traditional one-day wedding celebrations are becoming a thing of the past, making way for more destination weddings. "Italy is the number one place apart from Mexico where the Caribbean. Italy offers scenery, photographic advantages, and incredible food, but it's also giving the family and guests a place to travel to," New York-based event planner Louis Avanti of AMG Events told The List. "This provides a wow factor; going to Europe is an exciting occasion for those who have already visited places like the Caribbean," Avanti adds.
Anything goes when it comes to wedding hair, but brides continue to favor looser styles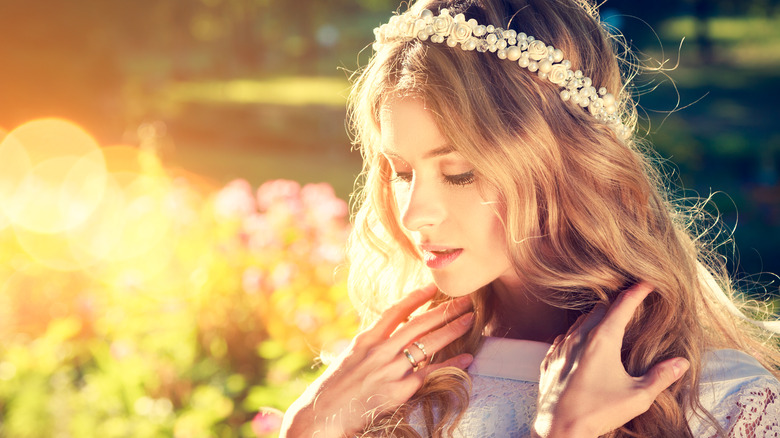 Brickrena/Getty Images
Brides are saying goodbye to stiff hairstyles and too much hairspray. Instead, expect 2023 brides to embrace looser-looking hairdos as they opt for more natural looks. "This year, we can't be bothered with high-maintenance hair, which is great news for brides juggling the many things on their to-do lists to prepare for their big day," says Kenna Ehman, master hairstylist and co-founder of Kenna Kunijo. "Subtle waves with a soft texture and loose 'undone updos' will be very popular among brides this year. This will also be popular for those embracing the low-maintenance rooty color trend," Ehman adds.
We are also set to see many brides walk down the aisle in Hollywood-inspired retro waves, giving off vintage film star vibes. "We're going to be seeing a lot of 1920s soft finger waves that are both timeless and of the moment," says Ehman. Loose undone-looking updos, hair-down styles, and soft waves are in demand. "Brides this year don't want to look too far off their everyday look. Soft waves are the perfect option for a bride leaning toward a more natural, authentic, and relaxed look on their wedding day, giving them a soft texture and natural movement that looks effortlessly beautiful," she adds.
Natural make-up styles are making a comeback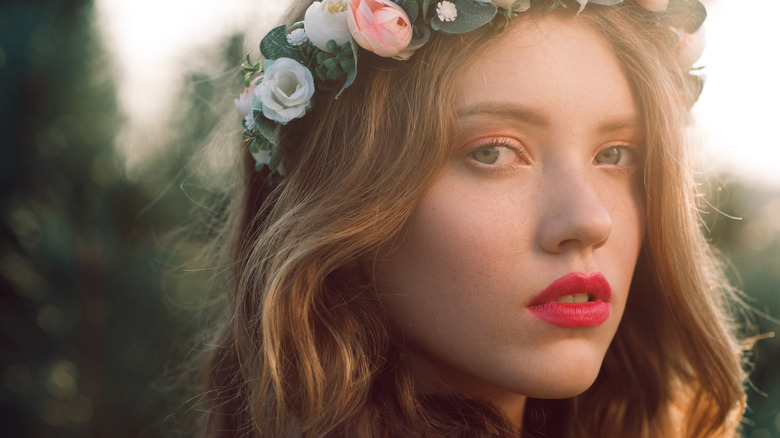 Golubovy/Getty Images
Wedding makeup trends are constantly changing. This year brides are favoring the natural minimalist makeup look, including returning to natural lashes (Hallelujah, for those who struggle with fake lashes). "Brides have been ditching dramatic strip lashes and have embraced a more fluttery, romantic look," says Ashley Nichole Gibson, owner and lead makeup artist at Paraposh.
The 2023 bridal look is all about enhancing a healthy natural glow. "There is an emphasis on natural, radiant, and dewy makeup," says Gibson. "Luminous primers, skin tints, and lightweight foundations have been trending for a good reason –they leave your face feeling like skin. These products create a soft filter focus and give the perfect glow-from-within look for a bride," she adds.
Blush is making a comeback, but over-the-top glitter eye makeup is out, with brides taking a less-is-more approach to the eyes. "Soft shimmers and glitter help shape the eyes and create definition without overpowering them or making them look overdone," says Gibson. There's also been a return to glossy lips, with brides opting for a high-shine gloss that also looks great in photographs.
Three-tier wedding cakes are becoming a must-have wedding prop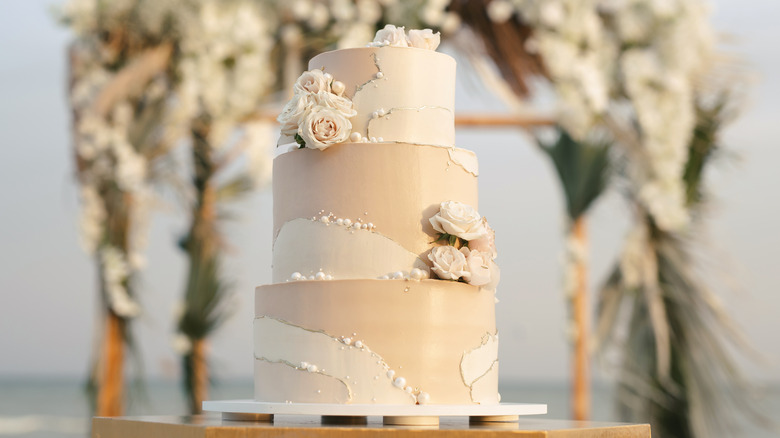 Artem Zakharov/Getty Images
What's a wedding without cake? Of course, nothing is more fun for dessert-loving couples than taste-testing cake flavors before settling on a favorite. But wedding cake shopping is also about the cake's aesthetic – the bigger, the better, and of course, it has to match the wedding theme, so it passes the social media test. "After the pandemic, every couple has different requirements, but the three-tier wedding cake reigns supreme with traditional clean lines and an abstract design that exudes elegance," says pastry chef Jasmine Mitchell from J. Carmels.
According to Mitchell, couples still go for more simple styles, including white cakes with subtle details. "Traditional buttercream and vanilla wedding cakes are staple flavors with a fruit compote inside, but the most requested flavor is raspberry lemon," she told us. 2023 brides and grooms are increasingly choosing cupcakes which Mitchell says is a good option "for couples who want their guests to enjoy individual treats."
Brides are opting for sleeker, less traditional gowns
From the moment a bride says "yes," there's only one thing on her mind...finding the right dress. So, throwing out tradition, 2023 brides are expressing their individuality by selecting a wedding gown that is as unique as they are, and modern brides are even purchasing more than one! "Since COVID hit the reset button on the world, Brides have emerged braver and bolder with their go-to wedding styles, bringing back the outfit change and 3-day wedding-do!" Manal Waugh, director and wedding dress designer at bridal label Bowie Rae told us.
Brides are embracing their options, with many avoiding the traditional white gown and opting for different colors dressed, with pink becoming a popular choice. "Many brides are ditching the all-white look and adding soft pink tones to their bridal do. The resurgence of pink in the fashion scene has found its way to the aisle," says Waugh, whose bridal range is all about self-expression. According to Waugh, brides are telling their stories with textures, with bolder pieces and sheer lace features becoming increasingly popular over traditional silk satin or mikado. "The final look really is all about the bride and her personal style," she adds.
White is still in, but vibrant color schemes are making a splash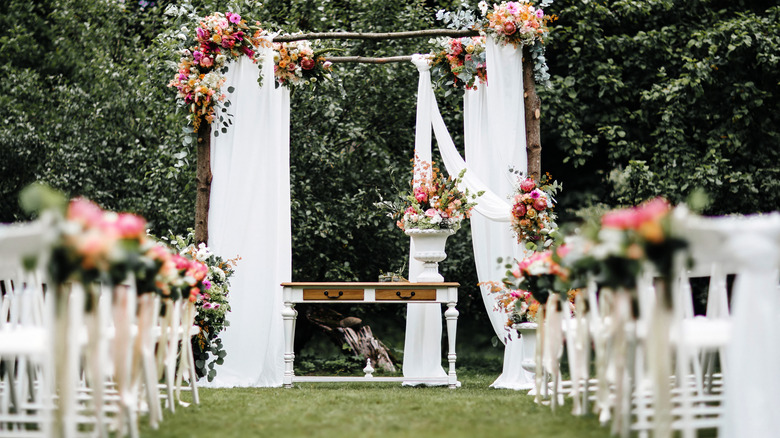 Saiva/Getty Images
This year's wedding trends are about self-expression and a touch of glamor. While white, neutral pallets have been in for a while, 2023 couples prefer big, bold colors to celebrate their love and set the scene for their celebrations. "We are seeing a few different trends in terms of wedding colors," Danielle Rothweiler, wedding event planner, told The List. "Many of our clients want the all-white look, complimented by gold and candlelight. Others are big fans of bringing the outdoors inside with pops of pink, orange, and yellow. Overall, weddings are trending towards lighter and brighter colors." she adds.
Couples are leaving the soft floral palettes behind when choosing flower arrangements, and this year is about creating a brighter vibe. "Color is in – bold, bright, and beautiful! A lot of my brides are looking for a wildflower look with rainbow colors as opposed to keeping a constant color pallet," says Lily Garland Coleman, owner and lead designer at Flowers by Lily Garland. Althea Wiles, owner, and creative director of Rose of Sharon Floral Design Studio, agrees and says since Pantone announced the color of the year as 'viva magenta,' the color will be in demand, "I think we will be seeing a lot more magenta soon!" she predicts.
2023 is the year of unique flavor and fancy drinks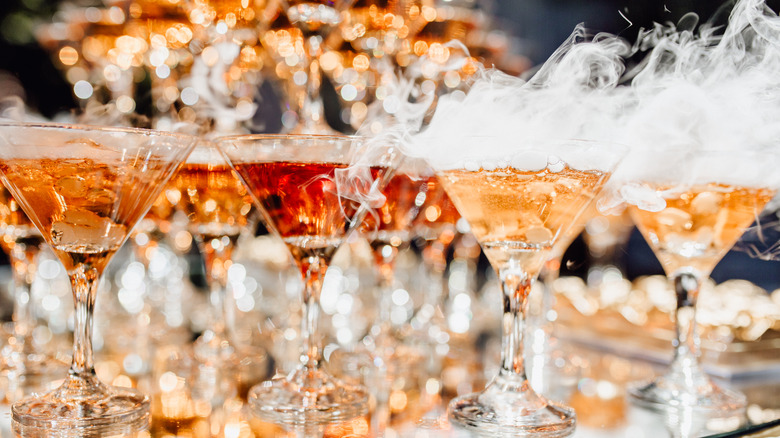 Oksana_bondar/Getty Images
With the rise of social media and foodie culture, it's no wonder couples are searching for menus that impress their guests and are presented in a snap-worthy fashion. "Wedding menus are getting very creative, from the type of food to how it is presented. Couples are searching for venues that work with creative caterers or are bringing the celebration to their homes by hiring a caterer to create their one-of-a-kind menu," wedding event planner Danielle Rothweiler told The List.
This year, we can expect to see a rise in cocktail-style receptions. "Cocktail stations are all so popular. People are spending more time dancing and socializing rather than sitting and waiting," says wedding planner Louis Avanti of AMG Events.
Amy LaBelle, founder and winemaker at LaBelle Winery, says 2023 is "undoubtedly all about wine-infused signature cocktails that convey the couple's story in some spectacular way." Labelle, author of "Wine Weddings," says couples are being thoughtful about the drinks they are serving guests with wine-based cocktails, often "incorporating heritage, a unique love story, or a hint about the honeymoon destination."
Candid wedding snaps are a big trend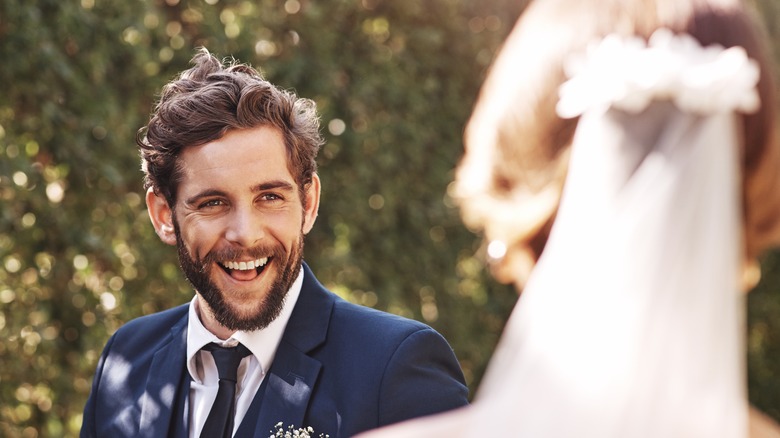 PeopleImages.com - Yuri A/Shutterstock
For many couples, the wedding day schedule is so jam-packed they often forget to pause and take in the splendor of it. Luckily, the magic of photographs allows them to capture all the little moments, and these snaps become timeless keepsakes for the generations that follow. As guests with social media accounts document the day, brides and grooms are increasingly asking for photographs to be shared with them but are still opting for professional photographers to shoot their big day.
Although there is a trend toward candid photos, couples still want to look their best in photographs that will be hung on their walls in the years to follow. "Wedding photography now is doing much more than ever before. We're looking through 'approach' and moving directly to authenticity. Which does tend to fall toward candid, raw & uncut over posed, styled, & staged,' wedding photographer Kara Payton told The List. According to Payton, there has been a shift away from overly photoshopped photos. "We're engaging more and editing less. What is 'true and real' is unseating the concept of a creation process. We're being led by intuition. We're letting the moment itself tell us what to do rather than manipulate a moment to our style," she added.
The honeymoon has been reinvented, with couples planning mindful getaways over beach escapes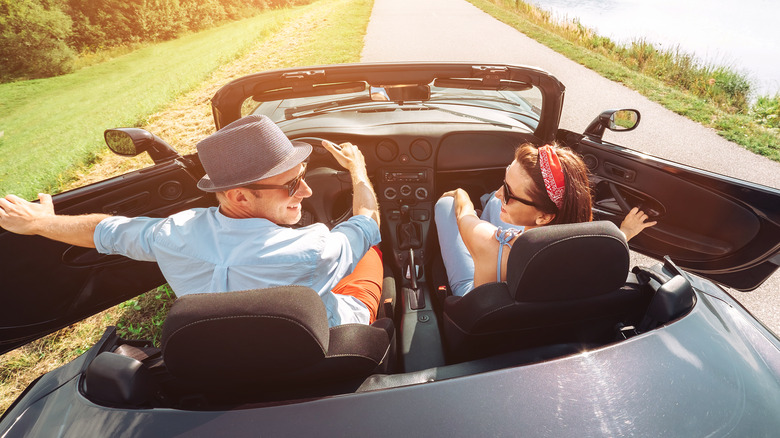 Soloviova Liudmyla/Shutterstock
After months of planning their big wedding celebrations and dealing with family opinions about the event – most couples can't wait to be alone on their honeymoon. The popular honeymoon beach escape is no longer the preference for newlyweds. "For 2023, I see a dramatic shift in the types of vacations couples want," TV travel and travel industry insider, Sandra McLemore, told The List. "It's no surprise; Millennials are the generation that prefers authentic experiences that will connect them to the people and places they are traveling to. They want to trade out a TexMex chain for a farm-to-table Hispanic cooking class or perhaps a buffet breakfast for a croissant-making class in a local Parisian bakery," she adds. 
Less-experienced travelers are honeymooning in big European cities like Paris, Rome, and London. However, for more seasoned travelers, McLemore says, "I see a lot of growing trends like river cruising in Europe, and African destinations, including but not limited to Ghana, Nigeria, Egypt, and South Africa."  Tired of planning, 2023 couples are choosing to have their honeymoon planned for them. "The most significant emerging travel trend to come out of the pandemic is that an enormous number of travelers who used to DIY their plans are now turning to professional travel advisors. It makes sense – most of us don't cut our hair or broker our mortgages. We get an expert to do that," McLemore told us.