How To Get 'Yoga Skin' (Without Actually Breaking A Sweat)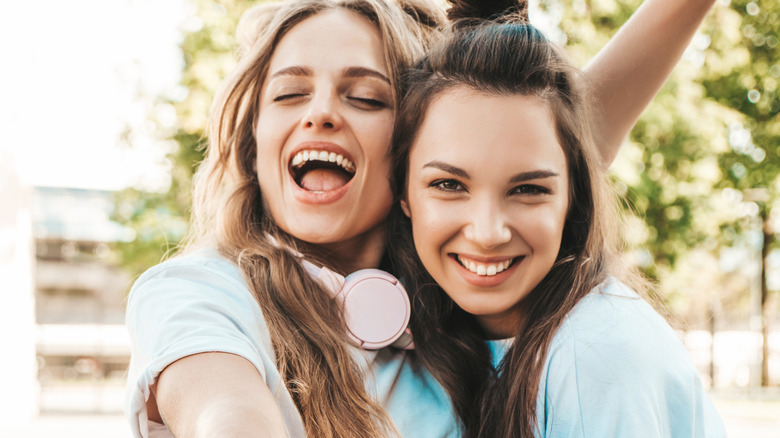 Halay Alex/Shutterstock
If you've ever left a really good yoga class both feeling and looking younger, you have experienced what's been coined "yoga skin." However, if you've only left a studio feeling like you need a shower, you may wonder exactly what that means. Celebrity makeup artist Sara Hill coined the term, defining it as skin that is "healthy, glowing, hydrated, radiant, sheer, and natural. Skin that looks like skin at its very best."
In short, those who want to wear makeup but still look natural may want to consider hopping on the "yoga skin" trend. But don't fret — you don't have to spend an hour doing yoga every day to achieve the effortless, dewy look. In fact, using the right makeup products and techniques can have you looking like you just stepped out of a rejuvenating class in just a few simple steps — minus the sweat and the actual exercise.
Achieving 'yoga skin' is easier than you think
Some makeup trends require a ton of products and a skilled hand to achieve. A full-coverage face often requires a brand-new brush, and the cat eye trend is nearly impossible without surgeon-like steadiness. But if you want a more natural makeup look, "yoga skin" is actually quite simple to attain. Sara Hill laid out the steps to perfect the fresh-faced look.
In her Instagram post, Hill says the first step is to clean your skin as you usually do, waiting until it is fully dry before moving on to the next task, which entails putting on primer. Then, you apply a sheer or medium-toned liquid foundation. You want to ensure you aren't using a full-coverage concealer, as this will negate the natural look you're going for. Once the foundation is on, add a drop of facial oil and liquid highlighter to your palm and then massage it into your face using your hands. You can add concealer to your under-eyes or blemishes and add cream blush for additional color. Set your face with a non-alcohol-based setting spray or a small amount of setting powder and — voila! — your "yoga skin" is complete.
The best products to achieve 'yoga skin'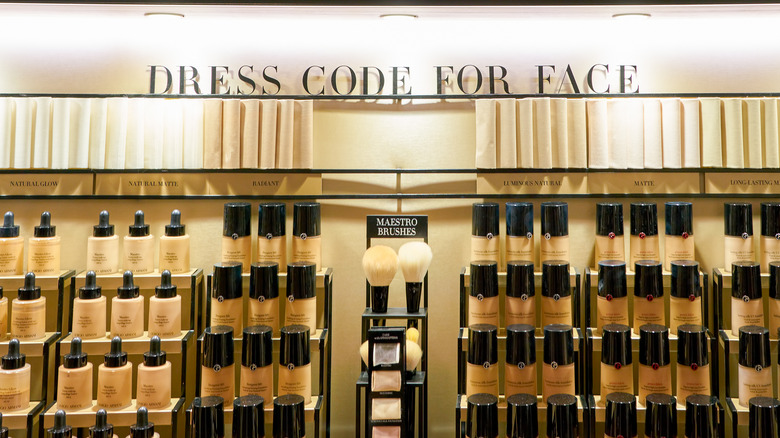 Sorbis/Shutterstock
You'll need a few different products to achieve the perfect "yoga skin." Of course, you can use what you already have on hand, but if you really want to capture the look, some products work better than others. 
When speaking with Glamour, Sara Hill advised against using any matte foundations, instead recommending something that has a "silky formula." The Armani Beauty Luminous Silk Foundation is a perfect option as it's lightweight, oil-free, and infused with glycerin, so it hydrates your skin while you wear it. Other great options include the Charlotte Tilbury Beautiful Skin Medium Coverage Liquid Foundation and the IT Cosmetics CC+ Nude Glow Lightweight Foundation. 
You will also want to invest in a good facial oil, which can be used in your dewy makeup look as well as your skincare routine. Hill suggests Kiehl's Daily Reviving Concentrate, which keeps skin looking fresh and radiant. A liquid highlighter is also a must, and the Credo Beauty Live Tinted Hueglow is a great choice if you also want a bit of warmth and color. Or opt for the ILIA Liquid Light Serum Highlighter, which works double duty by also protecting your skin from blue light.