Everything We Know About Nikki Haley's Husband, Michael Haley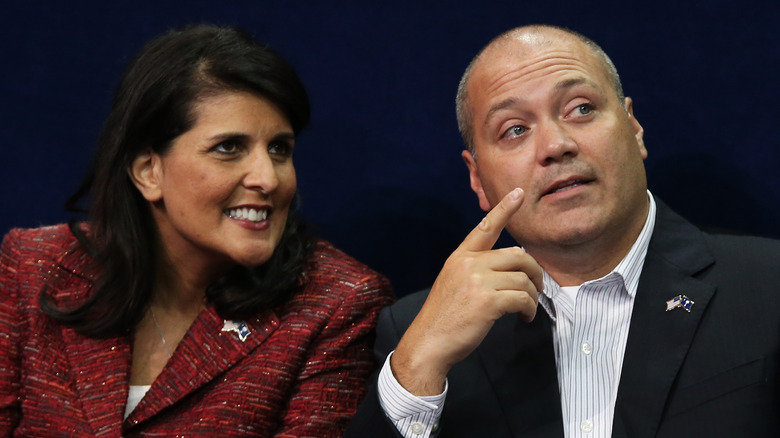 Win Mcnamee/Getty Images
Nikki Haley, the former Governor of South Carolina and staunch Republican, has announced that she will run for president in the upcoming 2024 elections. In Nikki's Valentine's Day announcement on Twitter, she said, "Republicans have lost the popular vote in seven out of the last eight presidential elections. That has to change."
Decades younger than President Joe Biden and former President Donald Trump, Nikki offers a unique perspective thanks to her age, political experience, and heritage. She is of Indian descent and although the former governor was born in South Carolina, her parents immigrated to the U.S. from India — something she pointed to in her announcement. 
"I was the proud daughter of Indian immigrants. Not Black, not white. I was different," Nikki explained. "But my mom would always say your job is not to focus on the differences but the similarities. And my parents reminded me and my siblings every day how blessed we were to live in America." She has an equally strong support system in the form of her husband, Michael Haley, too. 
Michael Haley was adopted as a child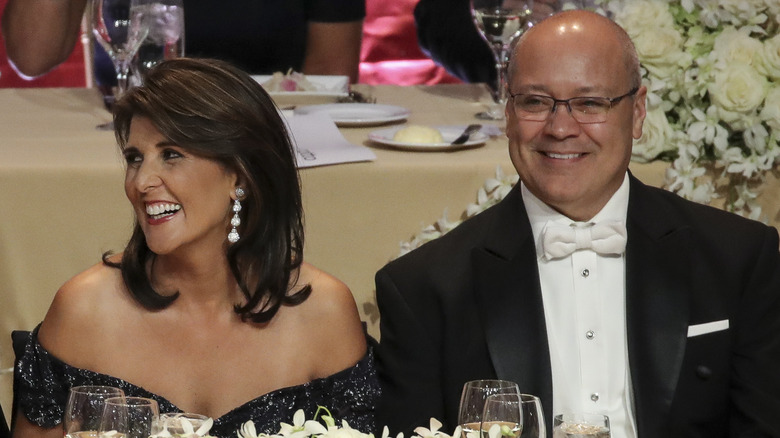 Drew Angerer/Getty Images
Although many people may not know much about Nikki Haley, a former United Nations Ambassador appointed by former President Donald Trump, perhaps even less is known about her husband, Michael Haley. Nikki chronicled his early years in her book, "Can't Is Not an Option: My American Story," sharing that Michael was born in Ohio and lived in a foster home before being adopted by Bill and Carole Haley when he was four years old. 
Nikki and Michael first crossed paths at Clemson University in South Carolina, according to The Herald (via Business Insider). In fact, the college sweethearts met during Nikki's first weekend at college, back in 1989. Michael went on to attend the University of North Carolina at Charlotte and graduated with a degree in Business Administration and Management. 
The couple was married on September 7, 1996, in Hilton Head, South Carolina. They celebrated with two ceremonies, one Sikh and the other Methodist, with Nikki explaining to The New York Times: "I was born and raised with the Sikh faith, my husband and I were married in the Methodist Church, our children have been baptized in the Methodist Church, and currently we attend both." 
Michael Haley is a National Guard captain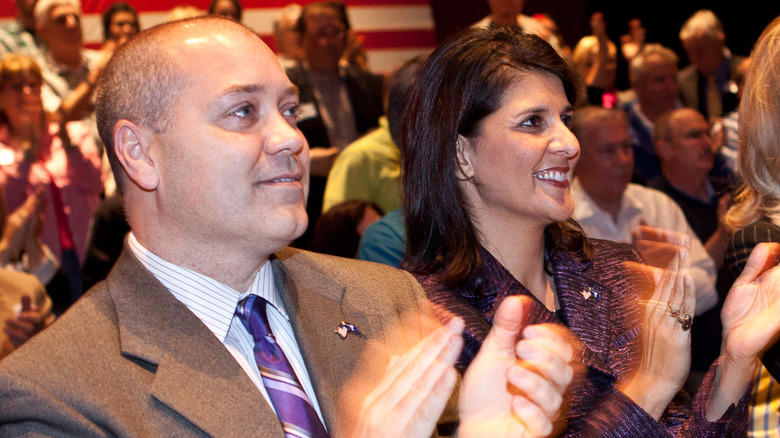 Richard Ellis/Getty Images
When Nikki became the first female, and Asian-American, Governor of South Carolina in 2011, Michael was already a captain in the Army National Guard after joining four years prior. With his wife's gubernatorial win, he became the very first First Gentleman of the state. If Nikki manages to become president, Michael may even become the First Gentleman in the White House.
In 2013, Michael took part in his first overseas mission when he was shipped out to the war in Afghanistan and served an 11-month tour of duty there. His unit reportedly provided aid to Afghan farmers so they could grow crops to feed their community. While he was deployed, the couple stayed in touch predominantly through email, per the Associated Press (via The Christian Science Monitor).  
Michael's home life is just as busy. He and Nikki share two grown-up children, a daughter, Rena, and a son, Nalin. Rena is a pediatric nurse as well as a fellow graduate of Clemson University, in South Carolina. She also recently became engaged. Nalin, meanwhile, attends Villanova University in Pennsylvania.