Awkward Princess Beatrice Moments That Were Caught By Millions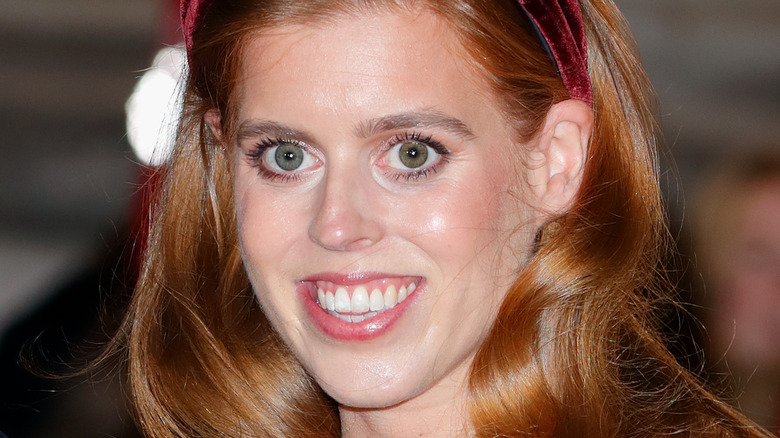 Max Mumby/indigo/Getty Images
Princess Beatrice, the first daughter of Prince Andrew and Sarah Ferguson, is 9th in line to the British throne. Like her mother, Princess Beatrice is instantly recognizable with her long red hair and prominent hazel eyes. Though she's not a working member of the royal family, she's kept busy with a full-time job, charity work, and other passion projects.
She and her husband, Edoardo Mapelli, have kept their infant daughter Sienna distant from press attention as much as possible. So far, the couple has only revealed her tiny footprints, which were stamped into a special memento card after her birth (via Instagram). In general, Princess Beatrice and her family prefer privacy.
Though she's done her best to live a normal life like the rest of us, her royal status often throws her into the limelight. In 2022, she made headlines when her card was declined several times at the Glastonbury music festival but this is not the only time she's been caught in an embarrassing situation. Though she's an excellent public speaker, Princess Beatrice has had some trouble with other optics and royal protocol. From her experimental hats and wardrobe malfunctions to her uncomfortably intense red-carpet poses and untimely exits, Princess Beatrice has definitely experienced her fair share of very public, awkward moments.
She left Queen Elizabeth's funeral early
Both Princess Beatrice and her sister, Princess Eugenie, were known to have been very close with Queen Elizabeth II. In fact, Princess Beatrice even wore several of her grandmother's favorite accessories to her own wedding, including the queen's famous Fringe Tiara. "I have two role models, my mother and my grandmother," the princess said (via Hello!). "They are both formidable women." 
Despite this endearing rapport, Princess Beatrice was one of the first people to leave Queen Elizabeth's funeral. In an awkward video clip (via YouTube), viewers can see Princess Beatrice leading her sister out of Westminster Abbey partway through the service. Their sudden departure caused a bit of a stir among attendees, who seemed just as surprised as we were to watch them leave. 
Though there were different speculations from fans ranging from the sisters' desire to curtsy at the queen's coffin as it left the church to Meghan Markle having something to do with the early departure, neither of the princesses has shared why they chose to exit so suddenly. Though we may never know their reasons for leaving, it remains one of the most awkward moments that millions of people witnessed.
There was seating confusion at the 2022 World Dyslexia Assembly
Princess Beatrice is best known for her charity work, especially her partnerships with dyslexia-focused organizations. The princess herself was diagnosed with the learning disorder at an early age and has since become a champion for people with dyslexia. "Honestly, what inspired me to talk about dyslexia the way that I have, is because I really want to change the narrative around the diagnosis," she told Hello! "Even referring to it as a diagnosis I feel does a disservice to the brilliance of some of the most fantastic minds that we have. And I think just shifting the narrative a little bit towards something that is positive, that is impactful, I think can really help everyone."
While attending the 2022 World Dyslexia Assembly in Sweden, she posed with panel leaders for a few quick photos. When the group filed into the other room to take their seats, she apparently didn't know where she was supposed to sit. As seen in the video, someone stepped out of the crowd to help her find her seat. She was forced to wade back through the line of panelists to get to the proper spot. Oops! It was definitely not her smoothest entrance.
One of the queen's fans didn't know who she was
One of the most hilariously awkward moments that Princess Beatrice was involved in happened during the queen's Platinum Jubilee celebration in June 2022. A lucky group of local volunteers and charity workers were invited to a special lunch at Paddington Recreation Ground in London to celebrate the 96-year-old matriarch. Princess Beatrice and Princess Eugenie both made appearances at the festivities. When Princess Beatrice approached one table, a woman asked her, "Who are you?" Usually, royal fans are up on the latest palace news and can name every princess by heart, so it was a bit surprising to encounter a local who didn't immediately recognize her.
Princess Beatrice patiently introduced herself by saying, "My name's Beatrice and the queen is my granny." From there, things only got more awkward for her. "You're one of the royalties?" the woman asked. "What relation are you?" The princess had to repeat herself multiple times before the woman understood who she was. After seeing this interaction, we're starting to wonder how many other attendees had no idea who she was. Sorry, Princess Beatrice!
She didn't know what to do with herself at her sister's wedding
From the moment her chauffeur pulled up to St. George's Chapel for Princess Eugenie's wedding, Princess Beatrice had her work cut out for her. Her mom, Sarah Ferguson, was first out of the car (via YouTube). By the time Princess Beatrice began to ascend the stairs, her mother had already almost lost her hat — twice! She jogged to catch up with her daughter, who kept her from getting too distracted with handshakes and conversations along the aisle.
During the ceremony, Princess Beatrice couldn't sit still (via YouTube). She adjusted papers, wrung her hands, and rocked between each leg. Our best guess is she was nervous about the speech she would later deliver — which she completely nailed. Watching her fidget in the pews, one wonders how many other viewers were distracted by the almost constant movement.
After the wedding ceremony, Princess Beatrice and the rest of the wedding party escorted the newlyweds out to their carriage. On the steps of the chapel, everyone seemed to know their place to stand ... except Princess Beatrice. She moved away from the group, off to her right, to get a better view of her sister. To be fair, she looked like she wanted to help Princess Eugenie with the long wedding train, but she clearly broke the formation. After that, she drifted around on the landing, seeming unsure where to settle. All in all, this moment definitely made us wince.
She had her own Marilyn Monroe moment
Wardrobe malfunctions are inevitable, even among the royals. Kate Middleton in particular became well known for her frequent Marilyn Monroe moments when the wind accidentally blew her skirt up. Fun fact: Queen Elizabeth apparently prevented this issue with her own clothing by adding small weights to all of her skirts (via the Daily Mail).
Unfortunately, not all of the royal ladies have followed in the late monarch's footsteps when it comes to fashion hacks. Princess Beatrice suffered the same wardrobe malfunction herself in 2012 when she gave a reporter a tour of the Windsor family playhouse. "Granny and her sister played here growing up, and we've been lucky enough to play here," she said. "It's the most glamorous Wendy house ever!"
While discussing the tiny cottage's history and renovations, the wind rippled the princess' skirt up off her thighs, giving the camera a glimpse of her dark underwear. Yikes! Her skirt ballooned ominously again several moments later, as though it was going to flip up on all sides, but thankfully never did. For her part, Princess Beatrice seemed so focused on the discussion she didn't even notice. Next time, we hope the videographer sets the camera a little higher up, just in case.
She wore a hat that no one will ever forget
Of all the fascinators worn by British royals, Princess Beatrice's huge bow headpiece takes the cake as the most over-the-top accessory. The redhead and her sister both made headlines after wearing bold fascinators to Prince William's wedding to Kate Middleton in 2011.
While women of the royal court usually opt for a few well-placed flowers or feathers, this princess chose something more daring. The hat, which is almost bigger than her face, sat at eyebrow level, making it look as though she had no eyebrows — or one big, long one (via YouTube). Apparently, viewers and editorial writers alike banded together to share their distaste for the interesting choice of hat. Some were reminded of cake decorations or pretzels, while others considered it generally tacky. "Later she sets the hoop on her hat on fire and has little tigers jump through it for the amusement of the guests at the reception," one Facebook user joked (via the Los Angeles Times). 
This may have been a cringe fashion moment for the princess, but she transformed all the negative attention into a force for good by auctioning off the hat for charity a month after the wedding — which sold for a whopping $131,000! "When everyone else was saying you look ridiculous, you have to have a sense of humour," she later said during an anti-bullying event (via Vogue). "I was able to raise awareness about some incredible issues by using humour."
One of her carriage horses went rogue
When one thinks of horse races, the biggest news that comes to mind is usually wardrobe or gossip related. The 2022 Royal Ascot proved to be a bit different than previous years in the most "Princess Diaries" of ways (think the wooden leg scene). Things got dicey when one of the princess' horses freaked out, turning an elegant entrance into an almost-injurious disaster.
When her carriage first pulled into the circle, everything seemed fine. By the time the camera had panned back to Princess Beatrice's carriage several moments later, everyone was in an uproar. The lead horse almost trampled one of the handlers and spooked the other three horses into jumping the curb. The horse pulled the carriage halfway up onto the center lawn in an attempt to scrape the rider off on some railing. It remained unclear what startled the horse, but thankfully Princess Beatrice and her party were able to escape without a scratch. All in all, we're sure this wasn't exactly the kind of entrance she had in mind; we'll probably see her in a car next season.
She had a famous toddler fight with Prince Harry
Princess Beatrice has been in the spotlight since her birth, known best as the duchess of York's eldest daughter. Though much of the archival footage of the young princess isn't available on YouTube, we were able to dig up this nugget of adorable drama! In the above clip, you can see Sarah Ferguson holding a young, blonde-haired Princess Beatrice in her arms. Next to her, the late Princess Diana supervised school-age Prince Harry. Both kids were fidgeting like wildly, clearly fed up with the royal event they were attending.
When Harry turned around to look at Princess Beatrice, she took a swipe at his shoulder. In return, he elbowed her a few times. Princess Diana intercepted before it turned into an all-out fight by lifting Harry up by the armpits. Princess Beatrice got one last swipe in before he moved out of reach. She eventually turned to her mom's hat for entertainment. Do you think either of them remembers this encounter?
Her 2018 Met Gala debut is uncomfortable to watch
It can be difficult to pose perfectly for photos, especially when the paparazzi are taking shots from every imaginable position. You have to get the lighting, angle, and leg positions just right. There are millions of pose idea tutorials on TikTok to help influencers and celebrities alike avoid taking awkward photos, and it appears Princess Beatrice hasn't been taking notes.
At the 2018 Met Gala, the princess wore a stunning purple gown with several sparkling accessories but clearly didn't know what to do with herself once the cameras started flashing. She stood completely straight, hands at her sides, and searched anxiously for a place to settle her gaze. With a "deer in the headlights" expression and an awkward half-smile, she appeared overwhelmed and nervous. Photographers even tried to offer her some posing tips, but she stayed rooted to the spot for the most part. In classic Princess Beatrice style, she then moved like she was going to walk up the stairs, only to jolt to a stop again after only a few steps. May your picture day never be as uncomfortable as this one!
Something caught her eye at Prince Harry and Meghan Markle's wedding
Prince Harry and Meghan Markle's 2018 wedding was a huge, highly publicized event around the world, drawing thousands of guests and a record number of viewers — over 29 million people tuned in for the big day. Though most eyes were on the royal couple that day, camera operators onsite gave audiences a more candid look at high-profile wedding guests, including most members of the royal family. All of the designer outfit choices, off-script comments, and out-of-pocket reactions caught on camera are now enshrined in the history of the day, for better or worse.
During Bishop Michael Curry's famously spirited sermon, the camera roamed around the hall to get reaction shots from family members. The queen, as usual, was hard to read. The mother of the bride, like much of the audience, looked earnestly moved. But when the camera landed on Princess Eugenie and Princess Beatrice, Eugenie looked down at her lap as she listened but Beatrice leaned forward and gazed down the aisle with a smirk (via YouTube). She had an almost mischievous look on her face, which made us wonder what she was so amused about and, better yet, who she was directing the look at. Was she trying to catch Meghan Markle's eye? Or was she trying to get a glimpse of other royal reactions to the bishop's emotional speech? Either way, the camera operator's timing couldn't have been better.