The Young And The Restless' Peter Bergman Explains Jack's Curious New Attraction To Diane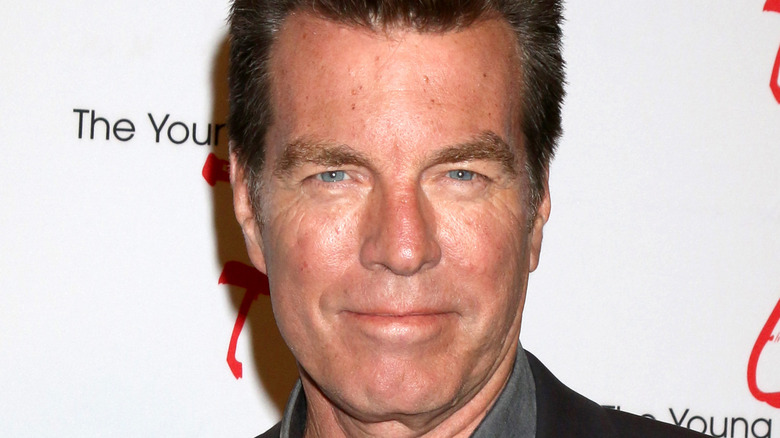 Kathy Hutchins/Shutterstock
Diane Jenkins (Susan Walters) caused quite a stir in Genoa City when she seemingly came back from the dead in 2022 on "The Young and the Restless." Diane previously had an on-again-off-again relationship with Jack Abbott (Peter Bergman) and even had his child. Because her misdeeds caused her to burn so many bridges, she faked her death in 2011. Through bribery and payoffs, a different dead body was used to make everyone think it was Diane.
During her decade away, she hooked up with a shady character named Jeremy Stark (James Hyde), who pretended to love her, but was secretly using her to launder money. Diane managed to get away as the authorities closed in on him. She retreated back to Genoa City, shocking everyone who knew her. Jack's old feelings for Dian resurfaced, and he was pretty much one of the few people in town that didn't hate her. When Jeremy was released from prison, he made a beeline to Genoa City to get revenge on Diane, whom he believed had caused his arrest. Jack and Diane concocted a scheme to pretend that she still wanted to work with Jeremy. They stole a valuable necklace and set things up so that Jeremy would get caught with it and go back to jail. 
This scheme bonded Jack and Diane, and while the fans aren't exactly thrilled with the pairing, the two have rekindled their old romantic feelings.
Peter Bergman feels Diane can be redeemed
Soap Opera Digest spoke with Peter Bergman about Jack and Diane's relationship on "The Young and the Restless." Bergman stated that because they were together ages ago, both characters come from the same world and could relate to each other. "Her dad was a very successful businessman. Her dad was part of the club. Her dad was somebody Jack knew," he said, adding, "Here he is with Diane Jenkins again? It's a pretty wild thing."
Bergman also felt that Jack regrets that he and Diane couldn't previously make a family for their son, Kyle Abbott (Michael Mealor). Feeling the situation could be rectified, Bergman said, "And in Diane, there is some opportunity for redemption there, to put it all back together. To build a family. 'This is my son, this is his mother.' That hits Jack on a very deep level." With regards to the fan feeling that Diane is just using Jack, Bergman explained, "Jack doesn't see what everyone else sees in Diane. Jack sees some redemption there." Considering Jack forgave his own mother who walked out when he was a child, Bergman felt there was room for forgiveness from Jack and Kyle toward Diane. "Diane's looking for that kind of understanding, that kind of forgiveness that people change," he said.
Soaps speculated that Jack and Diane's relationship is doomed once her true agenda is revealed, so we'll be keeping a close watch on what happens next.