The Right Bralette Can Offer Support For Larger Chests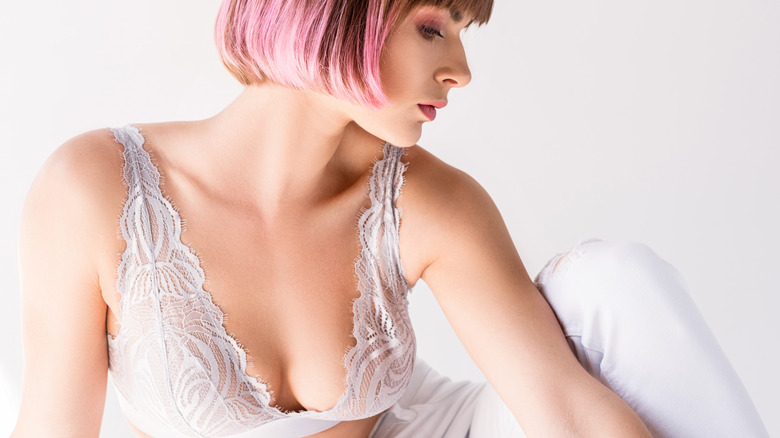 Lightfieldstudios/Getty Images
If you're like most, you love nothing more than to ditch your bra after a long day. While bras are made to provide support and protect the breasts from unnecessary movement, they can be quite constricting. In fact, some of the biggest bra mistakes have to do with comfort.
While underwires and tight push-ups can make our clothes look great, they can also cause pain. When you have larger breasts, you can have more challenges. "Cups that are too small can be painful to wear, especially if they have underwires," says bra expert and lingerie business owner Robynne Winchester (via Healthline).
According to WebMD, people with larger breasts tend to wear bras that aren't as supportive as they need. As a result, they can develop poor posture or aches and pains. In addition, a bra that's too tight or the wrong size can cause a myriad of problems, including back and neck pain, headaches, breast pain, and skin irritation. If you have large breasts and would like to find some support but also seek comfort, you might want to search for a bralette.
Why bralettes can help support big breasts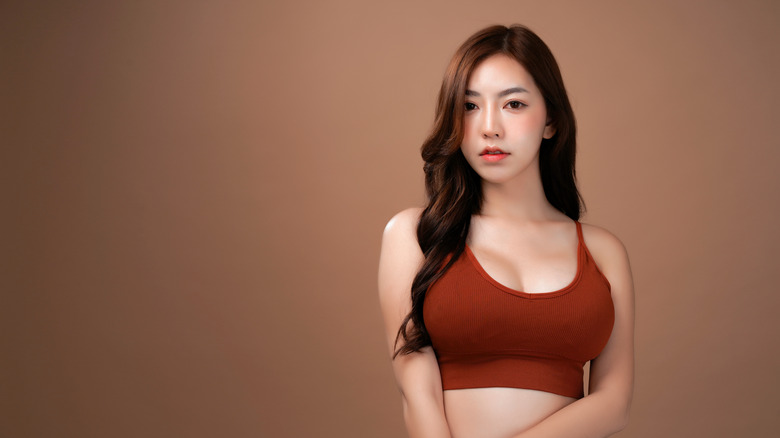 Tubiry.Photography/Shutterstock
It's a misconception that only small-breasted people can wear bralettes. According to StyleCraze, bralettes can keep all-sized breasts lightly supported and comfy, even large breasts. While bralettes can provide light reinforcement, they can also allow a certain amount of comfort, something that every size craves.
In contrast to a restrictive bra, bralettes usually don't have thin and harsh adjustable straps or contain a grating underwire. Right off the bat, that not only prevents those painful lines that can become indented into the top of the shoulders caused by tight straps, but also avoids the incessant poking of harsh wire that can often be felt in the bottom of the breasts or even the underarm and chest area.
All you have to do is pick the right size and look for a few key factors. Those with larger breasts should look out for a bralette that has a clear separation between breasts (via Your Parade). This helps prevent breasts from flattening together and helps provide individual support to each breast, which helps lift and separate.
Look for these key features in a bralette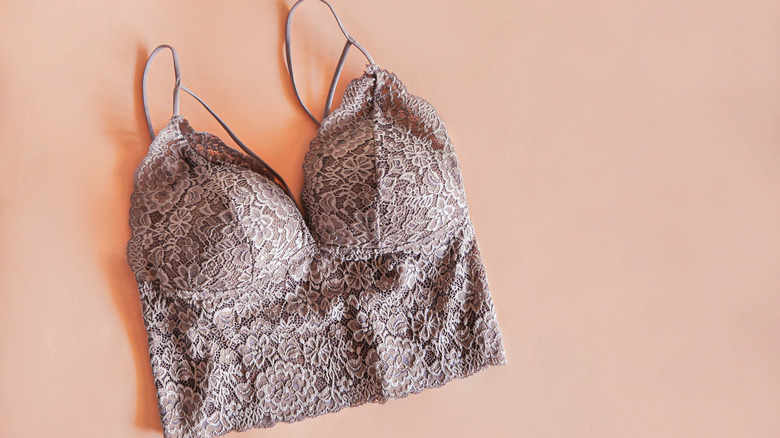 Elif Bayraktar/Getty Images
To find a bralette with more support, look for one that is longer than a regular bra, as per Bustle. The added length, known as a longline bralette, provides a few inches of extra material that extends beneath the bust line, reinforcing the bottom support so that there will be less pressure on the straps. Another thing to seek out in the bralette is wide shoulder straps. Wide straps prevent uncomfortable digging into the skin but also provide balance and support to the breasts.
Yet if you'd prefer adjustable straps, you can also find a bralette that features a criss-cross pattern that provides better support while also not digging into the typical strap area (via Y.O.U underwear). Furthermore, the type of fabric matters. Find bralettes made out of soft material, such as cotton or lace that are soft to the touch and gentle on the skin.