The Short-Lived Soap Opera Raquel Welch Took A Chance On Against The Advice Of Her Reps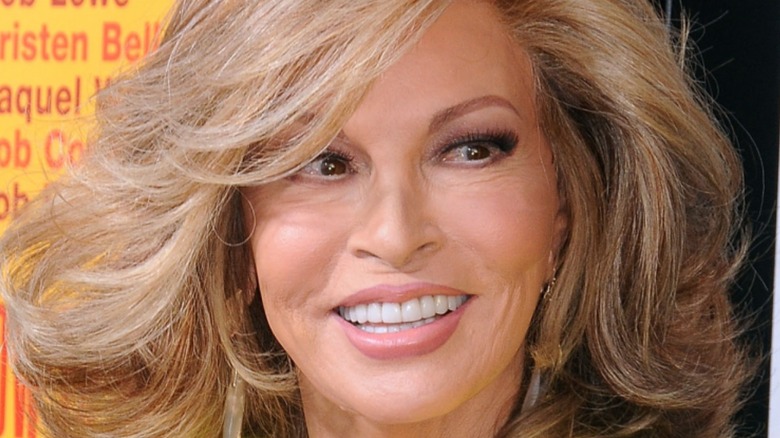 Barry King/Getty Images
On February 15, 1960s icon Raquel Welch (née Jo Raquel Tejada) died at 82 from an undisclosed illness. Her son, Damon, announced the heartbreaking news and reflected on her impact on the entertainment industry and activism at the height of her career. In 1967, Welch performed for soldiers alongside Bob Hope on a U.S.O tour in Saigon, Vietnam.
Though Welch's status as a sex symbol contributed to her global superstardom, her breakout performance in multiple titles including "Fantastic Voyage," "One Million Years B.C.," and "The Three Musketeers" propelled her career even further. The Golden Globe winner defined the era with her expansive catalog and impressive genre study, which explains why her work resonates with both suspense and comedy film buffs.
Welch never shied away from experimenting with roles despite often being typecast based on her physical features, made worse by the fact that her little-known Bolivian roots were carefully tucked away because of the prejudice that Latina women faced in the media then — and still face today. In fact, there was one role that the "Bewitched" actor fought to have, much to the chagrin of her reps.
Raquel Welch shone brightly on the Central Park West reboot
Raquel Welch's foray into the soap world was iconic. During her time on CBS' short-lived 1996 reboot of soap opera "Central Park West" (with the revamp stylized as "CPW"), she completely embodied her character, Dianna Brock. Her signature confidence was on full display in the villainess role.
But in a 1996 interview with Entertainment Weekly, Welch revealed that her agents were hesitant about her attaching her name to the series. "I was getting a lot of advice from my representatives not to do it," she admitted. "But the character is a hoot, and it's not like I'm getting every fabulous part that comes around in films."
As a fan of the series, Welch told news channel CBS 8 San Diego that part of what drew her to the role was the show's potential and the careful balance that executive producer Darren Star struck between the original and new characters. Despite the star power Welch brought to the show, it was ultimately canceled weeks after her interview.