The Unique Makeup Hack That Involves Dunking Your Face In Cold Water (With A Face Full Of Makeup)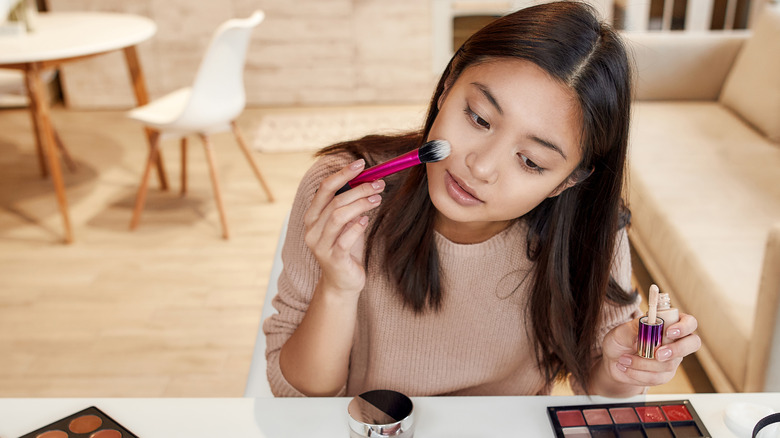 BAZA Production/Shutterstock
After applying a full face of makeup, the last thing you'd think to do is douse it in freezing water, but an interesting beauty hack says it may be beneficial to your look. The hack gained a lot of traction in 2017 when entrepreneur and makeup-artist Huda Kattan revealed that it's something that supermodel Bella Hadid swore by.
Recently, it's had somewhat of a resurgence, with countless TikTok users taking the icy plunge for themselves. World-renowned makeup artist Peter Philips suggested that the beauty hack might actually work because cold water can tighten your pores and set your makeup securely (via YouTube). 
Hadid might've bought the trend to the mainstream, but it's been around for a while. It's a Korean beauty trend called Jamsu. Roughly translated, the word means "to submerge" or "diving," per Beauty Glimpse. Korean skincare routines, beauty trends, and beauty products have steadily been gaining popularity in the western beauty industry through the years. They've taken TikTok by storm, with millions of views pouring in for moisturizing hacks like slugging, and snail mucin-infused skincare becoming the norm for many. It's fair to be skeptical about dunking your made-up face in some icy water, but many who've tried and tested the hack claim it does deliver what it promises ... with a few snags.
Many find Jamsu makes their makeup flawless
Jamsu has two major beauty benefits to bring to the table. According to Dazed, Jamsu is especially popular during the Korean summertime because it helps people brave the hot summer days without having their makeup slowly peel away. If you have oily skin, it can be a boon to you by mattifying your makeup and helping it blend better with your natural skin. After Bella Hadid told her about the trend, Huda Kattan put it to the test. Although she wasn't initially satisfied with the "cakey" look, she let it sit for about ten minutes and found the results to be far better. She described the final effect as "flawless and air-brushed and smooth." Beauty Bay was also impressed with the beauty hack, describing the post-Jamsu look as, "super-matte, super soft, and super flawless and [non-transferring]." The biggest snag with this look is that it can only give a matte finish and not the glowing, well-hydrated one that many seek (via StyleCaster).
If you want to try Jamsu out to decide for yourself, the process is simple. According to Glamour, all you have to do is apply your primer, foundation, and concealer, blend it away, and top it off with a baby powder or translucent powder to set everything in place. Once you're happy with the results, dunk your face in a bowl of ice water for about 15 to 20 seconds and gently pat dry before doing the rest of your makeup.