How To Use Boob Tape For Every Style Of Top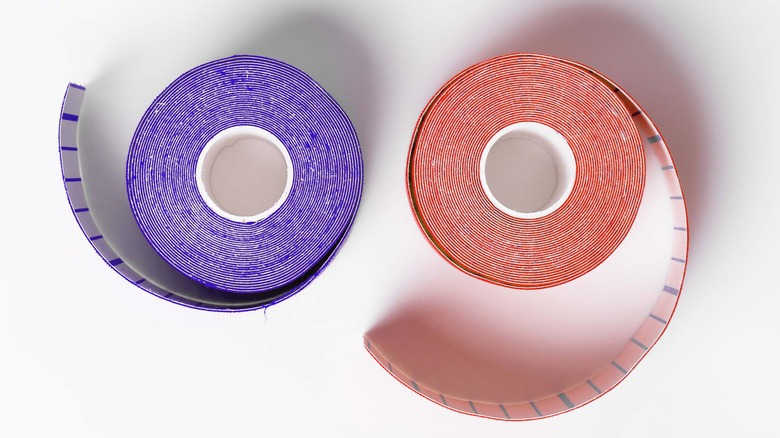 creator999/Shutterstock
Thankfully for everyone with breasts, boob tape has hit the scene, offering a simple and supportive alternative to bras that can be used with just about every style of top.
If you're not familiar with the product, boob tape is a flexible, adhesive-backed strip you can cut to size. It's akin to a giant version of a fabric-style Band-Aid or kinesiology tape. If you're wearing a top that doesn't work with a traditional bra — like something low cut, off the shoulder, or backless — boob tape is a game-changer. It comes in a variety of flesh tones to give you that nude look and offers customizable support that keeps the twins just where you want them. As an added bonus, it prevents nip slips too.
There are a few straightforward concepts to keep in mind when opting to use boob tape for your big (or little) night out, and once you have those down pat, you can create support, lift, and cleavage to go with any top or even bathing suit you might want to rock.
All styles call for pre-tape prep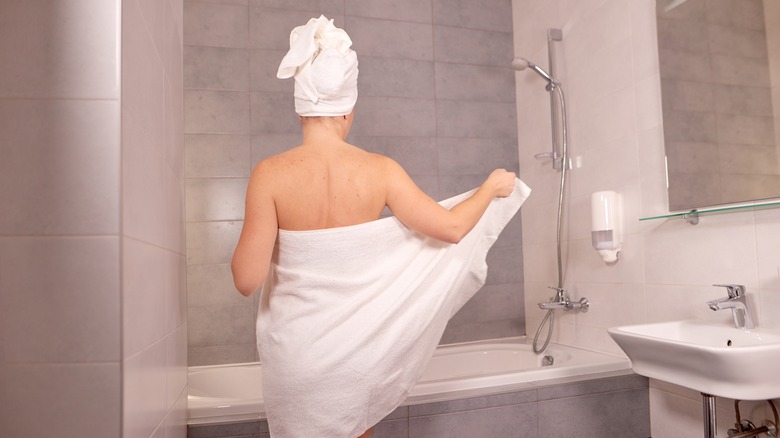 Olha Nosova/Shutterstock
No matter what top you're planning to wear, you'll want to set yourself up for success with some prep work. Most importantly, make sure your skin is squeaky clean and dry — meaning the area of your taping vicinity is free of soap, lotions, or oils. Anything but a dry surface can prevent the adhesive from working effectively.
If you have sensitive skin, you'll want to take additional precautions. "Just do a little patch test whether it's on your chest or your arm," Stephanie Montes, founder and CEO of the boob tape brand Nue, advised when speaking to Byrdie. Cut a small piece of the tape and place it in the spot of your choosing and let it hang out for a few hours to ensure you don't have any adverse reactions. Nipple sensitivity can also occur when removing the tape, but this can be mitigated by placing a cotton round or small piece of fabric over your nip to serve as a protective layer. Once you're all set and ready to use boob tape with your fit, Montes first recommends slipping on your top or dress and marking its borders with nude eyeliner. This way, you'll give yourself guidelines to prevent the tape from showing in the final look.
It's also prudent to practice using boob tape before your big day or night out. Take a full test run in your outfit along with your tape. As the folks at Nueboo put it, "The last thing you want is to be stressing out over applying your boob tape on the day itself." 
Strapless and thin-strapped tops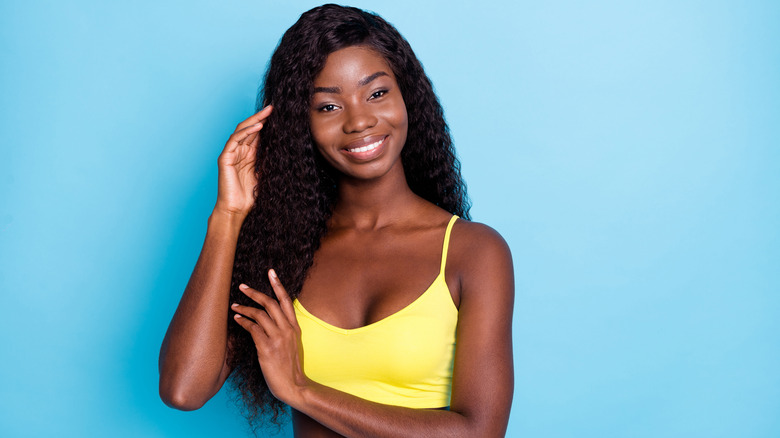 Roman Samborskyi/Shutterstock
Spaghetti straps may have come roaring out of '90s fashion in a big way, but they're now a classic look — and have classically been a pain to wear with bras. Forget about perennially slipping strapless bras or trying to find one with straps that look cute. Boob tape is here to save the day. 
You'll essentially be using the tape to create a bandeau ... only backless. Stephanie Montes' advice is to "build from the bottom up for support" — meaning, you'll start with the bottom layer of your tape bandeau first, adding additional strips as needed heading toward the neckline of your top. The bottom layer should start just about at your armpit, right at the outermost edge of your breast, and extend to the outermost edge of the other breast. Build upward until you feel securely in place.
A simple hack for bountiful cleavage is to build your bandeau while leaning forward. This is especially helpful for the first and bottom strips, but you can keep the theme going by maintaining a slight lean as you build up.
Low-cut and backless tops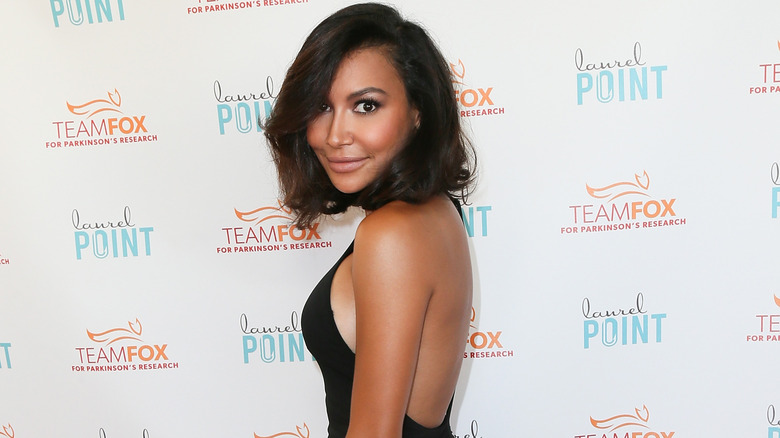 David Livingston/Getty Images
Plunging and drapey necklines are notorious adversaries of breast support and have a way of inviting wardrobe malfunctions, too. Nip the whole thing in the bud and opt for boob tape to get support without the risk of visible bra.
For this style of top, you'll be using the tape to create individual bra cups. Simply lift each breast into the position — one of the best things about boob tape is you can secure your boobs in exactly the place you want. You'll need to cut a strip of tape long enough to apply horizontally, extending from each underarm to nipple. Add additional horizontal strips across your breast to create a bra cup. To finish things off you'll use a strip or two vertically, starting just under your boob and going up to your shoulder. If your top allows it, your strips can be long enough to go over your shoulder toward your mid-back for more support. 
You can use this same technique or the strapless technique with backless ensembles.
Halter, hankerchief, and asymmetrical tops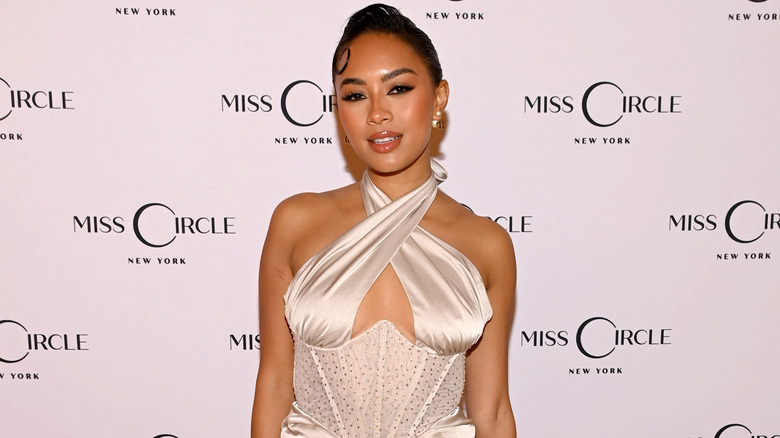 Dave Kotinsky/Getty Images
One-shoulder looks, halter tops, handkerchief styles, cut-out dresses — all have notoriously been a problem. Do you forgo support and go braless or ruin the look with visible straps? Thankfully, boob tape is the welcome quick fix — even for people with larger bust sizes.
These unique styles require a tape method similar to that for low-cut tops. You'll be making an individual bra cup for each breast, but this time without shoulder straps. The cups may also be smaller than for low-cuts, but there's still plenty of opportunity for shaping and support.
Start on whichever side you'd like and position the breast where you'd like it to be. Working from the bottom up (are you sensing a theme here?), apply a horizontal strip across the base of your breast — again, this may need to be on the smaller side, depending on the style of your top. Continue adding strips until you reach the appropriate height on your breast. Stephanie Montes told Byrdie that the final tape shape should look like a "mermaid cup." Of course, if your top has one shoulder, feel free to create a shoulder strap on that side. And, as always, pull things up and in for lift and cleavage.
Swimsuit tops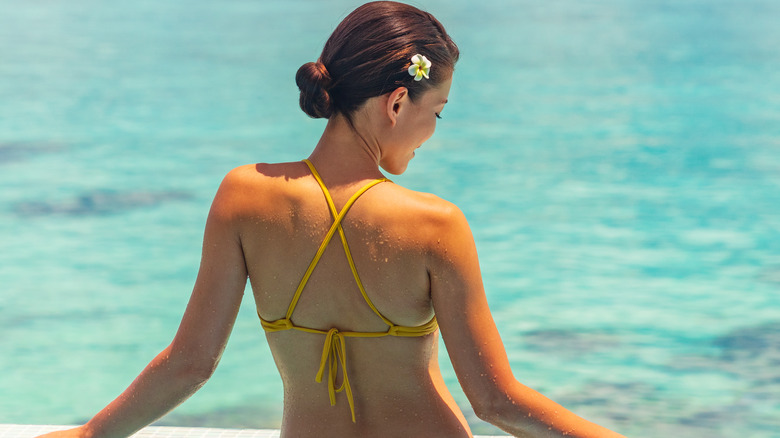 Maridav/Shutterstock
For the most part, you can indeed use boob tape to support and enhance your shape in a swimsuit. A number of brands, including Nueboo, Booby Tape, and Flancci, offer sweatproof and waterproof options, meaning they're perfect for use at the beach or pool.
Depending on your suit, you may have to use the tape sparingly, but even a single strip properly deployed offers support. Simply apply strips working from the bottom up to achieve your look, keeping in mind the shorter the strip, the less hold it will have and the more tension it can create, which can cause skin irritation. Use enough tape as you can without causing it to show outside of your suit's borders.
Although many boob tapes are sweatproof and waterproof, that doesn't necessarily equate to holding up in the most vigorous of activities, like working out at the gym. As perfect as it may be for your favorite super strappy tank top, stick to the tape when you're wearing it on leisure days, not going to hot yoga.
Boob tape removal 101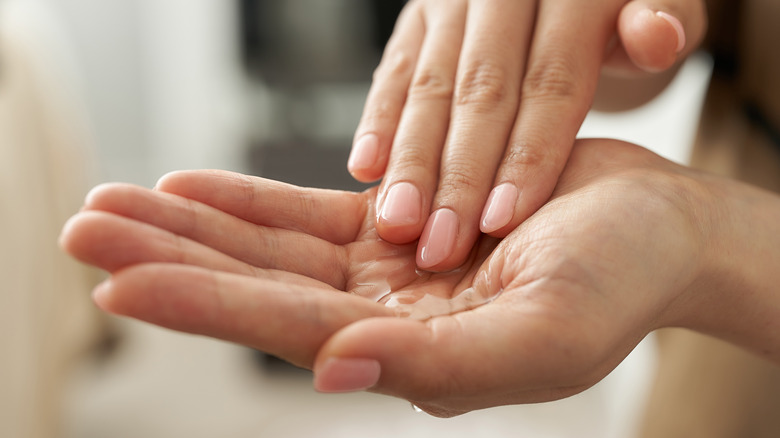 Mapo/Getty Images
After a full day of wearing boob tape, it should be pretty easy to peel off. However, many brands recommend saturating the tape with oil — coconut oil, olive oil, baby oil, whatever is your favorite. You can either dab the oil directly onto the tape with your fingers or use a doused cotton ball. Let the oil sit on the tape for 15 minutes. This allows the adhesive to dissolve, helping the strips more easily release their hold on the skin.
When removing, pull the tape back against itself as opposed to straight out from your body. It can help the process if you use your other hand to press just under the section of tape you're pulling. By all means, take your time — hastily ripping the tape off can be painful.
If there are any sections of tape that are particularly stubborn, add more oil and wait a couple more minutes. If you notice pesky spots of adhesive residue left on your skin, dab the area with a cotton ball soaked in your oil of choice — that should take care of it.