The Truth About Whether Or Not Halter Tops Are Back In Style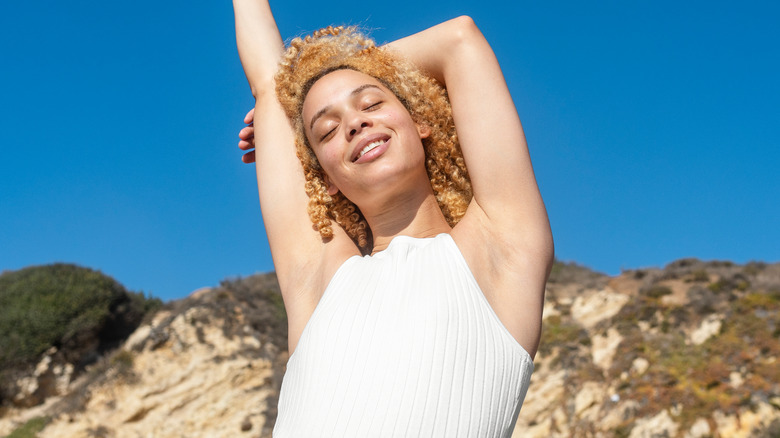 Rawpixel.com/Shutterstock
There's no doubt Gen Z has made its mark on the world of fashion. The outspoken generation has taken their stand on style — let's not forget the canceling of skinny jeans. The latest trend driven by the youths is the reemergence of 1990s and Y2K fashion. You'll see looks reminiscent of Christina Aguilera and Paris Hilton during their prime anywhere from TikTok to celebrities to the runways of the top fashion houses. At first, Millennials resisted the trend with fists in the air, but there's no denying the irresistible nostalgia factor of Y2K style. After all, the 1990s and 2000s were a great time to be alive, and looking back on the era you grew up in can bring back pleasant memories.
As the largest generation alive (as noted by the New York Post), Gen Z may be on to something because Y2K fashion is indeed back in style, including the iconic halter top. The top made style waves all summer long, and the newest iterations are ideal for your next night out. Neutral tones, silk and knit textures, and cropped silhouettes have been all the rage in the latest shoulder-baring looks. If you're looking to incorporate a piece from this era into your wardrobe, the halter top is a great place to start. Still not convinced? Read on for inspiration from celebrities and designers.
Celebrities love the halter top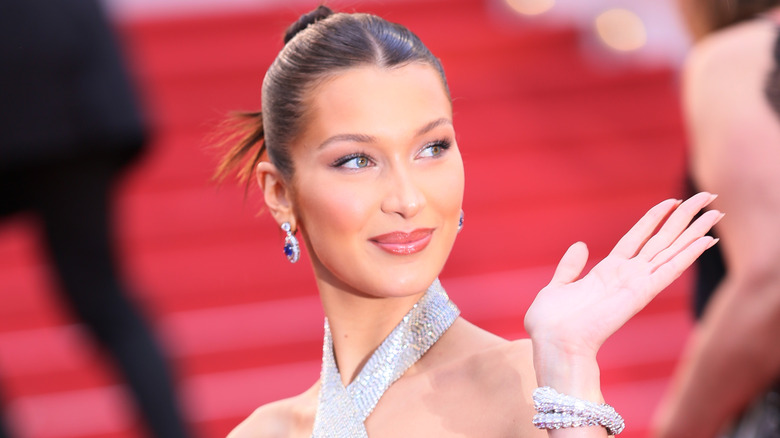 Denis Makarenko/Shutterstock
Celebs can't get enough of Y2K style. Whether it's low-slung jeans or butterfly clips, if you saw it on MTV in 2002, they've tried it. According to Vogue, Bella Hadid may have single-handedly revived the 2000s halter top when she was seen on vacation in Mykonos, Greece, with a friend back in 2019. The trendsetter walked out in a retro-inspired look that felt totally modern. Hadid paired a silky orange halter top with flattering ruching in the front with distressed flares and oversized hoop earrings for an undeniably cool look.
Emma Roberts was also seen in a sleek look featuring a black strappy halter top that exuded effortless-chic, as noted by Who What Wear. Although probably relatively young when the trend first hit its prime, she understood the assignment of updating Y2K fashion to feel entirely fresh. Roberts did this by keeping the look simple with casual distressed Levi's, minimal jewelry, and a matching black Prada Frame Bag.
Fashion's biggest names have embraced the trend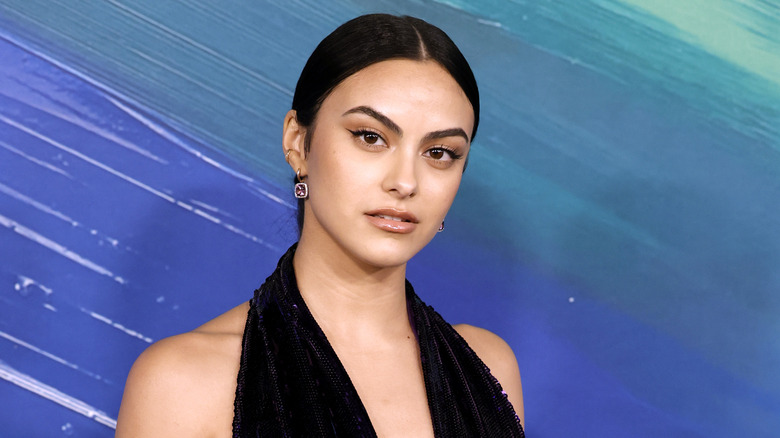 Frazer Harrison/Getty Images
When it comes to fashion, what's old can always feel new again. That leaves it as no surprise that 1990s and 2000s fashion has circled back around to the runways, somehow feeling completely fresh again — the halter top is no exception. Designers all over the world have embraced the comeback of the halter top and have found endless ways to reimagine the go-to going out top of our past. Fashion newcomer Staud presented the tie-neck top during New York Fashion Week with a patterned disco-inspired look that felt bright and optimistic going into 2022. Givenchy upped the sophistication on the Spring/Summer 2020 runway with a twisted mesh halter top paired with an airy black skirt.
These designers' latest looks prove that the halter top has true fashion potential. The newest styles are in luxe fabrics and flattering silhouettes, ready to liven up your wardrobe. Wearing one won't make you look like a 1990s pop star, but will actually do the opposite — modernize your outfit. If these fashion heavy-hitters haven't convinced you that halter tops are back in style, then maybe this TikTok trend will.