Mascara Colors That Make Green Eyes Pop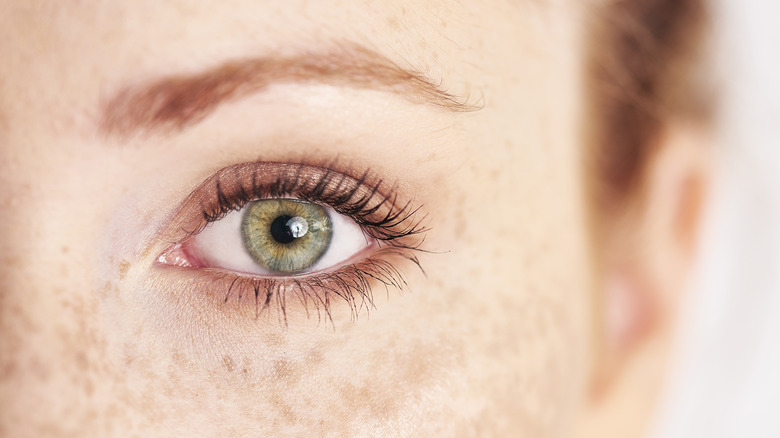 Gpointstudio/Getty Images
Jade, emerald, mint... There are so many beautiful words associated with green. Green-eyed girls should take all these pretty comparisons to heart because having green eyes is a rare treat. We know people with blue eyes seem to get a ton of love, and brown eyes seem to be in every advertisement, but if you have green eyes, you should count yourself lucky. Out of all the people in the United States, only 9 percent have green eyes, making green eyes the rarest eye color.
With such a rare eye color, it can be fun to try out different eye makeup palettes to see which looks best. Switching up your eyeshadow or even your eyeliner is pretty typical, but changing the color of your mascara can take your style to new heights. Sticking to black or brown mascara is a complete disservice to your green eyes. Brown mascara can be an unsung hero for certain eye colors, but there's no need to stay trapped in a box. You should be taking full advantage of having the rarest eye color in the world by wearing colors that are just as unique. Give the following mascara colors a test drive to get the most out of your sage hue.
Amplify your eyes by adding more green
The first mascara color that will bolster your green eyes is a color you're already familiar with. That's right, to make your green eyes pop, you should wear an equally green mascara.
We know what you're thinking. Finding a mascara that comes in black is easy mode. But finding a green mascara? That's going to be a difficult job. Luckily, we're not confined to the days of rummaging through plastic bins in the drugstore for makeup. You can find tons of options for green mascara with a quick search online.
We recommend using L'Oréal's Voluminous Original Mascara to highlight your green eyes. We adore this mascara because of its versatility and low price tag of just $10.99. Since the Deep Green shade is neutral, it can easily be paired with just about any outfit and statement piece. So layering it with a vibrant green eyeshadow is totally a viable option. Another perk of wearing a neutral green mascara is that you can wear it in a professional setting without earning the "side-eye" from your boss and coworkers.
Purple also complements green eyes
If you love all things glam and can't get enough bright and bold colors, you will fall in love with our next mascara color choice. Purple and green are on opposite sides of the color wheel, which makes them complementary colors. In simpler terms, purple mascara and green eyes go together like peanut butter and jelly. It's no wonder Mardi Gras colors get everyone so excited and ready to party. The color combination is fun, festive, and exciting.
Wearing purple mascara can be intimidating, but you can definitely fit it into the rest of your makeup by using similar colors. Talking with Glamour, celebrity makeup artist Renee Garnes praised the use of purple makeup products with green eyes. She uses a purple eyeshadow and a purple liner to get a unified look. This creates a dramatic eye that's perfect for bar-hopping with friends or even just a glamorous selfie. 
If you've got those lucky green eyes, it's time to embrace more color in your makeup looks!