Brown Mascara Could Be The Unsung Hero Of Your Makeup Bag, Depending On Your Eye Color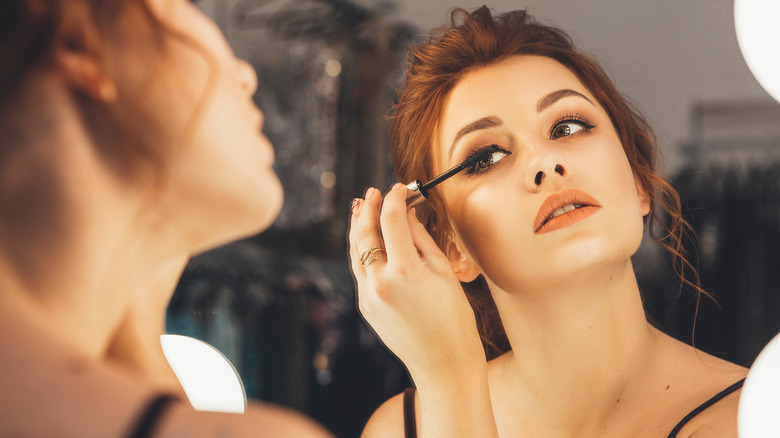 Anna Demianenko/Shutterstock
When it comes to mascara, there seems to be a common consensus in the makeup world that black is best. Unless there is a specific look that calls for adding something wild and crazy like blue mascara or purple mascara into your makeup routine, darker seems to be the preferable option because it makes those lashes pop. The idea of using brown mascara is usually reserved for celebrities like Kylie Jenner, or more minimalistic makeup looks and is rarely considered a go-to option. However, understanding how specific mascara colors could complement your natural eye color may cause some to rethink their approach.
According to Refinery 29, the thought of brown mascara being bought intentionally is laughable to those who view black mascara as a foundational part of their daily beauty routine. However, the site touches on an interesting misconception regarding who should use brown mascara. While some thought that blue eyes and fair lashes meant that darker black mascaras would be necessary to bring their face to life, others thought that lighter brown mascaras were reserved for those with fairer skin and lighter hair.
This begs the question: Who should be wearing brown mascara? The answer may actually depend on your eye color. Since brown mascara has the ability to make your eyelashes look more natural, it can make certain eye colors really stand out.
Brown is the new black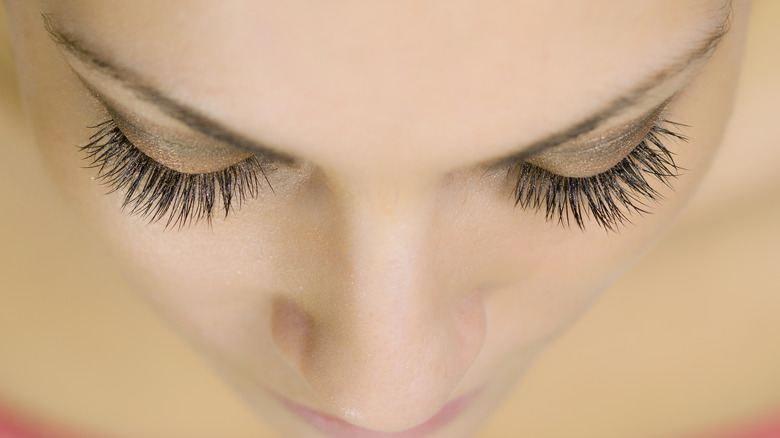 Joelboily/Getty Images
While brown eyes are the most common eye color in the world, pairing them with brown mascara can create an iconic monochromatic look that allows your eye color to be the star of the show. Since the mascara will be subtle in its appearance, it allows the multiple shades of brown in your eyes to actually be more striking. Adding a light brown eyeshadow to your lids can complete this look and enhance those beautiful brown tones even more.
According to 100% Pure, pairing brown mascara with hazel eyes gives you that "true neutral" look while not taking away from the various colors that can shine through. Hazel eyes consist of a mixture of brown, green, and yellow tones, creating the perfect canvas for brown mascara. iTRUST even notes the rarity of having hazel eyes, stating that it's a genetic mutation in only 5% of people worldwide. Therefore, using a less common mascara color will only increase the unique looks available to those with hazel eyes.
Since green eyes and blue eyes are often celebrated for their natural beauty, they can also be a makeup artist's dream playground because of the color combination opportunities. However, choosing to forgo a bold black mascara can leave room for a different statement look. For example, Style Craze explains that blue or green eyes look amazing with any shade of purple eyeshadow. Instead of instinctively reaching for black mascara to complete this look, choosing brown creates a subtle complexity that doesn't overpower the delicate eye colors.
Rethink your makeup bag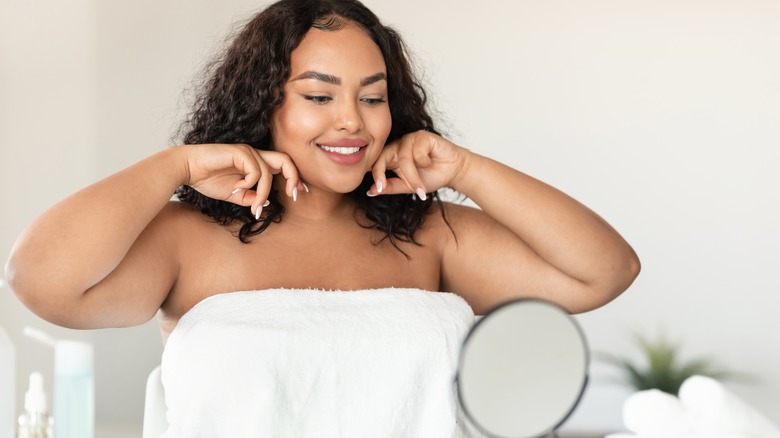 Prostock-studio/Shutterstock
At this point, it's no surprise that all eye colors can wear brown mascara and look incredible. It simply seems to be an overlooked addition to the makeup bag, constantly being glossed over for the various shades of black or more vibrant colors. However, it may be worth your time to pick up your go-to mascara in a brown shade the next time you're stocking up on makeup. It might seem like a simple and subtle shift, but it can open up a whole new world of makeup options. Of course, you really never know how it will look on you and your eyes until you try it.
With sites like InStyle discussing brown mascara as the perfect option for a "natural look," it can be easy to instinctively avoid it if natural is not your style. However, they also explain how brown mascara "illuminates" the eyes, making them look warmer, which can definitely be utilized in various makeup looks. Therefore, regardless of what eye color you have, you might be surprised by the looks you can create yourself with brown mascara.