Get Ready To See More Of Returned-From-The-Dead Villainess Megan Hathaway On Days Of Our Lives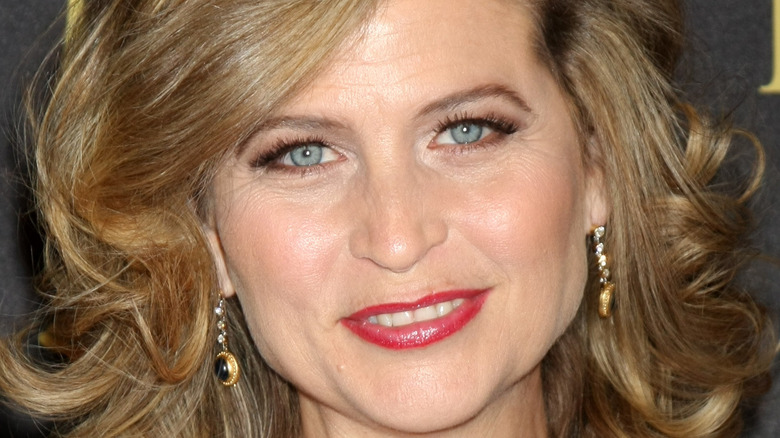 Kathy Hutchins/Shutterstock
"Days of Our Lives" fans who tuned into the soap opera's spin-off series "Beyond Salem" in 2022 were shocked to see a familiar face from the past: Megan Hathaway. The character, played by actor Miranda Wilson, was a big part of the Salem storyline in the 1980s. Megan first appeared on the sudser in 1984 and was revealed to be the daughter of the town's biggest villain, Stefano DiMera (Joseph Mascolo). She immediately looked to reconnect with her former boyfriend, Bo Brady (Peter Reckell). Of course, Bo was already smitten with Hope Williams (Kristian Alfonso) by that time. Hoping to split up the pair, Megan planned to kill Hope by electrocuting her in a hot tub at the local gym. However, all didn't go as planned, and Megan was killed instead.
While at the health club, Megan heard Larry Welch (Andrew Masset) speaking about some secret information regarding the elusive three prisms, which were said to hold strong healing technology. When Larry realized that Megan had overheard him, he murdered her and dumped her body into the hot tub.
However, during "Beyond Salem," viewers learned that Megan was brought back to life by the prisms and is now the key to reuniting Bo and Hope Brady.
Megan Hathaway will bring the fireworks with her big Salem return
While "Days of Our Lives" fans are buzzing about the return of Bo and Hope Brady to the flagship series, Megan Hathaway has to arrive in Salem first. Recently, actress Miranda Wilson took to her Twitter account to share the news that the DiMera daughter will have her big moment on February 24. "Make sure to watch @DaysPeacock on February 24, 2023, so you don't miss the start of the fireworks," She wrote. She also reminded her followers that if they haven't watched "Beyond Salem: Chapter 2," they should quickly catch up so that they understand what Megan's doing when she returns to Salem.
During "Beyond Salem," Megan was revealed to be on the hunt for all three prisms. By the end of the limited series, she had collected them all and was ready to resurrect Bo — whose body she had been keeping cryogenically frozen for years. During the final moments of the show, fans watched Bo open his eyes and take a breath, proving that Megan had completed her task.
Megan's actions are the reason why Bo and Hope will be able to reunite with one another when the characters return to "Days of Our Lives" on March 16. Until then, Megan will surely cause some chaos with her own homecoming.