The Heartbreaking Death Of Kellie Pickler's Husband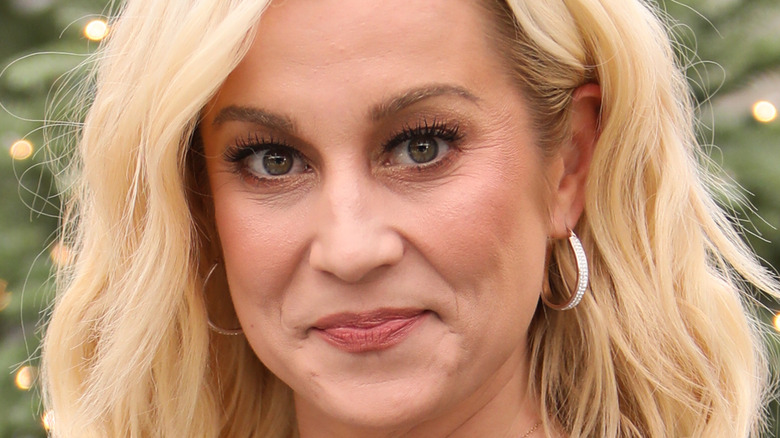 Paul Archuleta/Getty Images
Trigger warning: The following article contains references to suicide.
Kellie Pickler has suffered an unimaginable tragedy. On February 17, the country singer's husband, Kyle Jacobs, died in an apparent suicide. According to TMZ and other sources, Pickler had been napping in their Nashville home when she awoke and was unable to locate her husband. After she and an assistant discovered that an upstairs room was locked, the assistant called for help. First responders entered the room and found Jacobs dead, apparently by his own hand.
Although she didn't win her season as a contestant on "American Idol," her vocal chops and her inspirational story of overcoming a traumatic childhood made her popular among viewers. She and Jacobs, a successful country songwriter, wed in 2011; they had no children — "we're just dog parents for now," she told Us Weekly in 2019. From 2015 to 2017, the couple had a reality series, "I Love Kellie Pickler," on CMT. In recent years, Pickler became a mirror-ball winner on "Dancing With the Stars" and starred in three Hallmark movies, including "Christmas at Graceland." 
Among the many tributes pouring in on social media is a tweet from the Academy of Country Music Awards. "The Academy is deeply saddened to learn of the passing of Kyle Jacobs, a talented Nashville songwriter & producer and the husband of Kellie Pickler," they wrote. "In 2014 Jacobs won an ACM Award as producer of Lee Brice's "I Drive Your Truck." Join us in sending condolences, love & healing." Of course, the academy wasn't the only one to share condolences. 
Kellie Pickler and Kyle Jacobs had a loving marriage
Tragically, the death of songwriter/producer Kyle Jacobs at age 49 comes as he was celebrating a high point in his career: An album he produced, Lee Brice's "Hey World," had just gone platinum, per Variety. Jacobs celebrated the achievement on his social media feeds, praising his "amazing crew of incredibly talented peeps" and exulting, "Thank you Jesus!!!"
Jacobs and Kellie Pickler were also a devoted couple, frequently seen on the red carpet at events such as the Daytime Emmys and the Country Music Awards. Jacobs' Twitter bio proudly boasted that he was "happily married to my best friend." Their engagement story was as heartwarming as they come: As Pickler explained in an Instagram post, Jacobs proposed to her during a sunset walk on Rosemary Beach, FL. He led her to a box buried in the sand: "It looked like it had washed up from sea, but upon opening it, I found a true treasure," she wrote. "Inside contained a journal that Kyle had written for me, a seashell with my Grandmother's name "Faye" written on it, and a beautiful engagement ring." The date, June 15, also happened to be the birthday of her grandmother Faye, who raised her. "It was like my beautiful angel, the one I call mom, was giving us her blessing." 
Fans and fellow stars alike are stunned and grieving. Faith Hill tweeted an urgent plea to anyone in the midst of crisis to call a helpline. "Your life is valuable and precious," she urged.
If you or someone you know is having suicidal thoughts, please call the National Suicide Prevention Lifeline by dialing 988.