The 'Quiet Luxury' Fashion Trend Isn't Necessarily Expensive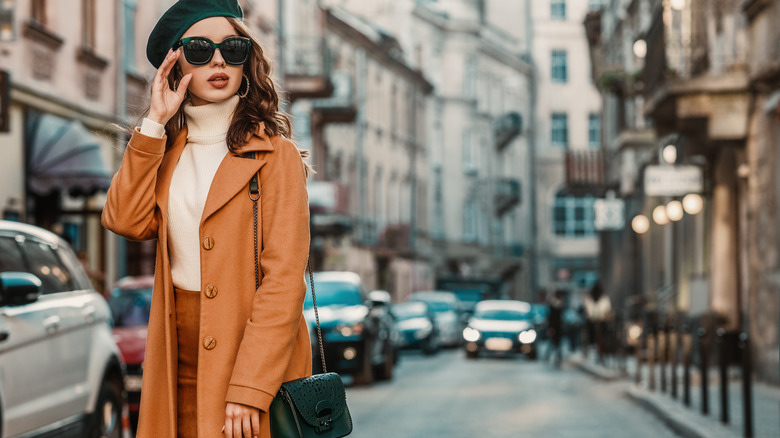 Victoria Chudinova/Shutterstock
The longer you live, the more likely you are to see things that were fashionable when you were young come back around as a trend. Just look at the highs and lows — literally! — when it comes to a wardrobe staple like jeans. High-rise jeans were popular in the 1970s and 1980s, and then the style pendulum swung to low-rise jeans in the mid-1990s and early 2000s, only for high-rise jeans to come back in style a couple of decades later. There are even more new denim trends in 2023! Plus, the rise of micro-trends, in which something is fashionable for one season and then gone by the next, has led to a rise in fast fashion. The ever-evolving ideas of what's in vogue can have an environmental impact as well as a big financial one. 
However, there's one trend that is pretty much guaranteed to last the test of time: quiet luxury. And while the word "luxury" may signal an impossible to reach price tag, don't worry. You can build a wardrobe filled with pieces that fit this trend without having to spend all that much.
Quiet luxury is all about quality over quantity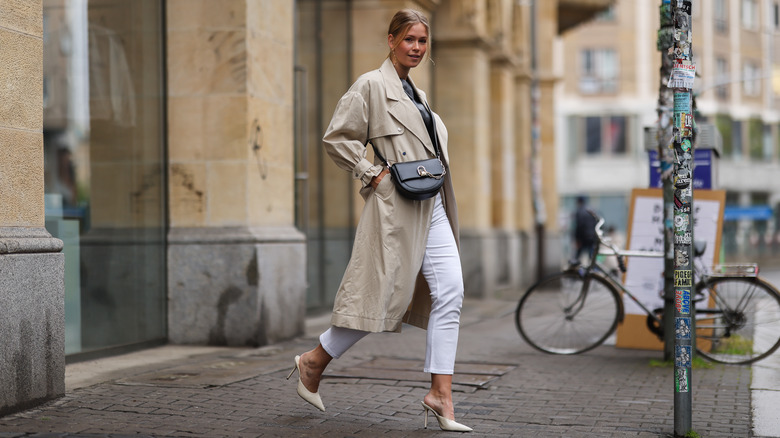 Jeremy Moeller/Getty Images
Quiet luxury is all about elegance and subtlety as opposed to flashy and ostentatious. Think Audrey Hepburn or Jackie Kennedy. Even if the item was really expensive, you don't want people to know that just from the high-end logo emblazoned on it. You don't need to project to the world how much you paid for that outfit if you want to embody the quiet luxury trend. In fact, advertising brand names or intentionally trying to look rich is the exact opposite of what this trend is about.
Sustainability comes into play here, as well. Quiet luxury items are more minimalist, which means that they will be able to act as wardrobe staples for much longer than just one season. They're also made with an eye to longevity with quality, non-synthetic materials like sustainable leather, silk, wool, and cotton over nylon and polyester. Even if not from a high-end brand, the higher quality material will make the items more expensive. However, paying more upfront for a well-made item that will last means that you're getting more bang for your buck compared to something cheaper that ends up falling apart or out of fashion within a couple of wears.
Quiet luxury pieces should last for years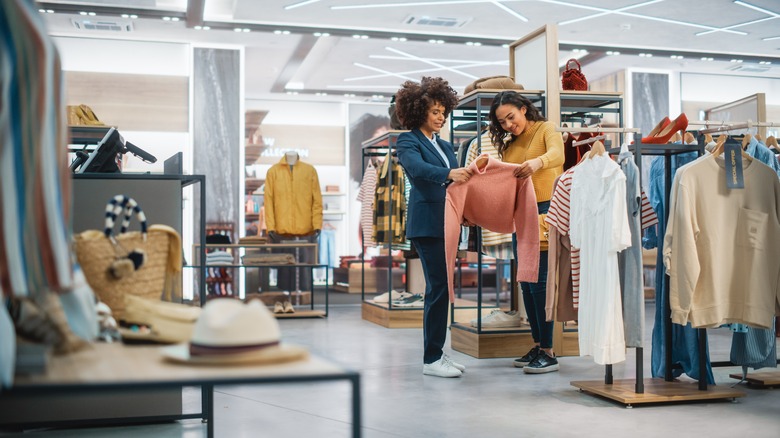 Gorodenkoff/Shutterstock
Of course, there are plenty of ways to splurge on quiet luxury pieces — Mary-Kate and Ashley Olsen's fashion line, The Row, has a camisole that costs nearly $600. But quiet luxury doesn't have to break the bank; it's more about getting into the mindset of choosing long-lasting investment pieces. Choose things based on their versatility and how well they fit you. Quiet luxury is all about high-quality tailored pieces in classic silhouettes and colors, no matter what designer made them. Look for neutral colors when you build your wardrobe. After all, there's a reason the little black dress has really never gone out of style. You can always accessorize with a scarf or jewelry to add more color.
Thrift stores and consignment shops could be good places to look for pieces to fit this trend. You may end up scoring a bargain on a designer item, but remember that quiet luxury isn't just about the label. If something catches your eye, take some time looking it over not just for fit, but for quality and construction too. Some things to ask when it comes to the workmanship of an item: Are the seams fraying?  Are the stitches even? What is it made of? For jackets or coats, does it have a lining? Of course, those questions apply to new clothes, as well. Go shopping with an eye for items that you can wear over and over, not just because it looks good but because it's made well.