Low-Rise Makes A Graceful Exit To Usher In New 2023 Jean Trends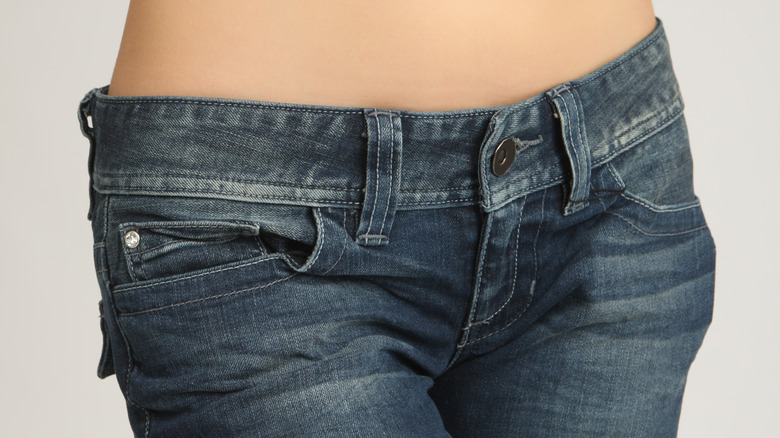 FOTOGRIN/Shutterstock
Jeans aficionados, listen up. There is a new jeans era upon us. That's right — the low-rise renaissance is officially over. And thank goodness. Can we all agree once and for all that the dated '90s look of hip-high jeans is unflattering on just about everyone? With classic high-rise jeans back in fashion in 2023, you may be wondering what other styles are expected to take over this year.
Well, according to fashion experts, there are loads of inventive jean styles and exciting silhouettes set to hit the shelves. If you're looking to spice up your jean collection this year, you might want to try a pair of stylish light-washed jeans, for instance. Or, maybe, you could experiment with another throwback look like the super long, baggy puddle jeans that are set to make a comeback. Or, for a more classic look, try a pair of black or white jeans — because, yes, they're coming back in 2023, too.
Soft denim jeans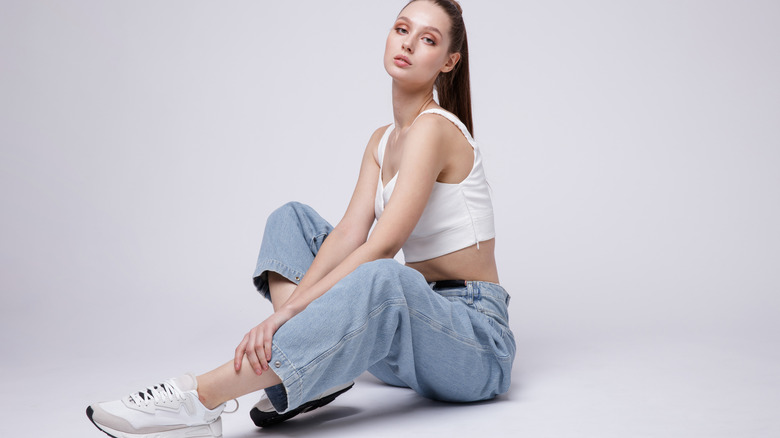 S.Bekhinov/Shutterstock
Soft denim, also known as chambray in the fashion world, is denim made with lyocell. This type of denim is the perfect alternative to regular jeans when you're seeking a more comfortable, flexible option that still looks like classic denim. Luckily, in 2023, soft denim is having a major comeback. "We will definitely see and feel softer denim going forward that lends itself to fluid and draped designs," denim stylist Sam Remer said (via Woman & Home).
Stylist and CEO of Bridge Your Style, Brigid McGrath Stasen agreed that soft denim is likely to be everywhere this year. "As one of the biggest denim trends of 2023, ultra-soft denim is leading the way for comfortable and stylish jeans," she told us. "A fabric blend that is designed to keep its shape while still providing a soft feel on the skin."
We recommend trying this style on days when you want more comfort or on hot summer days when you want jeans with a little more breathability.
Light-washed jeans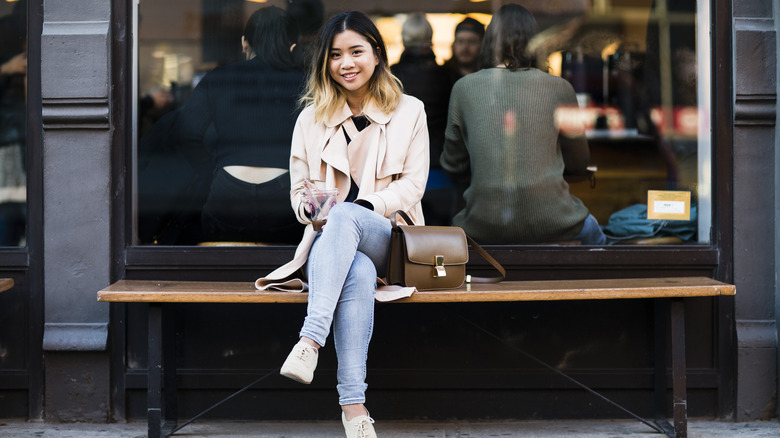 Melodie Jeng/Getty Images
Light-washed jeans are jeans that are a very pale blue color rather than the classic royal blue shade. Stretching back to the acid wash days of the '80s, light-washed jeans have been going in and out of style — and this year, it seems, is one of the "in" years. Experts predict that light-washed denim is going to be huge.
While light-wash jeans used to be saved for casual summer days, this year, you can throw the rule book out. "Light-washed jeans have mostly been reserved for spring and summer and a more casual look, but since the pandemic, the prominence of the new smart casual, the light wash, white and off-white jeans will be seen everywhere," said Amanda Wood, personal stylist at The Haute Edit. "Especially in wide-leg cuts."
Stylist Brigid McGrath Stasen agreed that 2023 will see fashion houses experimenting with the classic light wash to create new looks. "Light-wash denim jeans will be a key look in 2023," she said. "Trending styles come in an array of unique variations and hues. Grey washes, for example, may vary slightly due to the complex color-washing process that creates perfectly imperfect color combinations."
Two-toned jeans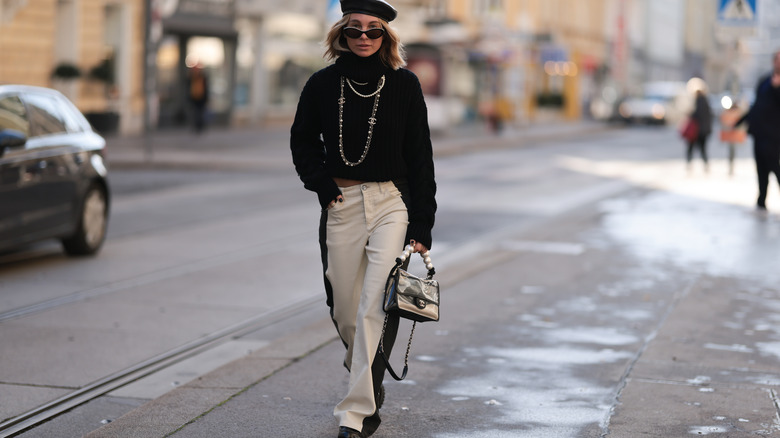 Jeremy Moeller/Getty Images
Love them or hate them, two-toned jeans are having a moment. Yes, we're talking about those jeans that are two different shades on the front and the back. While it's certainly a bold look that isn't exactly classic, this year, it's undeniably trendy, with everyone from Mugler to French Connection jumping on board.
While two-toned jeans may seem pretty adventurous, they're a great place to start your journey into more expressive dressing. "The two-toned jean is great for someone who normally stays away from a pattern," explained personal stylist Susan Padron. "It allows you to try something different, while remaining in your comfort zone. So keep your top solid and neutral, so the jeans can be the feature of the outfit," she said.
Personal stylist Amanda Wood agreed that two-toned jeans were a bold look, but noted that both Peter Do and Rentrayage have also released a few pairs. "The colorblocking effect is bold and chic!" she gushed. Well, the experts have spoken! If you're feeling a little wild, there's never been a better time to give two-toned jeans a try.
Tailored jeans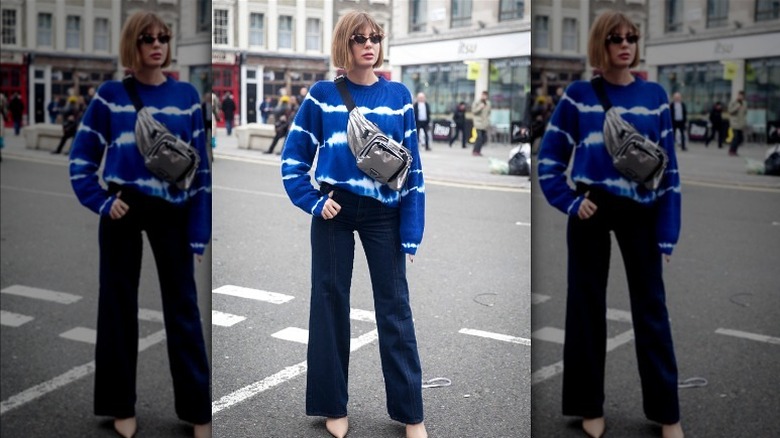 Elena Rostunova/Shutterstock
Nothing is more classy and flattering than fitted trousers, and this year, the tailored look is extending to our jean collections. Yes, we're talking about jeans that look like office trousers. "In 2023, tailored jeans will be all the rage in fashion circles," predicted stylist Brigid McGrath Stasen. She recommended wearing the tailored pair of jeans with a matching tailored denim blazer. "It's perfect for transitioning from office to cocktail hour," she said. "Trending details such as raw hemlines, distressed finishes and patchwork designs will also be seen in tailored jeans for 2023, making them the ideal choice for creating a unique and fashionable style."
Personal stylist Susan Padron agreed that a pair of tailored jeans are the ultimate option for versatility. "The tailored jean is made to look like a trouser made out of denim, so it's easy to dress up for a business casual setting by pairing it with the right blouse and jacket," she said. 
You'll find great examples of tailored jeans at Valentino, Frame, and Soeur amongst numerous other designers this year.
Midi jean skirts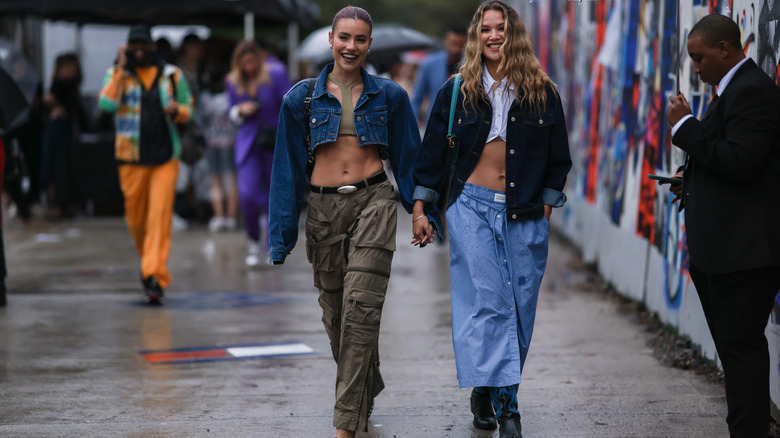 Jeremy Moeller/Getty Images
Well, it seems the '90s are still going just as strong as ever. One trend that we didn't expect to see return has come back in full swing — and it's the controversial midi denim skirt. "Midi jean skirts are having a major moment in 2023," stylist Brigid McGrath Stasen confirmed. "With its versatility and timelessness, the key to rocking midi jean skirts is expressing your inner style that works best with your lifestyle. Trending this season will be options like the Carolina Herrera bias-paneled skirt for an office environment, or the vintage deconstructed denim pant-to-skirt transformation."
While many of us may remember this as a somewhat dowdy look, the 2023 version is anything but — especially if you style it right. "Midi denim skirts can feel conservative, so wear it with a cropped top or a leather moto jacket to add some edge," personal stylist Susan Padron suggested. "If you normally stay away from midi lengths, look for a skirt with a front slit and wear a pair of lug sole boots with a heel to show off your legs." It sounds like this is the perfect year to pull out your old '90s jean skirt and give it a refresh.
Baggy jeans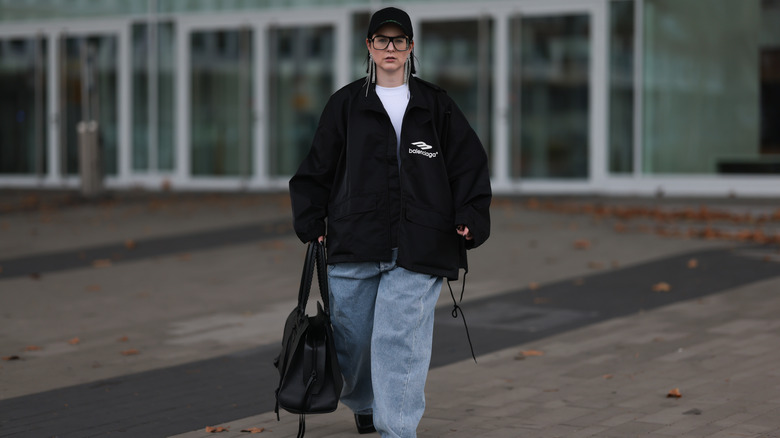 Jeremy Moeller/Getty Images
While baggy jeans may send your mind straight to the skater-boy look of the '90s, rest assured, this look is back and it's actually very trendy. "Staying with the trends of the '90s, the baggy jean feels more modern and relevant for right now and is here to stay," said personal stylist Amanda Wood. She recommended trying these Frame jeans that stick with the baggy silhouette, while still accentuating the shape underneath.
Worried about whether you can pull off the ultra-baggy look? Stylist Brigid McGrath Stasen said not to worry. "Baggy jeans are a trend that is very young at heart, yet it can be tailored to fit any age and lifestyle," she said. "Women of all ages can rock the baggy jean look in 2023 by choosing pieces that flatter their body shape and accessorizing them with items such as statement belts or bold jewelry. The key to making the trend work for you is to ensure the pieces are tailored specifically for your body shape, creating a comfortable yet stylish look."
Personal stylist Susan Padron also suggests balancing out your baggy jeans with a fitted top.
Flared jeans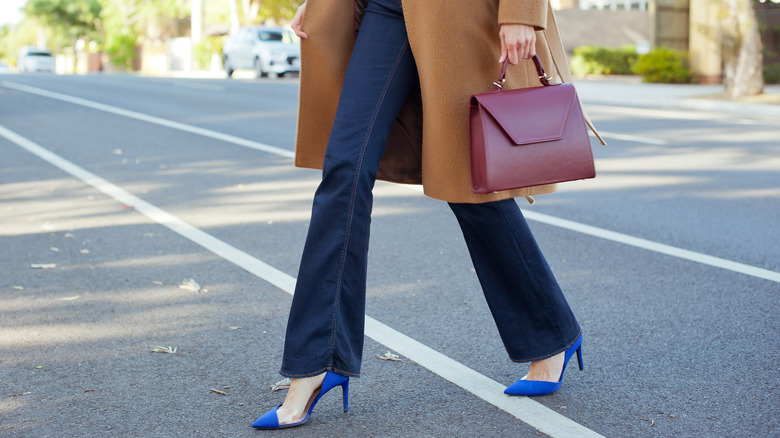 Sabelnikova Olga/Shutterstock
Get ready to channel your inner '70s flower child, because flared jeans are making a huge comeback in 2023. According to Who What Wear, the French it-girls are all opting for flares right now — and they're usually the best trendsetters.
"Flared jeans are making a comeback for 2023, with the trend swinging back to stylish wide-legged silhouettes," said stylist Brigid McGrath Stasen. "A modern take on the classic palazzo pant, flared jeans have become a sought-after style with their effortless sophistication. With the return of this trend, designers have made sure to include styles ranging from vintage-inspired mid-rise denim to bold and vibrant hues. Whether you prefer a classic or modern look, flared jeans can be easily paired with form-fitting tops and jackets for a polished look."
On the hunt for the perfect pair of flares for 2023? Levi's, Chloé, Reiss, and Free People all have stunning pairs on sale that are that perfect mix of both modern and retro.
White jeans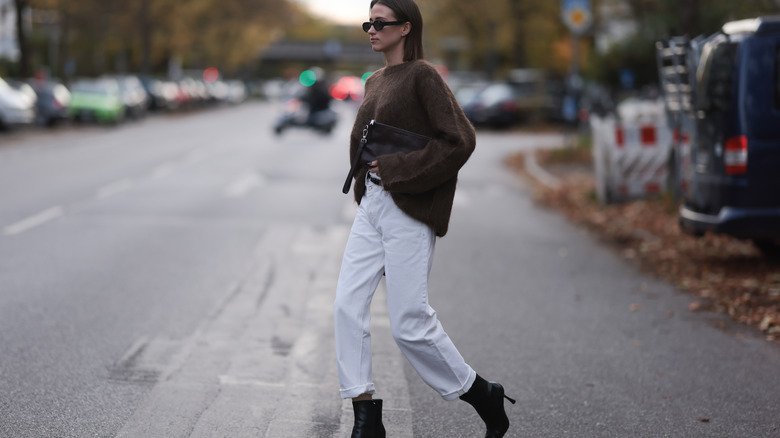 Jeremy Moeller/Getty Images
White jeasns — what used to be a fashion faux pas are now an absolute must in every closet. That's right, white-washed jeans are a staple for everyone this year.
"Trending away from the previous restriction of wearing white after Memorial Day, white jeans have become a must-have item to wear any time of year," said stylist Brigid McGrath Stasen. "Not only are they stylish and perfect for any season, but they also provide a great foundation for creating looks with statement tops and jackets. To keep up with the trends in 2023, make sure to have a few pairs of white jeans at the ready! Whether you opt for slim-fitting skinnies or boyfriend-style jeans, these timeless pieces will be sure to keep you looking stylish no matter what outfit you pair them with," she said.
Everyone from Everlane to Tory Burch to Ganni to Reformation is selling white jeans right now — and there's a good reason. This year, everyone wants a pair.
Patchwork jeans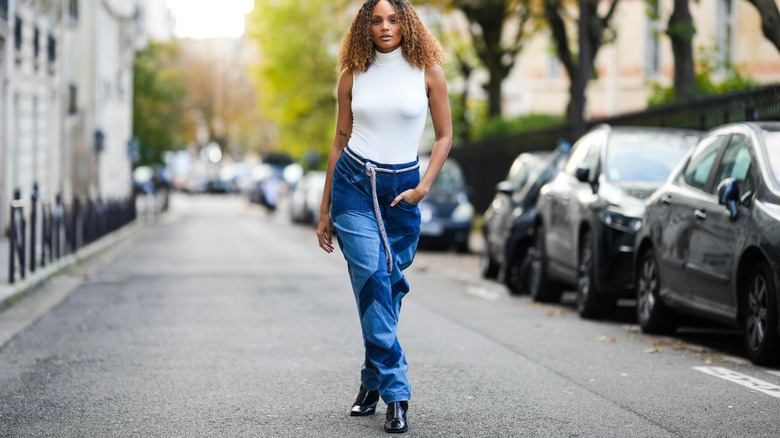 Edward Berthelot/Getty Images
2023 is all about being bold and unapologetic with fashion — even when it comes to jeans. Just like the two-toned trend, the patchwork jeans trend features jeans made up of different shades of blue, kind of like a patchwork quilt. Again, it's not necessarily a classic look, but it's certainly eye-catching. "The patchwork trend is for the more adventurous," said personal stylist Amanda Wood. "The patchwork adds a fun, bold accent to your look." She suggested trying the Amiri patchwork jeans which feature a show-stopping color-blocked patchwork pattern.
Why our sudden obsession with the patchwork look? According to stylist Brigid McGrath Stasen, we're all after boho-inspired designs this year. "From bright colors and bold prints to mix-and-match textures, there's something for everyone when it comes to patchwork jeans this year," she said. "Whether you're looking for something more subtle or an eye-catching statement piece, patchwork jeans are a must-have item in any fashionista's wardrobe. Trendsetters will wear them with everything from t-shirts and sneakers to blouses and heels for a stylish and comfortable look."
We recommend pairing your patchwork jeans with a simple top, especially if you're worried that the look might be a little too out there.
Puddle jeans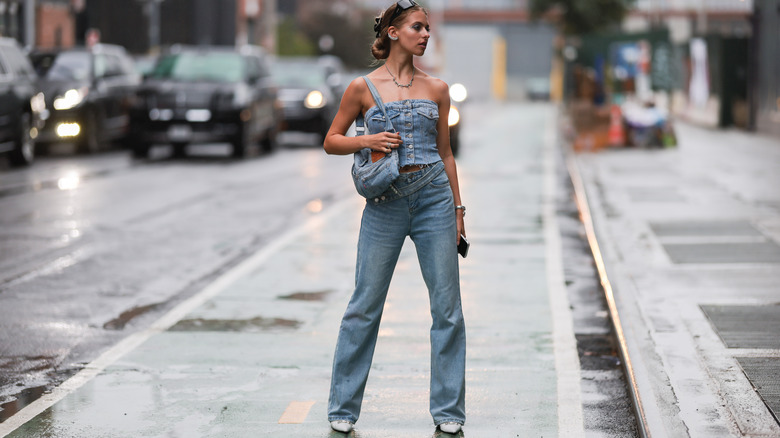 Jeremy Moeller/Getty Images
Many of us will probably remember the days of the puddle jeans. Yes, we're talking about those jeans that are so long and so baggy, they literally drag in the puddles on the ground — hence the name. Some of us may have thought they would never make another appearance any time soon; but, in 2023 they're back — and believe it or not, they're actually kind of cute now. In fact, at the end of 2022, numerous celebs were seen sporting puddle jeans and introducing them back into mainstream society. As Who What Wear reported, Zoë Kravitz, Bella Hadid, Kate Middleton, Rosie Huntington-Whiteley, Dua Lipa, Kaia Gerber, and Sienna Miller are all getting on board with the trend.
"This is a fun trend for 2023," said personal stylist Amanda Wood. "The puddling effect, done with practically and a pointy toe heel will have a fabulous elongating effect to your frame." Just make sure not to get a pair that's so long they drag on the ground.
Cargo jeans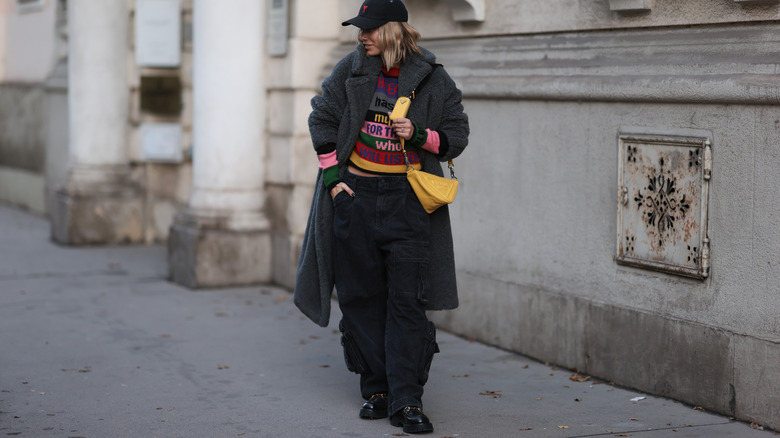 Jeremy Moeller/Getty Images
As fashion fans probably already know, cargo pants have been enjoying a real renaissance for a few years, with celebs like Hailey Bieber and Emily Ratajkowski sporting designer cargo pants in 2022 (via Vogue). In 2023, you can expect the trend to influence jean styles, too, with pockets and buckles appearing on jeans this year. Try these Ganni cargo jeans or these black cargo jeans from EB denim. 
"As we look ahead to the 2023 trends for cargo jeans, keeping a few key elements in mind is important," stylist Brigid McGrath Stasen said. "Firstly, silhouette is expected to remain an important factor. Low-rise and slim fits will continue to be popular choices, as they offer a comfortable fit that pairs well with any outfit. Additionally, expect to see relaxed styles make their way into the mix, which may include wider legs and higher waists."
The great thing about cargo jeans is that they really do go with just about anything. We suggest trying a form-fitting cami top and heels for a Gen Z-approved look.
Wide legged jeans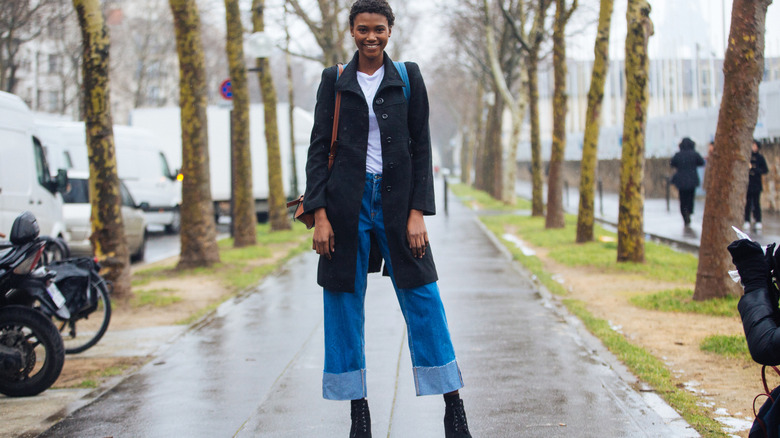 Melodie Jeng/Getty Images
For the past few years, the jean silhouette has been slowly but surely changing. Gone are the days of the skinny jeans — you know, that skin-tight, form-fitting jeans that we were all wearing in the early 2000s. After all, Gen Z has proclaimed the look to be "cheugy" — so it's gone. In its place is the wide-legged jean.
"Wide-leg jeans are basically the new skinny jean," said personal stylist Amanda Wood. "They are the jean of the moment and do not look to be going anywhere anytime soon." In other words, invest in a few pairs, because while wide-legged jeans are sure to be popular in 2023, they'll also be popular for years to come.
Wondering how to style wide-legged jeans without feeling like you're being swallowed up by your clothes? "A wide leg jean goes so well with a top that's fitted and has a higher neck, like a crew neck, mock neck, or turtleneck," said personal stylist Susan Padron. "The higher neck will make your torso look longer and bring the attention up to your face."
Double denim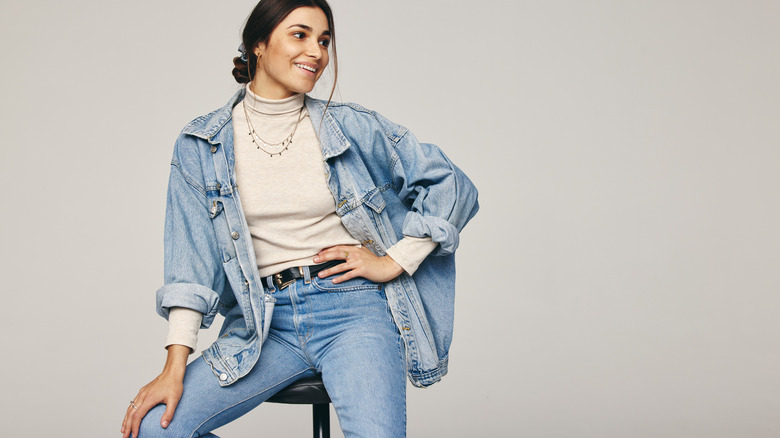 Jacoblund/Getty Images
Here's another fashion faux pas that is apparently making a comeback this year: double denim, or, as some people like to call it, the Canadian tuxedo. That's right — this year, many of us will be experimenting with pairing denim jeans with — well — more denim. Think of Britney and Justin at the AMAs back in 2001. According to Woman & Home and Real Simple, this look will be everywhere in 2023. "With the rest of the '90s trends that are back, the Canadian tuxedo, is here for 2023 in a modern moment," said personal stylist Amanda Wood.
Of course, wearing all that denim can be daunting. In order to get the look "right" for 2023, try to coordinate your denim top with your denim bottoms. "Matching the color wash of the denim is what's currently on trend for double denim, especially with medium or light washes," suggested personal stylist Susan Padron. 
Black jeans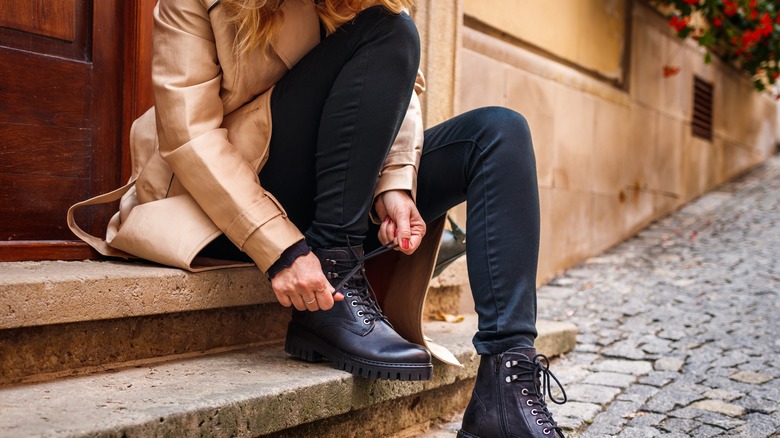 encierro/Shutterstock
The final jeans look set to take over 2023 is an oldie but a goodie: black jeans. While black-washed jeans may be a simple, even seemingly boring look, experts predict that they will be a wardrobe staple this year.
"I love the versatility of a black jean!" said personal stylist Amanda Wood. "It is a wardrobe essential to dress up or down." She suggests keeping it simple and classy by pairing wide-legged black jeans with a pair of heels and a button-up white shirt.
According to personal stylist Susan Padron, black jeans are also a great opportunity to wear more expressive shirts. "A black jean has its roots in rock star glam, so naturally pair it with your favorite graphic t-shirt and combat boots," she said. "You can also wear an oversized sweatshirt with black jeans, chunky sneakers, and chunky jewelry, and still feel like the rockstar you are." Whether you go for the simple chic look or the edgy rockstar look, it's safe to say that black jeans will be your best friend this year.