The Viral NYC 'Scarf Guy' Stand Sells Designer Dupes For $20. Are They Worth The Hype?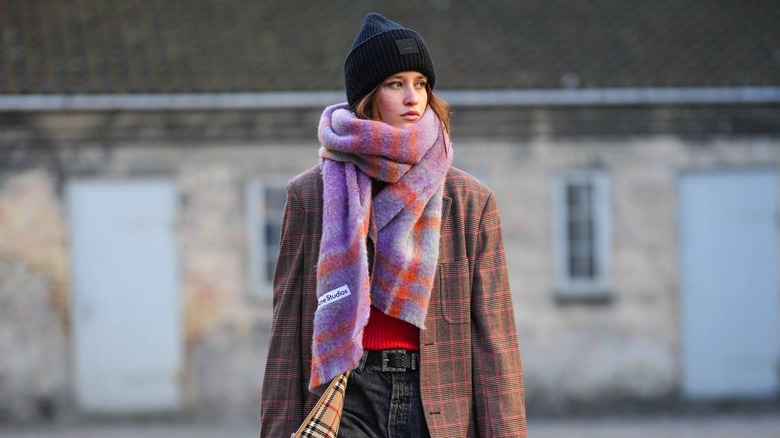 Edward Berthelot/Getty Images
Beyond its reputation as a concrete jungle, New York City is known for its vendors that sell high-end knock-offs and dupes to consumers. Some either can't afford the real deal, and others don't want to spend a ridiculous amount on something that might not even be trendy the following season. In November 2022, TikTok user @quiroskimberly went viral for sharing a video of a man she referred to as the "scarf guy." In her video, she explains that the "scarf guy" is located next to a Citizens Bank on 38th and 8th Avenue. As the name suggests, he sells scarves.
But these are not just any scarves. BuzzFeed News states that the "scarf guy," whose actual name is Joe, sells a dupe for the Acne Studios scarf, a sought-after and pricey accessory. Manufactured in Italy, the Acne Studios Mohair Checked Scarf features wool and alpaca. It also comes with a $310 price tag. Despite the steep cost, influencers have raved about the product. Stylist Sian Clarke stated (via The Guardian), "It's everywhere right now." She added, "It's really friendly to every kind of style." For those who want the Acne Studios scarf but don't want to break the bank, TikTok user @3nycgirls says the "scarf guy" is the man to buy from.
Scarf guy is affordable
According to @3nycgirls December 2022, "scarf guy" sells seven Acne Studios scarf dupe varieties. She notes that they are $20, and in a comment in her video, she says that he is cash only. Users in the comments stated that before going viral, "scarf guy" had lower prices, ranging from $12 to $15. Per @3nycgirl, Joe does not haggle prices (via BuzzFeed News). He also denied changing prices to BuzzFeed News. However, users in the comments did not seem bothered by this. Instead, they praised his ethos and his reasonable prices.
One person said, "Why negotiate a $20 scarf? Come on now." Moreover, @quiroskimberly's TikTok shows that the "scarf guy" has more than scarves in his inventory, including beanies, gloves, and wool berets. Another TikTok from @littlefashionstylist says that wool berets are also $20. But of course, the star of the show is the Acne Studios scarf dupe. One user said, "not me wanting to travel to the city for a scarf." Another said, "Just bought one from him! He's so sweet and is grateful for all the love and support! I'm so happy this video blew up for him."
Customers are loving their scarves
TikTok user @savysc notes that the appeal for her in visiting and purchasing from "scarf guy" centered on supporting a local business. But what about the quality of the now-famous Acne Studios scarf dupe? In her TikTok caption, @littlefashionstylist states, "[It's] safe to say I think I'll be back." In her video, she says of the scarf, "it's a lot bigger than I was expecting, and it's super, super soft." TikTok user @deeksha_s4 had a similar review and described them as "so soft." She said, "these are probably one of the best scarves I have in my collection."
Both deeksha_s4 and @3nycgirls state that the scarves are worth the hype. However, 3nycgirls notes that you should only visit "scarf guy" if you are specifically looking for an Acne Studios scarf dupe. In a December 2022 interview with BuzzFeed News, Joe said he is well aware of his online popularity as the "scarf guy."
He stated, "I have this stand a long time, more than 15 years." Joe added, "Some years are big, some are slow. Every year more people will do videos." Joe also told BuzzFeed News that his stand is open from 9 a.m. to 6 p.m. ET.