All The Men Princess Anne Married And Dated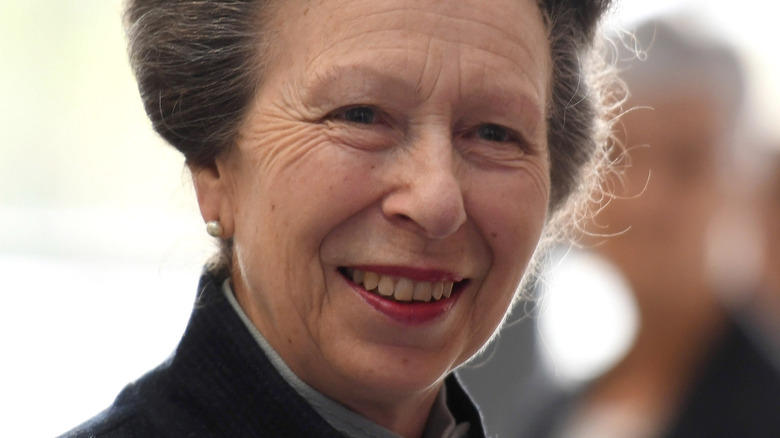 Finnbarr Webster/Getty Images
We may receive a commission on purchases made from links.
Though the late Princess Diana clenched the title of the royal rule breaker early on, Princess Anne should not be kept out of the running. As Queen Elizabeth's second child and only daughter, Anne has certainly solidified her reputation as one of — if not the — most hardworking royal among the lot, and her no-fuss attitude and stiff-upper-lip approach have prevailed over time. Still, she had her fair share of drama back in the day, and her aura of steadfastness hasn't always been there — in fact, she had quite the romantic scandal, especially by royal standards, that played out on the public stage.
As many know, divorce within the royal family is a big no-no. Princess Margaret, the queen's younger sister, arguably paved the way for separation and divorce when she became one of the first modern royals to split from her husband, Antony Armstrong-Jones, in the 1970s. Then-Prince Charles and Diana followed suit, and Prince Andrew and Sarah Ferguson's split wasn't too far behind. Amongst all of this, Anne separated and divorced her first husband, and the contents of private letters between her and another man hit the front pages. For such a composed royal, Anne has gotten away with quite the dalliances, and we're here to break it all down. From her early flings as a teen to her serious relationships, affairs, and everything in between, here are all the men Anne married and dated.
Princess Anne had early romances like any other teen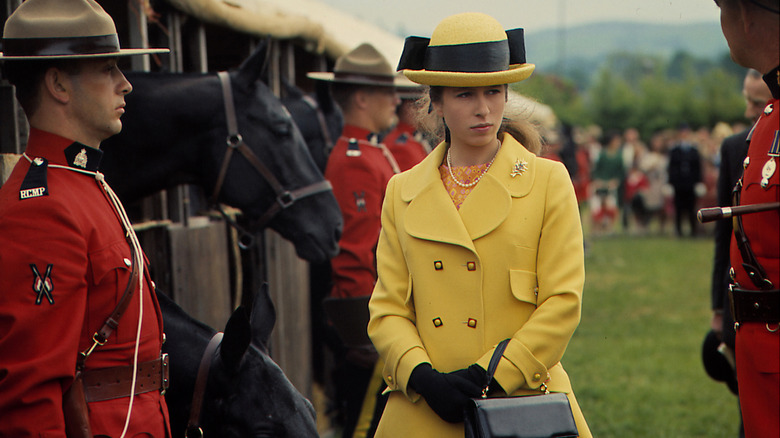 Jeremy Fletcher/Getty Images
One of the most refreshing aspects about Princess Anne is that she's always marched to the beat of her own drum. As a teen, she struck out on her own and even shared that she was "not everyone's idea of a fairytale princess" (via the Mirror). When it came to her role as a royal, Anne balanced her sense of duty with the frivolities that any teenager would enjoy — she dated around, and though it was all under the guise of her role within the family, Anne had her fair share of fun.
Though we think of Prince Harry as the royal rule breaker, Anne was way ahead of him. As a teen, she was often tied to a different boy, including cavalry officer Gerald Ward. Funnily enough, Ward went on to become Harry's godfather with time. Ward was everything a young, strapping man would be — he was sporty, a member of the military, good with his hands, and certainly caught the princess' attention. Shortly thereafter, she was linked to Sandy Harper, a polo player whose father was on the aristocratic radar thanks to his work as a horse trainer (and if there's anything about the royals, they love their horses and all things horse-related). Harper was classic 1970s — a hippy who wore necklaces and hit the nightclub with Anne on multiple occasions — but that connection didn't last, either.
Prince Philip stopped Anne from marrying a fellow equestrian early on in her life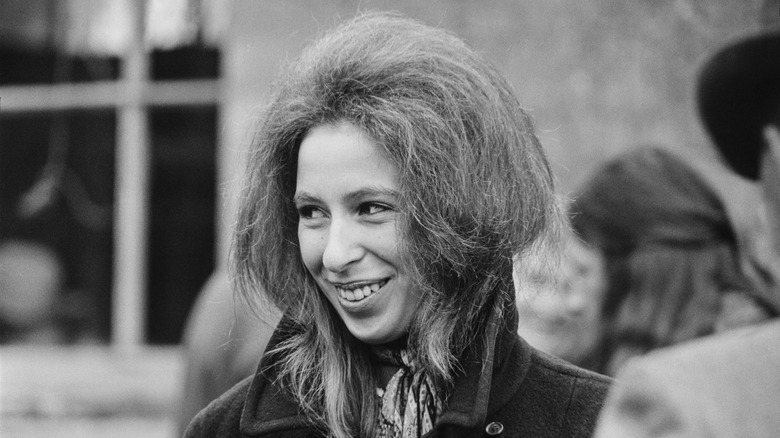 Harry Dempster/Getty Images
If there's one thing that pretty much everyone knows, it's that the royals have a big say in who their children date. Just look at King Charles, who was discouraged from dating and marrying Camilla, Queen Consort, in the first place as she was not deemed suitable for him — that definitely would've saved Princess Diana some serious heartbreak. Princess Anne was no different, and when she was 20, her heart was swept up in a romance with Richard Meade, an accomplished equestrian who was 12 years her senior. Meade was certainly impressive in his own right — not only did they share social circles, but he was an Olympic gold medalist three times over. Anne, an accomplished rider in herself, quickly gravitated toward him and the two bonded over their shared interests. Her father, Prince Philip, however, was not a fan of the match.
In the documentary "Princess Anne: The 7 Loves Of Her Life," her relationship with Meade was further explored, with Phoebe Pryce commenting: "Richard seemed to be the favorite for the princess' hand, but Anne's own father had his doubts." Notably, Philip thought that their age difference was too severe, with biographer and friend Brian Hoey noting: "[Richard] was 12 years older than the princess and I was told that the Duke of Edinburgh felt that it was a bit too much of an age gap so he was discouraged."
Princess Anne's heart was captured by Andrew Parker Bowles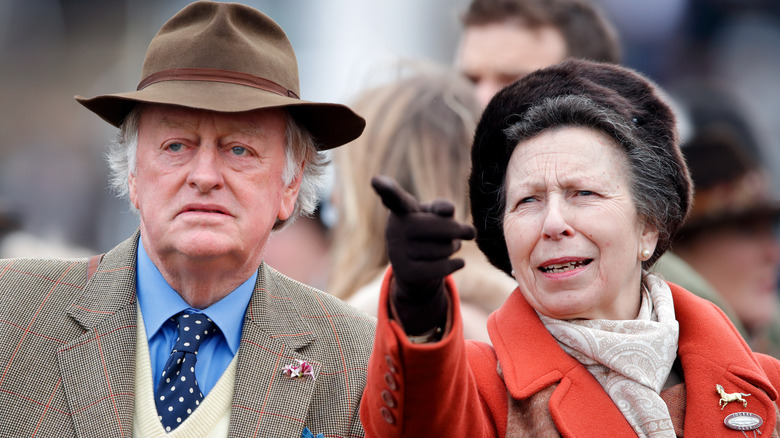 Max Mumby/indigo/Getty Images
Yes, that Parker Bowles. In case you missed it, Princess Anne's romantic attention was simultaneously caught by Andrew Parker Bowles, who would go on to marry Camilla, Queen Consort in 1973 after her romance with King Charles came to an end the first time (it's all very cyclical). Anne and Parker Bowles first connected in 1970, during the same period of time when Richard Meade was on the scene. Biographer Sally Bedell Smith detailed that given Parker Bowles' horse racing connections and his established ties to the royal family, he and Anne bonded fairly quickly. Their time together, however, was a bit short-lived.
"It's unclear when their romance wound down, but Anne had no shortage of young men interested in her, among them Mark Phillips, whom she first met in 1968," Smith detailed, noting that the romance between Anne and Parker Bowles just seemed to fizzle out over time. However, the two remained in each other's lives in a particularly meaningful way. Despite their status as exes, Anne designated Parker Bowles in her children's lives.
"Anne and Andrew have remained friends to this day, and he is a godfather of Anne and Mark's daughter Zara, born in 1981," Smith further detailed. But why did things really cease between these two? As it turns out, one formality, in particular, stood in their way.
One particular issue stood in Anne and Andrew's way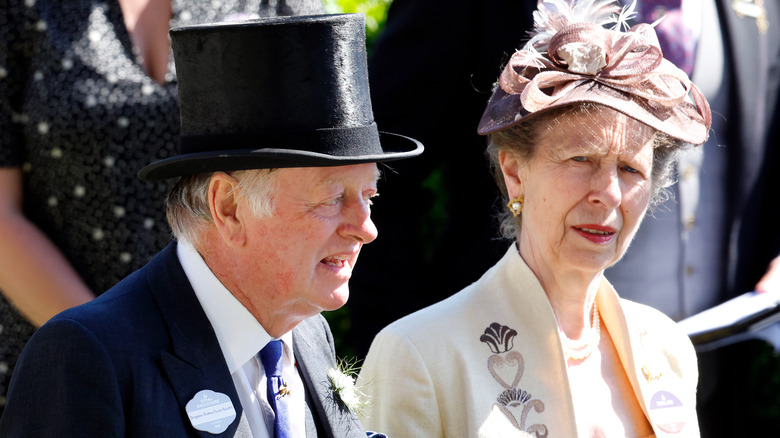 Max Mumby/indigo/Getty Images
The royals are all about formality and following the rules to a tee — for the most part — and Princess Anne had quite a hurdle facing her relationship with Andrew Parker Bowles that stopped the two of them from progressing any further. Parker Bowles was and is Catholic. As members of the Church of England and with the monarch serving as the head of the church, it is completely out of sorts to marry a member of the Catholic church. This rule has even permeated modern times — Meghan Markle, who went through Catholic schooling, was baptized as a member of the Church of England before she was allowed to marry Prince Harry. As such, when Anne and Parker Bowles started their romantic relationship with one another, a larger, more long-term discussion was needed about his religion if things between them progressed into serious territory.
Biographer Sally Bedell Smith further detailed that given his religion, things between Anne and Parker Bowles stopped before they got too far gone, and he went on to marry Camilla, Queen Consort, shortly thereafter. After he and Camilla got divorced in 1995, Parker Bowles married his second wife and they were together until her death in 2010. He has continued to be a constant presence in Anne's life, and the two have been seen enjoying each other's company on many public occasions to this day.
Anne met her first husband through her equestrian career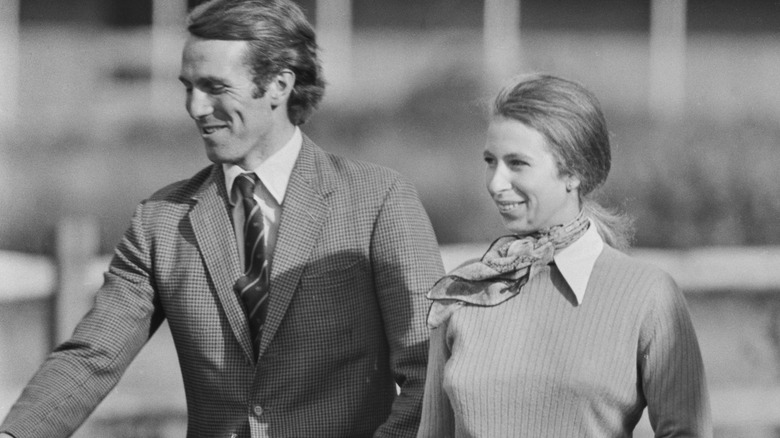 Mccarthy/Getty Images
Though she is a princess and a dedicated royal, Princess Anne pursues a career as a horseback rider and had a thoroughly impressive run as an athlete. She won multiple international events as an equestrian and even represented Great Britain at the Olympic Games — she has continued to dedicate her time and resources to all things horse-racing related and has championed the sport throughout her life. It's no wonder, then, that she met her first husband through her sporting connections. Captain Mark Phillips, an accomplished member of the British Army, was also a champion equestrian and shared the same love of horses as Anne, leading the two to quickly bond over their shared interest.
Phillips pursued his career as a horseback rider while he was still in the army. Landing a spot on Great Britain's Olympic team, Phillips won the gold medal in 1972 and later scored a silver medal in 1988. Given his success and Anne's concurrent career —  she was named the BBC's Sports Personality of the Year in 1971 and competed in the Olympics in 1976 — it's no wonder that they had an interest in one another. Their romantic relationship developed rather rapidly, and Phillips popped the question. He presented her with a stunning engagement ring, featuring a blue sapphire flanked by two diamonds.
Anne and Mark got married in 1973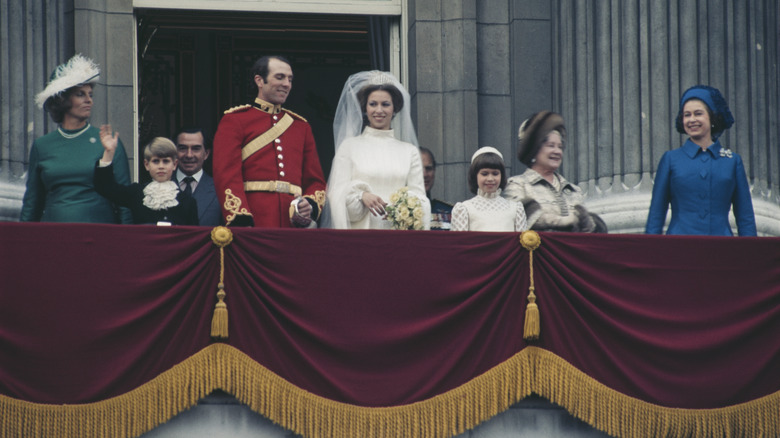 Fox Photos/Getty Images
After flings and boyfriends and dating within the structure of the royal family, Princess Anne got married in 1973, tying the knot with the devastatingly handsome Captain Mark Phillips who certainly was impressive in his own right. The wedding took place on November 14, 1973, and like royal weddings before and after, it was quite a star-studded affair. Anne and Phillips, of course, got married at Westminster Abbey and Great Britain came out in full force to support the newlyweds — and to get a glimpse at the bride. Anne's gown was, in our opinion, one of the most striking royal wedding gowns. Its Tudor style and trumpet sleeves were effortlessly chic, and Anne naturally topped off the look with a stunning tiara. She borrowed the Queen Mary Fringe Tiara for her big day, and to make a personal moment that much more sentimental, it just so happened to be the tiara that Queen Elizabeth II wore on her wedding day, too.
Speaking of the queen, she was said to have had the most hilarious commentary on her daughter's big day. Anne's equestrian career was in full swing by the time she got married, and Phillips — as aforementioned — too had an impressive run on the equestrian circuit. In an eyebrow-raising quip, the queen was said to have joked: "I shouldn't wonder if their children are four-legged" (via Express).
Things between Mark and Anne went south fairly quickly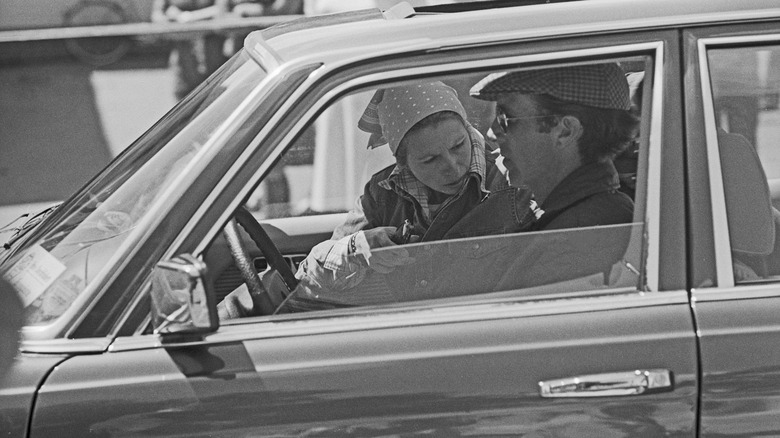 United Archives/Getty Images
Though their wedding was celebrated as the royal event of the year, things between Princess Anne and Captain Mark Phillips went south fairly fast. Rumors about their fidelity toward one another started cropping up with time, and Anne was said to have gotten quite close with a member of her protective detail, Peter Cross. Given that they were in public together fairly often, rumors began swirling around Anne and Cross — Phillips, naturally, was not pleased with the news. But, as a spouse who married into the royal family, he was simply told to grin and bear it — it was not his fight to have.
Of the nature of the relationship shared between Anne and Cross, royal reporter Harry Arnold once admitted that he had it on background that they were indeed having an affair. "I was told from an amazing source he [Mr Cross] was having an affair with Princess Anne. I couldn't use the word 'affair,' so I invented the phrase that he became 'over-familiar' with Princess Anne," Arnold said (via Express). Cross, meanwhile, was also married and was the father of two children — even his wife, Linda, commented on his relationship with Anne and his habit of having affairs throughout their marriage.
"He couldn't resist women and they couldn't resist him," Linda once said. "But with Princess Anne it was different. It was obvious he was playing with fire there and could get seriously burnt."
Mark and Anne separated in 1989 and divorced two years later under an immense scandal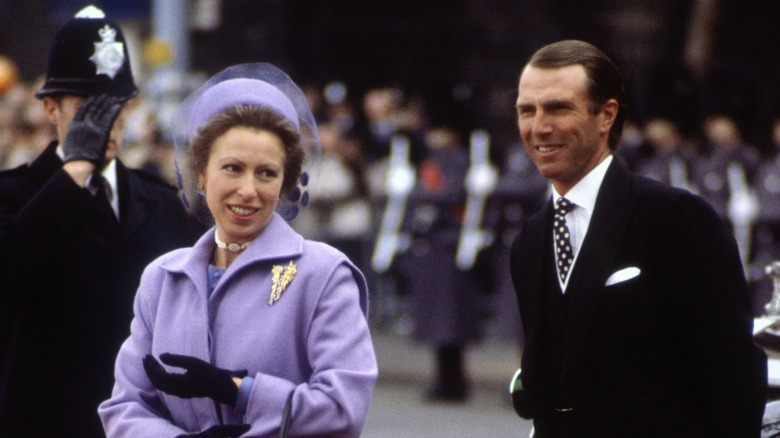 David Levenson/Getty Images
Though it's now happened fairly consistently, divorce within the royal family used to be a no-go. As leaders of the Church of England, the members of the firm are actively discouraged from separating and divorcing their significant other, but Princess Anne and Captain Mark Phillips were at a breaking point. As it turned out, Phillips too was having an affair and went as far as fathering a child with a one Heather Tonkin, an art teacher. The two conducted their affair in the mid to late 1980s, resulting in Tonkin's pregnancy. After she welcomed their daughter Felicity, Phillips started paying her child support. Tonkin told Express of their affair and exchange of money: "My ambition is to get Mark's public acceptance of her and to be able to enter his name on her birth certificate." After a period of time denying the affair rumors, Phillips fessed up, and it was revealed that he had gotten away with paying her child support under the description of "equestrian matters."
Naturally, things between Anne and Phillips were too far gone, and the pair separated in 1989. This, of course, was shortly before then-Prince Charles and Princess Diana separated, only to be later joined by Prince Andrew and Sarah Ferguson. It truly did seem as though the royal romances were falling apart, and just a few short years later in 1992, Anne and Phillips officially severed their marriage.
Anne and Timothy Laurence first crossed paths in 1986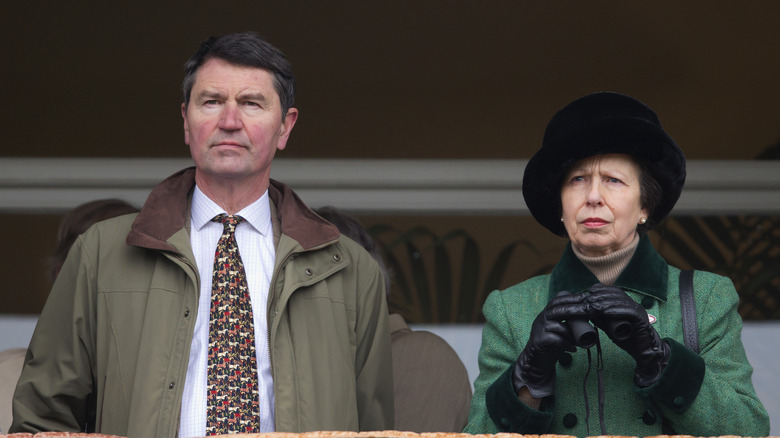 Max Mumby/indigo/Getty Images
Princess Anne was rumored to have affairs throughout her marriage to Captain Mark Phillips, and he clearly did as well given that he fathered a child with another woman while still married to the royal. But, Anne also crossed paths with one Timothy Laurence in 1986, and she was fairly smitten. Laurence was an equerry to Queen Elizabeth at the time — basically a senior personal assistant who oversees many aspects of a royal's personal life — and he quickly took notice of Anne. Funnily enough, their connection eerily mirrored Princess Margaret's connection with Group Captain Peter Townsend, who too was an equerry when they first started their romance.
Though she was still married, Anne's connection to Laurence was fairly obvious, and an insider told People all the way back in 1989 that their feelings for one another were clear as day. "Tim never stopped thinking about Princess Anne from soon after their first meeting ... Anne has treated him as her closest confidant for some considerable time," the source said. "Obviously, Tim and the princess were physically attracted to each other, but their friendship goes deeper than that. Tim has filled a loneliness in her life and given her a shoulder to cry on when she needed someone to tell her troubles to. He understands her tantrums and the bad publicity she attracts. But most of all, he cares for her in the way her husband does not."
The love letters shared between the two were published in 1989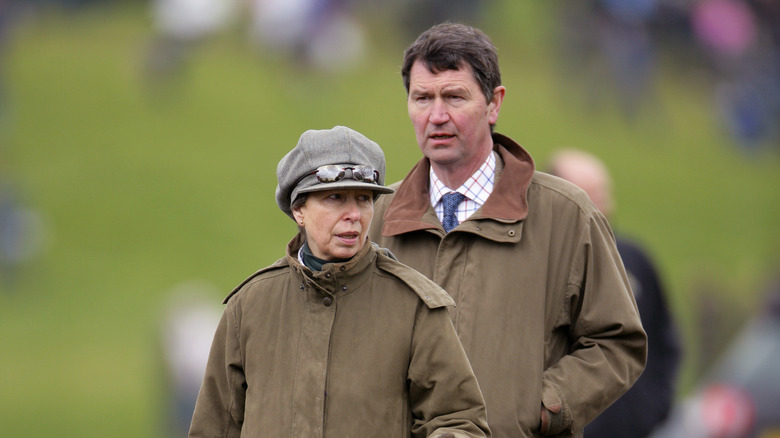 Max Mumby/indigo/Getty Images
Perhaps one of the most tragic aspects of Princess Anne's early relationship with Timothy Laurence came in the stealing of the couple's personal letters. In 1989 — while she was still married to Captain Mark Phillips — four letters of Anne's made it into the hands of The Sun, one of Great Britain's biggest and most powerful tabloids. Naturally, it made the front page.
It was a little complicated for The Sun at the time, who were playing with fire when it came to copyright lawsuits. Given that they couldn't risk publishing the letters themselves, The Sun came up with a plan — they would place the blame on the thief who stole the letters from Anne initially and point to themselves as the heroes who stepped in and saved the princess from her private affair turning public. After giving the letters to Scotland Yard, The Sun ran the headline: "Palace Thief Steals Anne's Letters...Sun to the Rescue" (via People).
In a shocking turn of events, the palace actually released a statement about Anne and Laurence's letters, noting at the time: "The stolen letters were addressed to the Princess Royal by Commander Timothy Laurence, the Queen's Equerry. We have nothing to say about the contents of personal letters sent to Her Royal Highness by a friend which were stolen and which are the subject of a police investigation." It was rocky water for the new couple, but they got through it.
Anne and Timothy got married in 1992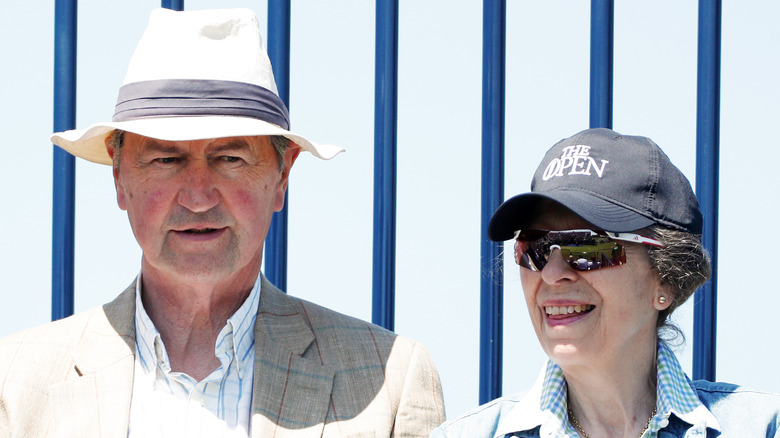 Oisin Keniry/Getty Images
Princess Anne clearly knew that Timothy Laurence was the man for her. After a failed marriage to Captain Mark Phillips, affairs, boyfriends, you name it, Anne and Timothy made it down the aisle. Now, this came with yet another layer of complexity — because nothing is easy in the royal family. Given that Anne had already been married and divorced, her second marriage was not looked fondly upon by the Church of England. As such, she was not permitted to get married in England, and instead, she and Laurence traveled to Scotland to tie the knot.
Getting married at Crathie Church, just a stone's throw from Balmoral Castle, Anne and Laurence exchanged their vows the same year that Anne and Phillips finalized their divorce. The princess decided to forego a traditional wedding dress and instead wore a white suit, with Laurence in his military uniform. They were greeted by well-wishers who lined the streets, but all in all, it certainly wasn't the grand affair that Anne's first wedding was. Included in the small ceremony were the princess' two children, as well as Queen Elizabeth, Queen Elizabeth The Queen Mother, and Princess Margaret — whose own divorce years prior certainly paved the way for her niece to do the same. After the wedding, the newlyweds and the royal family celebrated at the lodge on Balmoral's grounds. Anne and Laurence have been happily married ever since.