The Bold And The Beautiful's Don Diamont Explains Bill's Determination To Be With Sheila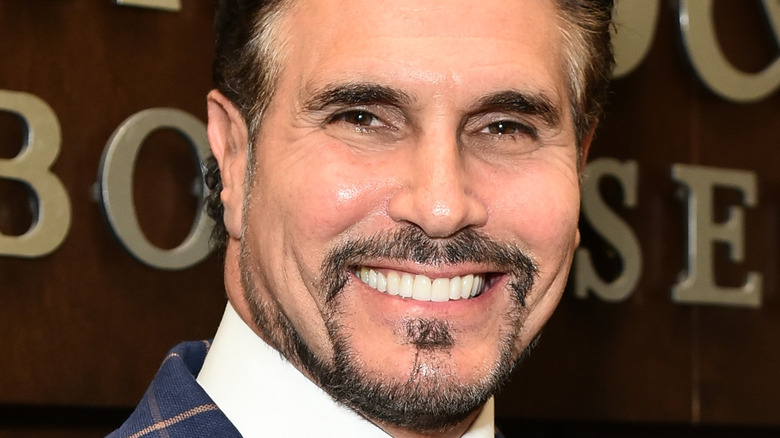 Brandon Williams/Getty Images
The controversial romance between the psychotic Sheila Carter (Kimberlin Brown) and cutthroat businessman Bill Spencer Jr. (Don Diamont) is highly perplexing for fans of "The Bold and the Beautiful." Sheila has quite literally murdered, kidnapped, and blackmailed her way from Los Angeles to Genoa City on "The Young and the Restless" and back again. She not only spread honey all over Donna Logan (Jennifer Gareis) so that a bear would attack her, but she also shot her own son and his wife, among numerous other crimes. 
On the run, Sheila eventually bumped into Bill, and the two felt as if they were kindred spirits. Sheila's always longed to be loved, but her heinous actions understandably drove people away. Bill, meanwhile, had vacillated between Brooke Logan (Katherine Kelly Lang) and her sister Katie Logan (Heather Tom) in a complicated love triangle for years, until both women rejected him and he found solace with Sheila. Bill even helped the dastardly criminal blackmail her way out of being prosecuted by law enforcement. 
Most of the town is in an uproar that Bill, while guilty of his own litany of misdeeds over the years, would shack up with an insane criminal like Sheila. He's insisted that he and Sheila understand each other, and even belong together. Their chemistry can't be denied, and now Diamont himself is sharing his thoughts on the unfolding situation. 
Diamont feels Bill deserves Sheila as punishment for his past actions
"The Bold and the Beautiful" fan favorite Don Diamont spoke to TV Insider about why he thinks Bill wants to be with the villainous Sheila so badly. Diamont likened Bill to a mob boss, rather than a deranged villain, explaining, "Bill's a damaged person. I've always played it that way. He's not a crazy person." The actor stated that Bill's infatuation with Sheila doesn't just stem from the fact that Brooke and Katie rejected him. 
He explained that the character is filled with contempt for himself, adding that Bill "has to win because deep down he doesn't feel worthy. He's evolved over the years, but he tends to destroy whatever good comes his way. Nothing could feed the black hole that lives inside him." Bill's loneliness extends to a "lifelong pain that lives within him." The soap star also argued that Bill is aware his actions have pushed away the women in his life. 
However, by hooking up with Sheila he can punish himself. "What he deserves is Sheila," Diamont confirmed, expounding, "What he thinks he's worthy of is Sheila. She's the punishment for the mistakes that he's made. In a way, Bill's protecting the women in his life from being hurt by him by being with Sheila." Because Sheila is now beholden to him, Bill feels he can prevent her from causing further harm. But he's suffering as a result.