Why General Hospital Fans Are On Team Taggert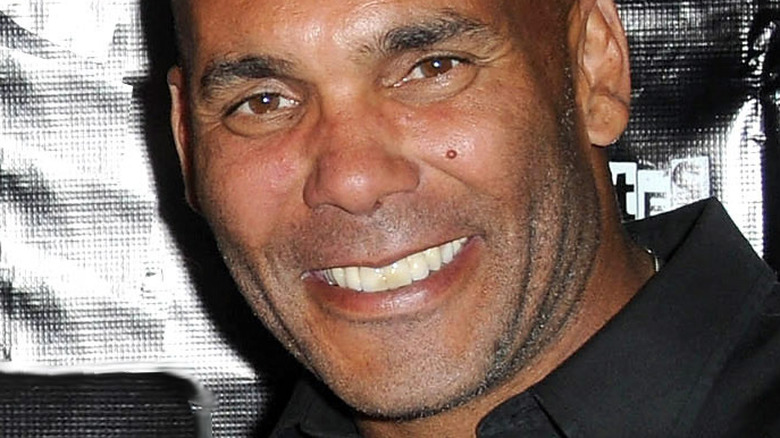 Albert L. Ortega/Getty Images
The secret of whether Marcus Taggert (Réal Andrews) or Curtis Ashford (Donnell Turner) is the father of Trina Robinson (Tabyana Ali) has been drawn out for quite some time on "General Hospital." Trina's mother, Portia Robinson (Brook Kerr), had an affair with Curtis 20 years ago, and when she learned she was pregnant, it was too late — Curtis left her because he found out she was married to Taggert. So, Portia sat on the paternity question in an effort to keep her family together. As the years went on, it was as if Portia was on the back of a wild horse with nothing to do but hold on, and hope for the best. As Taggert grew to love what he believed was his daughter, Portia refused to upset the bond that had developed between him and Trina.
Curtis is well-known for having no tolerance for people who lie to him. He divorced his wife Jordan Ashford (Tanisha Harper) because of her secret-keeping job as police commissioner. Taggert and Portia divorced years ago, paving the way for Curtis to reconnect with her, and eventually the two got married. However, the secret that Portia didn't know which man was Trina's father came out during their wedding reception, and everyone involved is reeling from that bombshell. 
Andrews previously hinted about Trina's paternity, and now, the fans weighed in on the situation, particularly concerning Taggert's response to everything. 
The fans are loving Taggert's reaction to Portia's revelation
On "General Hospital," Marcus Taggert told his ex-wife Portia Robinson that it didn't matter if he was Trina's father or not — she's still his daughter. A question was posed on the show's official Twitter page, asking, "Taggert doesn't care what any DNA test says... he is Trina's father. Will Portia hear him out?" An enthralled fan replied, "Taggert had me wrapped around his little finger today with his every word! The passion pouring out of him was so real, I can't get enough of Taggert. Trina is HIS daughter and will always be HIS daughter PERIOD! #TeamTaggert @realandrews you brought me to tears!"
The love for Taggert and his portrayer, Réal Andrews, continued with the post, "Give this character/actor more air time. LOVE this man of integrity (in the) spotlight. He IS Trina's dad no matter what. So far the only one in the storyline to put TRINA first." The fans continued to gush over Taggert's actions with one stating, "The father Trina deserves! He's her father period!" While another wrote, "That's a real man and father!" On the other side, a viewer answered the question in the negative, posting, "No. Because Taggert needs to know the definite truth about who is actually Trina's biological dad."
Still, fan approval of Taggert's assertion was abound as highlighted in the response, "Damn straight dad!!"