Why General Hospital's Carolyn Hennesy Sees A Romantic Future For Robert And Diane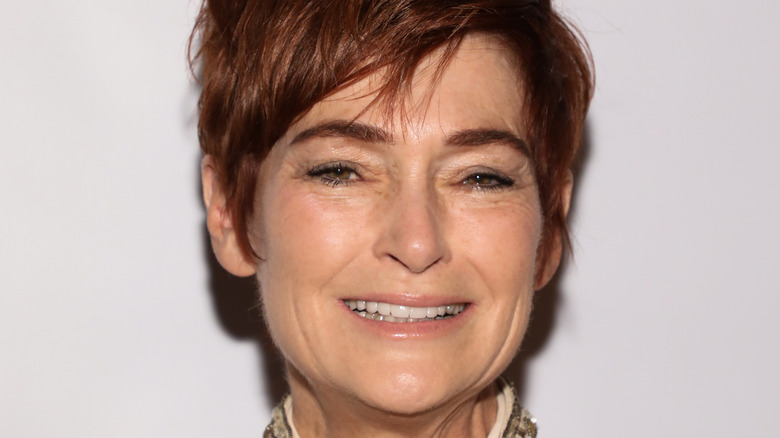 Paul Archuleta/Getty Images
The legendary Robert Scorpio (Tristan Rogers) has taken down his share of evildoers over the years on "General Hospital." A former spy for the World Security Bureau, Scorpio married fellow superspy Anna Devane (Finola Hughes). When it turned out Anna was a double agent for an enemy organization known as the DVX, their marriage was over. Scorpio became the police commissioner for Port Charles and was also involved with con-artist Holly Sutton (Emma Samms). Anna and Holly would come in and out of his life throughout the years, and it seemed Scorpio would eventually settle down with one of them. However, Anna is now involved with Valentin Cassadine (James Patrick Stuart), and Holly is pretending to be dead to save her son.
Meanwhile, Diane Miller has been a powerhouse attorney for ages, and has been the lawyer for mafia don Sonny Corinthos (Maurice Benard) and his allegedly criminal organization. She's won nearly every court case she's ever fought, and when someone has Diane on their side, they know their odds of winning have increased a thousandfold. Diane was dating Sonny's chief bodyguard, Max Giambetti (Derk Cheetwood), and they were together for several years. But, they eventually broke up when Max revealed that he thought their relationship was casual. When Diane was a victim of the Hook killer, Scorpio was with her at the hospital to comfort her.
Now that Scorpio is the district attorney, he's worked in close proximity with Diane, and their chemistry is unmistakable. "GH" star Carolyn Hennesy seems to agree.
Hennesy loves the pairing of Diane and Scorpio
As the attraction develops between Robert Scorpio and Diane Miller on "General Hospital," Miller's portrayer, Carolyn Hennesy, spoke with Soap Hub about this new story. She completely admires Tristan Rogers, saying, "I'm loving it because I love Tristan so much." She added, "Any time I get to spend with him is a joy for me. I love Tristan 'the curmudgeon' — and I mean that in the most wonderful and delightful way." Hennesy felt she and her character enjoy Rogers' sense of humor, which helps make the couple fun. "Robert and Diane are both at stages in their lives where this (relationship) works," she stated.
Because the fans enjoy taking the names of romantic partners on soaps and combining them, Hennesy created one for herself and Rogers. "I've taken a liberty and started calling us 'Disco,' which I think is hilarious," she said, explaining it's a combination of Diane and Scorpio. Hennessey is aware that Scorpio's two great loves, Anna Devane and Holly Sutton, are otherwise indisposed — with Holly being on the other side of the planet, and Anna with Valentin Cassadine. Therefore, she hopes that Diane and Scorpio's pairing will develop further, stating, "I think people want to see 'smart funny' and romance."
While their potential romance has taken a back seat to some other major storylines, we can't wait to see them come back to the forefront and possibly become a new super couple!