Gisele Bundchen Stuns In First Magazine Cover Post-Divorce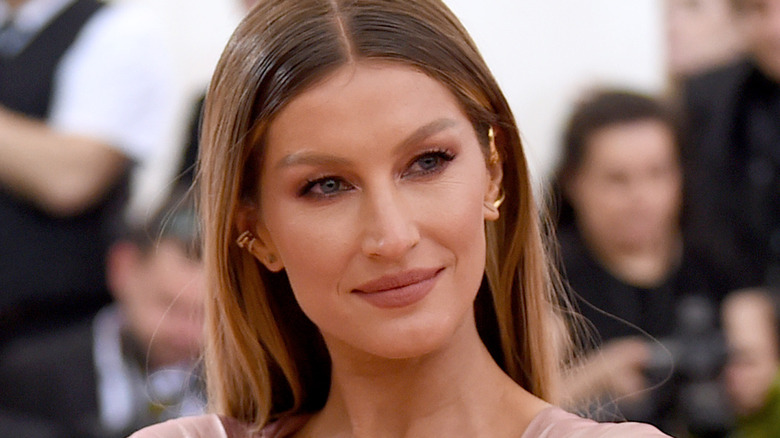 Jamie McCarthy/Getty Images
When you think of the word "supermodel," Gisele Bündchen is likely to come to mind. The Brazilian native first graced the runway in 1996 after being discovered when she was only 13. Since then, Bündchen has become one of the most recognized faces in fashion and made a fortune. From 2000 to 2014, she was the highest-paid model in the world. However, Bündchen retired from the runway in 2015, citing that her body had told her to stop. Nevertheless, she's continued to appear on magazine covers, and in 2018, she noted (via Page Six), "I think I'll retire only the day I die. Because I love working, I love creating, I think that's why we're here to keep creating and expanding and learning."
Beyond her legacy as a Victoria's Secret Angel and catwalk icon, Bündchen is known for her marriage to NFL legend Tom Brady, with whom she tied the knot in 2009. The pair went on to have two children before divorcing in 2022. After 13 years of marriage, People reports that Bündchen and Brady stated in their divorce paperwork that their union was "irretrievably broken." Although Brady recently announced that he's retiring from the NFL for a second time, Bündchen is returning to work. The 42-year-old is on the cover of Vogue Italia's March 2023 issue, making this Bündchen's first cover since her divorce.
Lady in red
Gisele Bündchen's March 2023 Vogue Italia cover is lavish and edgy. The cover features the model in a stunning red Maison Valentino gown. Her slicked-back hair, nails, lips, and eyebrows are all red to create a monochromatic appeal. For the eyes, Bündchen shows off a dramatic smoky style. Bold silver jewelry from Kenneth Jay Lane and Patricia von Musulin completes the striking look. On Instagram, Vogue Italia wrote in the caption (translated by ABC News), "Our cover story is a chromatic journey through the thousands of transformations of a woman who, usually portrayed naturally, is almost unrecognizable here."
Bündchen was styled by Ibrahim Kamara and photographed by fellow Brazilian Rafael Pavarotti. This is Bündchen's second Vogue cover in less than a year. In June 2022, she was British Vogue's cover star. In her interview with the publication, she stated, "we're all told that life is over at 40, and I feel like I'm just beginning." Despite her divorce from Tom Brady, Bündchen has not slowed down. She's been traveling and doing photoshoots. In February 2023, Bündchen attended Carnival in Brazil. She celebrated by recreating an outfit she wore in 2004, proving that regardless of her age or relationship status, she's still a force to be reckoned with.
Fans have mixed reactions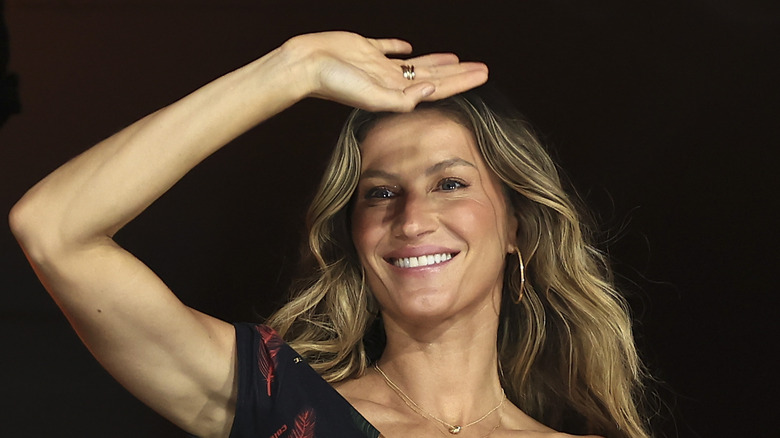 Buda Mendes/Getty Images
The cover for the March 2023 issue of Vogue Italia is not the only photo from the shoot. Gisele Bündchen rocks various looks that transform her face and features. This includes a black motorcycle jacket with a long skirt and another with a dark form-fitting dress with a messy red hairdo. Of these daring ensembles, Vogue Italia said (via ABC News), "Extraordinary dresses, scene-stealing make-up and fun, colourful hairstyles transform Gisele into the perfect array of different characters, each of whom she interprets with playful, sensual and irreverent aplomb." The publication added, "Each one is different and, perhaps because of this, each one is her."
In another photo, Bündchen looks nothing short of a goddess in a sheer dress showing off a pink lingerie set. But not everyone loves Bündchen's cover photo. One fan commented on Vogue Italia's Instagram, saying, "How can you guys make Gisele look that bad??" Another individual stated, "Vogue Italia is so disappointing. This cover is terrifying." Others in the comments have accused the magazine of photoshopping Bündchen's body. However, fans have been loving Bündchen's other looks. In a photo where Bündchen wears a dark wig with a simple skirt and blouse, a fan commented, "She's on another level." On Instagram, another fan noted, "The Supreme is back."