Jessa Duggar Seewald Suffers A Devastating Loss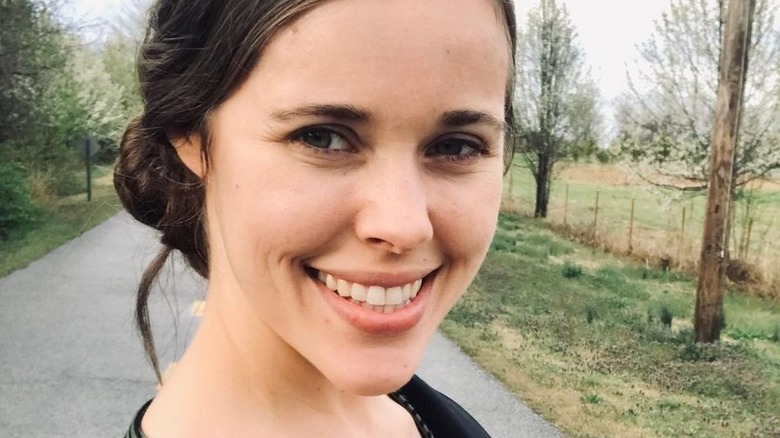 D Dipasupil/Getty Images
Jessa Duggar Seewald and her husband, Ben Seewald, have been married since 2014. When it came to having children, Jessa wasn't shy about her hopes of having just as many kids as her parents. "Whatever God's plan is, we'd be good with that! It's probably not possible for me to have 19 kids naturally, but we might adopt and get up to that number," she said, according to ABC News. About a year after the wedding, Jessa and Ben welcomed their first child together — a son they named Spurgeon. In the time since, Jessa and Ben have welcomed Henry in 2017, and then Ivy in 2019, who made quite the entrance into the world.
"Our birth plan through this whole pregnancy was that we would deliver at a birthing suite at the hospital with a midwife there. However, the morning that my water broke was the morning that my midwife had left town for a week," Jessa said in a video released by TLC (via People). Jessa ended up giving birth on the couch in her living room. Two years later, their daughter Fern made them a family of six. In an Instagram photo announcing her arrival, baby Fern was seen with a full head of hair. The whole family was overjoyed with her arrival. 
Flash forward to 2023, and Jessa shared some devastating news with fans by way of a YouTube video.
Jessa Duggar Seewald suffered a miscarriage
In the new YouTube video uploaded on February 24, Jessa Duggar Seewald says that she and Ben Seewald sat down with their four children in November to tell them that "a new baby was on the way." After sharing the news with their family, Jessa said that they spent the next several months staying in because all of the kids kept getting sick. She filmed herself giving an 11-week update and said that everything had been going "really well" despite having really bad morning sickness. It was so bad, in fact, that Jessa actually thought that she may have been expecting twins. When she experienced the "tiniest amount of spotting," Jessa got concerned and scheduled an ultrasound. She soon learned that she had suffered a miscarriage. "Honestly, nothing could have prepared me for the weight of those words in that moment," she said.
This is the second miscarriage that Jessa has suffered. She suffered a miscarriage in 2020 before welcoming daughter Ivy the following year, Today reports. "When you lose someone so dear to you, it does makes heaven just that much sweeter. we talked about that with the kids. We can't wait to meet this little one in heaven one day," she said in her YouTube video.