What Is Texturizing Powder And How Does It Differ From Dry Shampoo?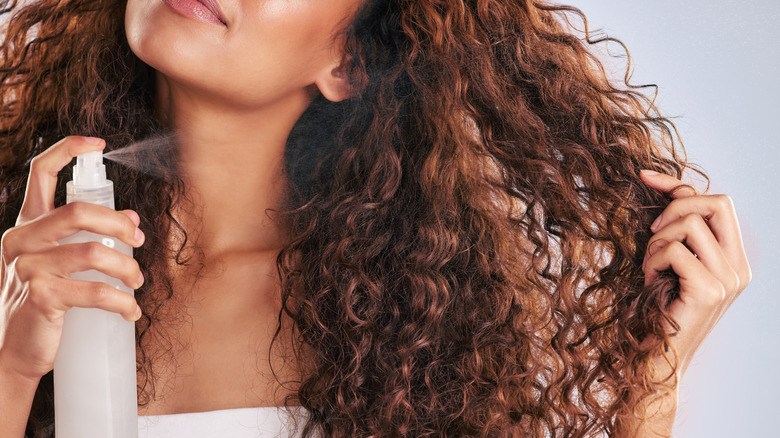 Peopleimages/Getty Images
We may receive a commission on purchases made from links.
Hair is very much a part of the nostalgia cycle. As we see a resurgence of 2000s closet staples like low-rise jeans and micro minis, there's also been an uptick in Y2K hairstyles. Gigi Hadid wore an updated spiky bun to the Met Gala, and colorful clips are no longer a thing of the past. Even Kelly Clarkson-style chunky highlights are staging a comeback, sported by the likes of Kylie Jenner and Bella Thorne within the past few years.
However, due to the hundreds of micro trends circulating social media platforms like TikTok and Instagram, the 2000s aren't the only decade garnering attention. Coming soon, "We'll see a lot of '70s and '90s styles fused together, taking the best of both eras," predicts celebrity hairstylist Dom Seeley in a conversation with Glamour, adding, "The haircuts have evolved, taking the best bits from each cut and making a hybrid version." Most of these styles are defined by their impressive volume, something easily accomplished with a little help from the right styling products and a few cleverly-placed layers. Though the two are often conflated, texturizing powder and dry shampoo serve different purposes. For starters, texturizing powder is what you'll need to achieve that coveted retro look.
Texturizing powder adds volume to flat hair
Are you to add some extra height to the top of your head? Turn to texturizing powder rather than dry shampoo for help. Dry shampoo, usually sold in an aerosol can like hairspray, is used to combat grease build-up. So, how does dry shampoo actually work? When sprayed onto the scalp, the alcohol or starch-based product absorbs oil from the previous day. Though it isn't a fool-proof shower substitute, you can successfully use dry shampoo to delay washing your hair if you're in a bind. Though fair warning, becoming over-reliant on this fast-fix may result in itchiness and irritation down the road, per Healthline.
Whereas dry shampoo can sometimes be used for styling — steer clear of spraying it on before applying heat — texturizing powder is the superior way to create a voluminous base. Most powders are made with ​​silica silylate, an ingredient you might recognize from the label of your concealer or lip gloss (via Men's Health). Although it's often used to thicken cosmetics, silica silylate is also helpful for clinging to hair shafts and holding them in place — yes, your voluminous '70s waves will stand tall throughout the day. Best of all, there's no oily residue. For starters, products like Sexy Hair Big Powder Play and the Kristen Ess Loose Styling Powder come with top-notch reviews on Amazon and Ulta Beauty, respectively.
How to incorporate texturizing powder into your routine
When using texturizing powder, always start with dry hair. That means post-shower styling is a no-go unless you've first gone in with a hair dryer. Next, shake or spray the powder directly onto your roots, lifting your hair to access your scalp at every angle. Focus on the areas where you want the most volume — usually, this means the crown of the head. Use your fingers to add texture to your layers, opting for a scrunching method if your hair is on the curlier side. As with most beauty products, a little bit goes a long way.
Volumizing powder can also bulk up bridal braids, create a buildable base for a french twist, or even rejuvenate your hair after a long day of wearing a hat. TikTok's Anna Primavera (@aannaprimaveraa) shows how she turns her bad hair day around with the help of texturizing powder. Alternatively, watch Caroline Stahl (@carolinestahl) achieve five-minute Farrah Fawcett waves. Keep in mind this product works best on thin, fine hair.