Here's How To Pull Off An Updated Spiky Bun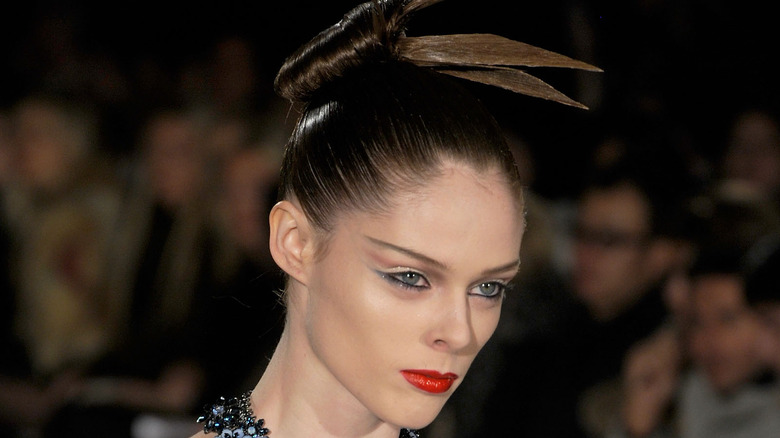 Arun Nevader/Getty Images
We may receive a commission on purchases made from links.
Who's not a fan of flowing hair that kisses the air every time you take a step? As much as we love keeping our hair down, sometimes putting it up can be a welcoming change. Maybe you got new accessories; your hair isn't looking the best from skipping that showering session, or that's just what you want to do. The cool thing about hair buns is that they can work for a wedding or a music festival, depending on what bun you choose.
Nothing is as easy and effortless as a messy bun as it works for a yoga class and a night out. Celebrity hairstylist Ted Gibson told Byrdie that this type of bun "is for girls who want to look very cool and not too contrived." All you have to do is blow dry your hair with some mousse and use your fingers to create texture and voila, "controlled chaos, but defined" as Gibson describes it. Even Meghan Markle is a fan of the messy bun, which she often wears at the nape of her neck with shorter layers framing her face.
Then we have the ballerina bun on the other spectrum. "Dancers are all about lengthening, and when you pull your hair up like this, it creates the illusion of a longer neck," hairstylist Guido told Allure. So graceful.
With Y2K fashion making a comeback, so are some hairstyles, and the spiky bun is one look you can rock right now and many a-listers are fans.
The spiky bun has an edgy Y2K vibe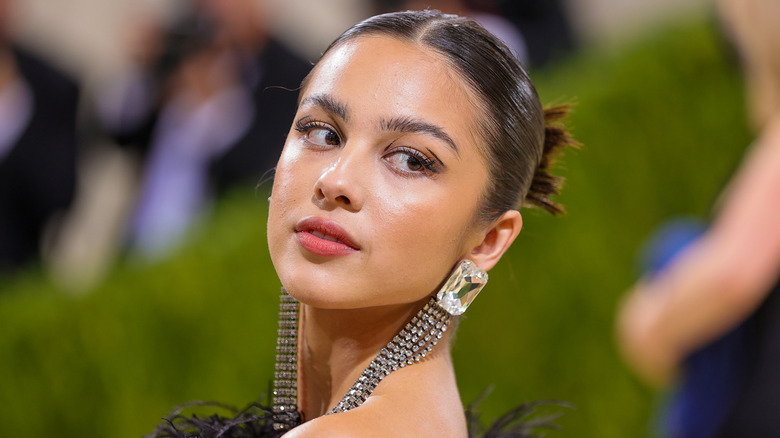 Theo Wargo/Getty Images
It's like we're reliving the late 1990s and early 2000s with style trends — and the spiky hair bun is just one hairstyle to make a big comeback. Hilary Duff and Mandy Moore were seen rocking this look (via Glamour), and now, this viral hair trend has 4.4 million hashtag views.
Hairstylist Salvatore Ierna told Stylist, "This look screams the 00s." It's "a high bun with an ultra-sleek finish." Given your preference, you can pull all your hair back in this slicked-back bun like Olivia Rodrigo at the 2021 Met Gala or leave a few shorter strands to frame your face, which seems to be Bella Hadid's preferred look.
All the models rocked this it-girl hair in Nensi Dojaka's spring 2022 fashion show, and stylist Syd Hayes told Coveteur, "Having grown up as a teenager in the '90s, it felt like a fun nod to my youth culture." Hayes' finished look was all about having "cool, razor-sharp edges" — a very 1990s Kate Moss style Hayes noted.
While a middle part and hair tightly pulled back with a sleek finish with the ends of the hair sticking out straight is the most common wear to wear this trend, fashionista Kristen Stewart did it with a twist at the Chanel Spring/Summer 2022 fashion show (via Grazia Magazine). Stewart parted her hair on the side, and her version was "looser, messier," where she curled the ends of the hair and let them fall delicately.
How to do spiky hair buns like the Hadid sisters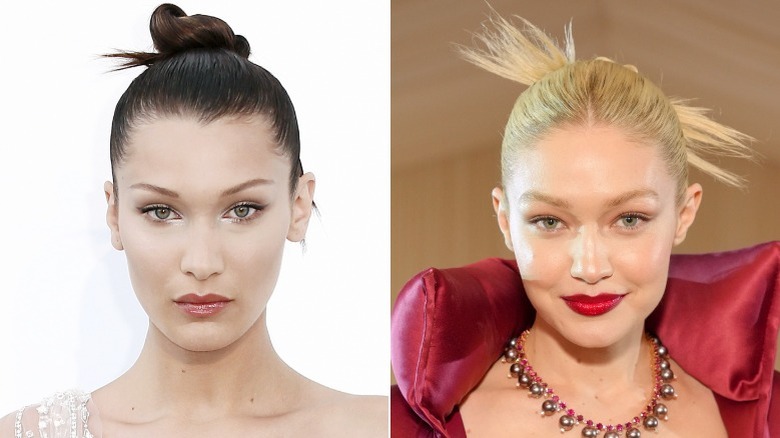 Kevin Mazur/mg22/Getty & undefined & Andrea Raffin/Shutterstock
Everything old is new again, which goes without saying for the spiky buns. You know a hair trend has made it when the famous Hadid sisters — fashion models Bella and Gigi — are often seen with it. While the celebrities have a group of hair stylists helping them look that flawless, you can actually do it yourself at home in a few steps.
Hairstylist Salvatore Ierna recommends starting by parting your hair in the middle (so Gen Z) and using a hair elastic to tie "a neat ponytail," per Stylist. Use hair spray or gel for a sleek look. "Then, the lengths of the hair are twisted together and looped around the ponytail, with the end pinned or tucked through the front of the hair elastic and left loose to fan around the bun in spikes," added Ierna. Set it with hairspray, so it lasts for hours.
At the Nensi Dojaka fashion show, stylist Syd Hayes pulled all the model's hair back in a sleek, high ponytail with hair gel and twisted it into a bun (via Coveteur). He straightened the ends with Babyliss 9000 Cordless Hair Straighteners "to keep the ends sharp" and finished with Maria Nila's Finishing Spray.
This modern yet retro updo has a nostalgic vibe, and there are many ways to recreate this spiky look based on your preference and hair type with the right products. It's easy, it's hip, and it just hits differently.