Can Your Favorite Concealer Double As Eyeshadow Primer?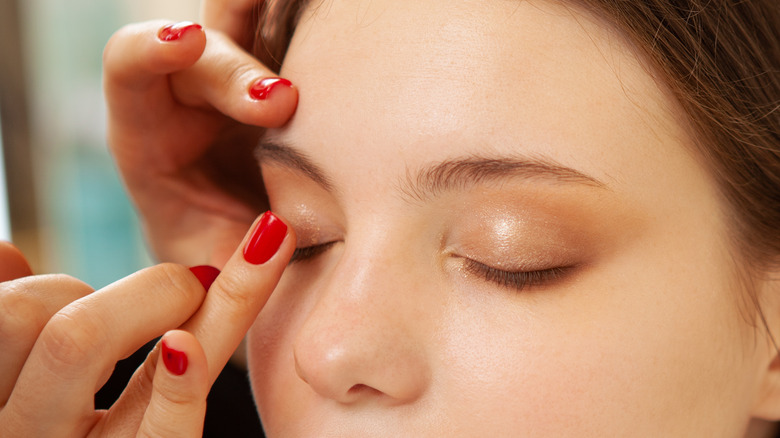 Ihor Bulyhin/Shutterstock
It's been one of those mornings. You over-snoozed, and your regular routine has been thrown into disarray as a result. The cherry on top of your bad morning blues is that you're entirely out of eyelid primer. Given that your eyeshadow is known for its pop, going bare is not an option. Luckily, you don't have to. As outlandish as it might sound, if you need an eyeshadow primer substitute in a hurry, just grab your favorite concealer. 
If you think about it, using concealer to prime your eyes makes complete sense. Concealer is designed to cover blemishes and provides a smooth canvas for building up those dazzling, bright hues. But, since concealer is slightly different from eyelid primer, you can't just slap it on and hope for the best. It takes some finessing and beauty hack know-how. These tips will take your concealing game to the next level of beauty magic. 
How to use concealer as eyeshadow primer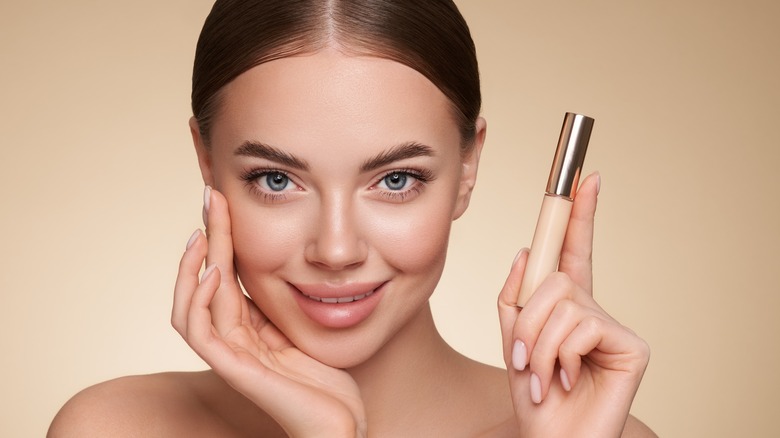 Oleg Gekman/Shutterstock
The whole point of eyeshadow primer is to give your eyeshadow that extra wow factor. So, when you swap it for concealer, you want to guarantee your fabulous look rather than risk being left a creased mess, which takes a bit of work. Before you even get started, make sure you have a clean, prepped canvas. Pay special attention to your eyelids when washing your face to ensure any crust and oil are completely removed. 
It's also a good idea to skip the moisturizer in this area, since your eyelids create oils all their own, per L'Oreal Paris. Clean and dry is the name of the game when swapping out eyelid primer for concealer. Once you're ready, carefully apply a dab of concealer to your eye with your ring finger and work it across all areas with a fluffy brush or a beauty blender — don't forget your corners and creases, too. 
The key is to only use a small amount of concealer, so you don't end up with too-heavy coverage. A dusting of translucent powder will set the area. It's as simple as that. Now that you know how to use it, the real question is should you throw out your eyelid primer and just use concealer every day instead?  
Drawbacks of using concealer as eyeshadow primer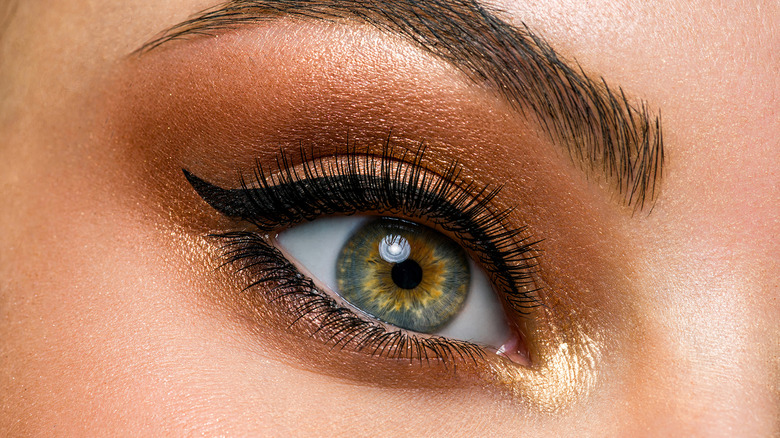 VALUA VITALY/Shutterstock
When done right, your favorite concealer can give you flawless-looking eyes. However, it's not recommended to give up your eyelid primer completely. These two products are formulated completely differently and for different purposes. Eyeshadow primer provides a dry base for those lustrous shades. It also helps lock them in place and prevent creasing. Concealer, on the other hand, offers all-over coverage for blemishes, fine lines, and dark circles. It's a heavier formula that can include oils, which may actually make your eyeshadow slip around more. 
That's why it's recommended to apply some translucent powder to lock it all in place. The bottom line is that you can use your favorite concealer as an eyelid primer in a pinch. It offers a blank canvas for you to work with, which is the main aim of a primer. However, it's not going to help with oils or prevent creasing. As Savannah St. Jean, a makeup artist and the founder of Savannah Rae Beauty, warned Byrdie: "Concealer tends to have too much of a slippery or oily base and will act against you a few hours into your day." 
St. Jean added: "It can also leave a heavy feeling to your eye makeup, make it difficult to blend your shadow well, and can add to creasing throughout the day." So, when you want to get that popping color on your eyes that really turns heads, eyelid primer is still the clear winner.