What Is Eyeshadow Primer And How Is It Used?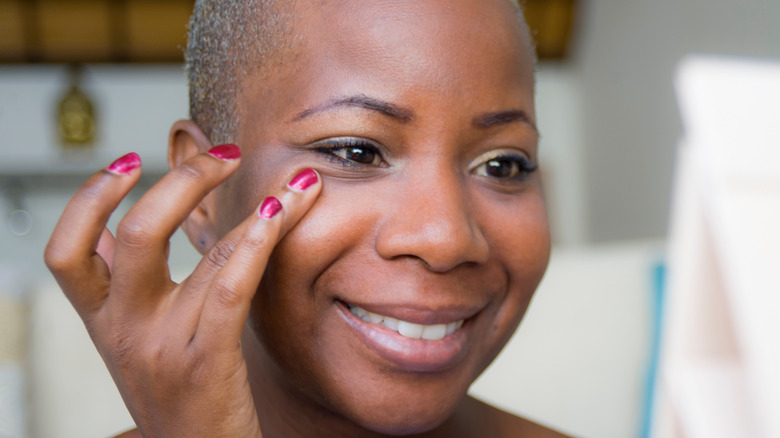 TheVisualsYouNeed/Shutterstock
Primer can be a lifesaver when it comes to creating a solid base for foundation. It helps correct flaws like oily skin, large pores, and uneven patches so your foundation goes on evenly and stays on (via Allure). It usually serves as the first layer of face makeup when wanting to create a flawless look.
For that reason, many choose to save the multi-layered method of applying primer and foundation (and possibly setting spray and powder) for special occasions like weddings and other big events. Yet there are those that want to regularly create an immaculate look for work and outings on a regular basis.
There's some debate on whether a primer is necessary and what primer really does for your face. According to Glamour, a primer may not make an extreme difference though some brands of primer are better than others in giving off a smooth glow.
If you apply foundation/primer first, you might notice that your eyelids look a bit drab, and this is where eyeshadow primer comes in.
Is eyeshadow primer the same as a regular primer?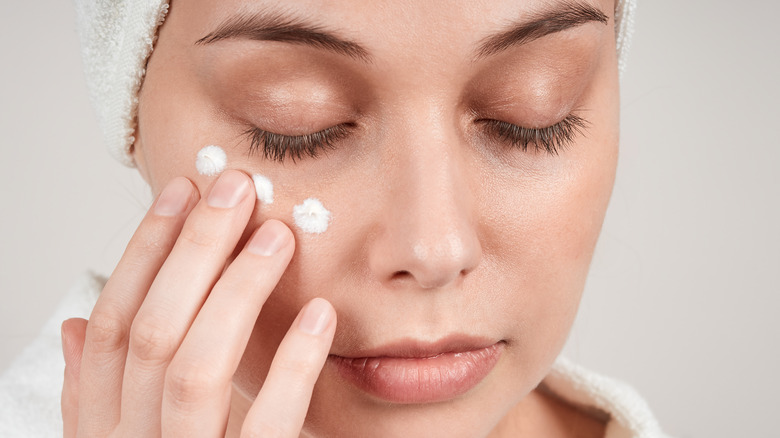 Bezuglova Evgeniia/Shutterstock
While eyeshadow primer and regular primer both work to conceal flaws and keep makeup even and long-lasting, the formulas are very different. Silicon is typically found in facial primers (though you may want to avoid it if you have sensitive skin). It helps to conceal and fill in fine lines and pores. Yet, if silicon is applied to eyelids, it can make flaws look worse.
Makeup artist Savannah St. Jean explains to Byrdie, "Silicone would create too slippery of a surface on the eyes, add to creasing, and make it harder to blend your eyeshadow evenly."
Eyeshadow primer not only helps your eyeshadow color pop but helps it stay on longer. "It's an incredibly necessary product, but is often one of the most overlooked items to add to your makeup routine," says St. Jean. She also advises against using concealer in place of an eye primer since they can be quite oily which defeats the purpose of applying a primer since the purpose is to reduce oil and create an even finish for eyeshadow.
How to use eyeshadow primer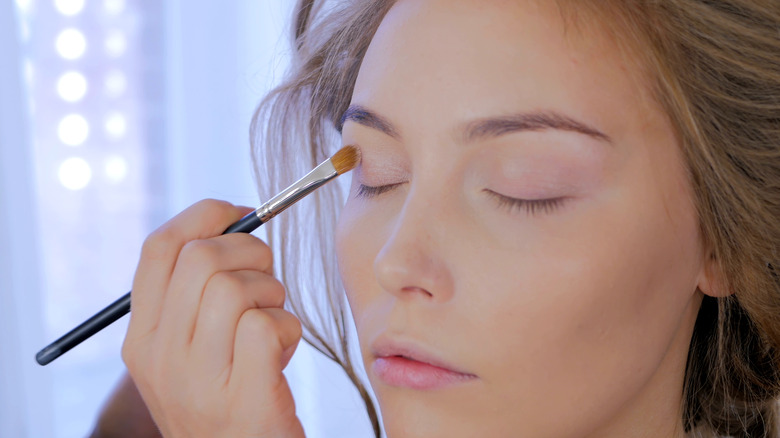 Zyabich/Shutterstock
Always start your daily eye routine with your regular moisturizer or eye cream. There's no replacement for skin that is well hydrated and the myth about waiting to use eye cream until you enter your late thirties or forties can harm your delicate eye skin.
Then, press just a small bit of eye primer onto a brush, though you can also apply it with your fingers, according to L'Oreal's Makeup.com. From there, gently blend it into your skin. There shouldn't be a surplus, the goal is for your eyelids to absorb the primer.
If you plan on using liner on your bottom lashes, you can also apply it to your lower eyelid. Once the primer is dry, you can start applying your eyeshadow and liner.
Finally, learn the tricks for keeping your eye makeup from smudging and ways to make your eyeliner last all day long.