Yes, 'Home Depot Dating' Is A Thing. Could It Be The Answer To All Your Online Dating Woes?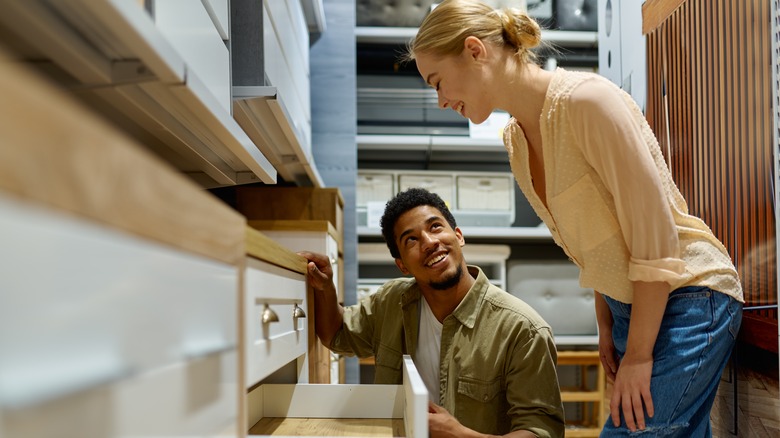 Nomad_Soul/Shutterstock
To find love in today's digital world, follow these steps: Match online, exchange emojis and flirty one-liners through text, finally meet in person, feel an instant spark, and live happily ever after. While it might sound easy, it's rarely that straightforward. Even though online dating has become the most common way for couples to meet, not everyone is satisfied with swiping for "the one." According to The New York Times, dating apps can trigger disappointment and emotional burnout. That might be why, as a YPulse survey discovered, more young people are turning away from dating apps and connecting through social media or other routes.
Some are even putting down their devices and embracing old-school meet-cutes. This has sparked a trend among heterosexual women of looking for romance in a place known to be overflowing with men: Home Depot. On TikTok, a search for "Home Depot dating" yields videos totaling over 41 million views and counting. But is love really hiding between the gardening section and the paint aisle? Here's how a trip to a home improvement store could lead to a trip down the aisle.
What is Home Depot dating?
Move over, Tinder — Home Depot may be the perfect place for singles to meet. Home Depot dating has taken off, especially on TikTok, where users have shared their attempts at finding a partner at the mega chain store. One of the first videos to ignite the trend was a 2021 clip by creator Megan Louise where she suggested women head to Home Depot to scope out their future husbands. "I found at least three husbands. I mean, they had wives, but don't let that stop you," she humorously quipped.
Countless others have taken her advice, and some TikTokers have even shared their best tips to try when going on a Home Depot dating run. One woman who goes by actually.felicia revealed that hanging out in the lumber section alone "100% works" after multiple men approached her to offer help.
Others have suggested targeting specific store hours to increase your chances of running into your type of guy. Home Depot dating pioneer Megan Louise notes that construction workers tend to go at 5 a.m., single men go on Friday nights, and married couples go on Saturdays. Several men and construction workers commented on her video to back up her claims.
Does it really work?
A drive to your local Home Depot could seem like a quick alternative to swiping and chatting for hours on dating apps. However, the method doesn't work for everyone. Content creator Savanah Reddy explained her frustration with Home Depot dating in a TikTok clip. "Here I am at Home Depot for the third time this month. No husbands in sight. It doesn't work," she remarked. In another video, a TikTok user named Joleene directly asked men shopping the aisles of Home Depot if they were single, only to learn that they were all married.
Don't lose hope just yet — there have been some success stories. For example, influencer Latinkittty seemed to get lucky at least once. "Which one asked for my number?" she captioned one of her Home Depot dating videos. On that same video, a user commented, "I found my husband at Home Depot.. we been together for 8 years." Even if browsing home improvement stores isn't a foolproof way to initiate romance, it might be worth a try if you decide to take a break from dating apps.