Courteney Cox Pushes Back At Prince Harry's Claim About Her In Spare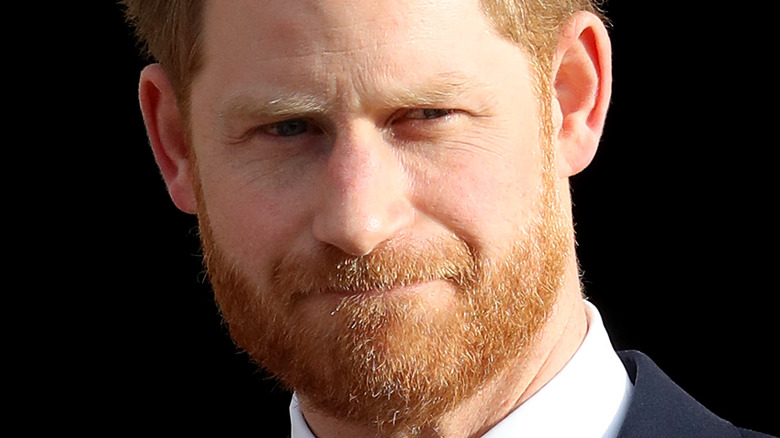 Chris Jackson/Getty Images
Prince Harry, the Duke of Sussex, recently released his explosive memoir, "Spare," which revealed intimate details about the royal family and his frequently testy relationship with them. There were numerous startling revelations made in "Spare" about Harry's life and, unsurprisingly, The Firm is far from pleased. In fact, a royal insider informed People that the commotion surrounding the book may negatively impact the celebration surrounding King Charles III's coronation.
"This is all so ghastly," the anonymous insider shared. "Although there is sorrow because the queen has died, the coronation should be a joyful moment, too, because Charles will be crowned. But this is a massive shadow." Members of the royal brood are not the only ones speaking out against the comments made in the duke's memoir, either. Harry's mystery older ex from "Spare" isn't staying silent any longer, even giving an interview to the Daily Mail about her experience.
And now, Courteney Cox has also come forward to set the record straight about a story shared about her in the bombshell memoir.
Harry's memoir contained an interesting story about his time with the 'Friends' star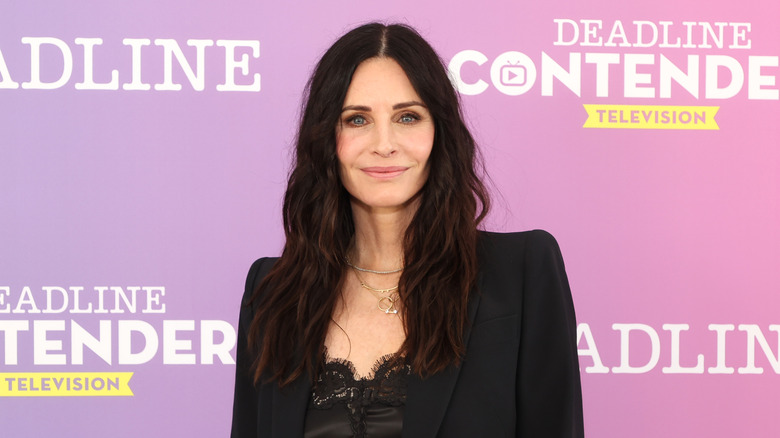 Amy Sussman/Getty Images
Courteney Cox, the actor who portrayed fan-favorite character Monica Gellar throughout the 10-season run of "Friends," was asked by Variety about the shocking story Prince Harry, the Duke of Sussex, shared about her in his memoir, "Spare." In the book, Harry claims that he and Cox partied together at the actor's home, and partook in some interesting substances. The prince writes that, during a particularly wild party, he enjoyed "[magic] mushroom chocolates."
However, Cox does not recall it going down like that. She clarified to the outlet: "He did stay here for a couple of days — probably two or three. He's a really nice person. I haven't read the book. I do want to hear it because I've heard it's really entertaining." The TV icon continued, "But yes, it's gotten back to me about it. I'm not saying there were mushrooms! I definitely wasn't passing them out."
During that same meeting, Harry revealed how he felt that he was similar to Cox's love interest on the show, Chandler Bing, and wanted to tell her, as the duke acknowledged in "Spare." The royal defector wrote: "She was Monica. And I was a Chandler. I wondered if I'd ever work up the courage to tell her. Was there enough tequila in California to get me that brave?" (via The Irish Mirror). Maybe magic mushrooms did the trick?
Prince Harry is a self-proclaimed 'Friends' fanatic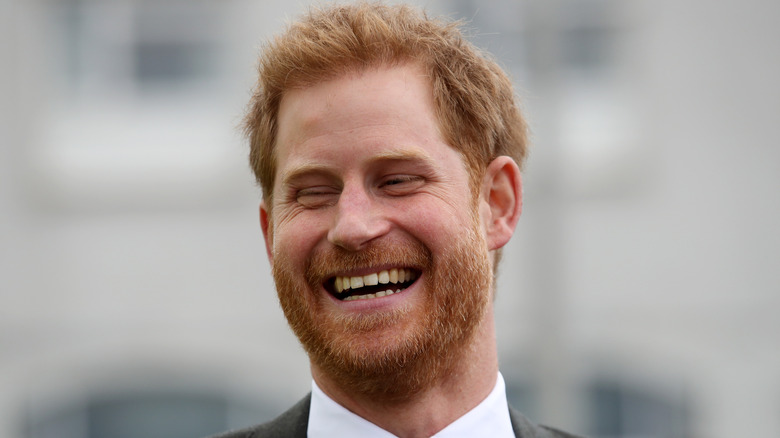 Chris Jackson/Getty Images
Among the myriad surprises Prince Harry revealed about himself in "Spare" is the fact that he was a diehard fan of Courteney Cox's beloved TV show. "As a 'Friends' fanatic, the idea of crashing at Monica's house was highly appealing," he wrote. When recalling the party at the actor's home, he mentioned talking to an actor from the "Batman Lego movie." He described asking the mystery actor for his best Batman impression, to which he replied, "in perfect gravelly Batmanese sa[ying]: 'Hello, Harry.'" While he didn't include the actor's name, the titular star of the 2017 animated "The Lego Batman Movie" film was "Arrested Development" star, Will Arnett, and it's rumored he was talking about him. We can totally imagine Courteney Cox hanging out with this fellow sitcom star. 
According to Harry, he and the anonymous "Batman" actor noticed what he referred to as "black diamond mushroom chocolates." He wrote, "Someone behind me said they were for everybody. 'Help yourself, boys.'" He added, "My mate and I grabbed several, gobbled them, washed them down with tequila." This resulted in him hallucinating Cox's bathroom trashcan turning into a head, saying, "I stepped on the pedal and the head opened its mouth. A huge open grin." While Cox didn't confirm Harry's wild story, she didn't dispute it either, so we're taking that as a sign that the only part of this tale that was in Harry's head was the talking trashcan.