Why Marianne Williamson Has The Utmost Respect For Donald Trump's Ex Marla Maples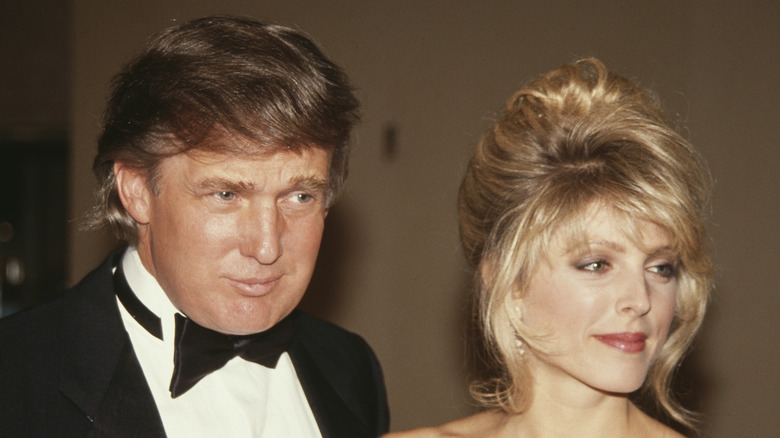 Michael Ochs Archives/Getty Images
Donald Trump may be best known as the former president, a real estate tycoon, and once upon a time, the host of the reality competition show "The Apprentice." But, to a select few women, he'll always be a husband and father first. The former POTUS has been married three times, and while Ivana and Melania Trump may be familiar names to most, Marla Maples — Donald's second wife — lays low in comparison.
Maples, an actor who was married to Donald from 1993 to 1999, has mostly stayed out of the public eye, with the exception of her roles in movies like "Maximum Overdrive" and the romantic drama "Loving Annabelle." Maples briefly returned to the spotlight in 2017 when Ivana slammed her in an interview with CBS News. During the chat, Ivana refused to call Maples by name, describing her as a "showgirl" and a "nobody."
However, she's earned the admiration of one person who has a political connection to the former president: Marianne Williamson. 
Marianne Williamson will always remember her first impression of Marla Maples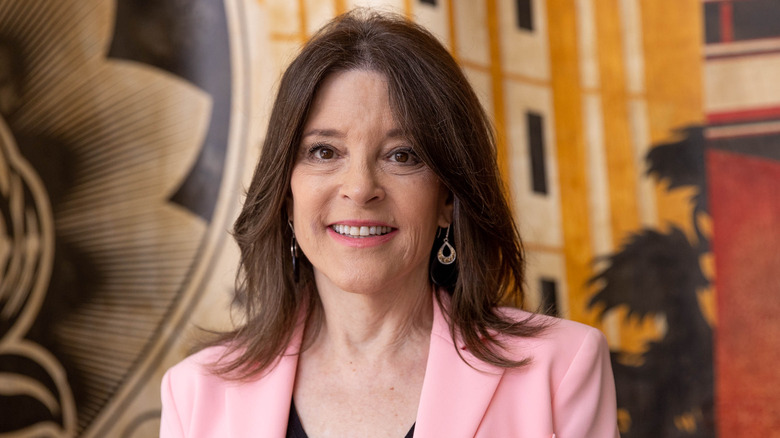 Emma Mcintyre/Getty Images
This past weekend, Marianne Williamson, a spiritual self-help guru, and controversial political pundit, confirmed her plans to run for president again in 2024, competing with Joe Biden, who will go for a second presidential run (per The New York Times). As a Democratic candidate, she rivals Republican Donald Trump, who announced late last year that he, too, will run in the upcoming election, as reported by CNN at the time. Williamson notably positions herself as the antithesis of Trump's rough and tough approach. 
During a 2019 debate (via YouTube), the spiritual leader memorably said: "Mr. President, if you're listening, I want you to hear me, please: You have harnessed fear for political purposes, and only love can cast that out. ... I'm going to harness love for political purposes." Given their wildly opposing views, it's not surprising that Williamson views Trump's ex-wife, Marla Maples, differently. When Interview magazine asked Williamson for her thoughts on Mar-a-Lago, she revealed, "I was there once, when Donald Trump was married to Marla Maples." 
She explained that Maples was hosting a fundraiser for an AIDS nonprofit organization, and it was the first time the two women had met: "That night, she earned my unending respect. She stayed up talking to those young men until the wee hours of the morning." The politician noted that Trump's former wife behaved "elegantly" and "compassionately" when speaking to attendees with terminal illnesses, which is something she's "never forgotten."