Who Is 2024 Presidential Candidate Marianne Williamson?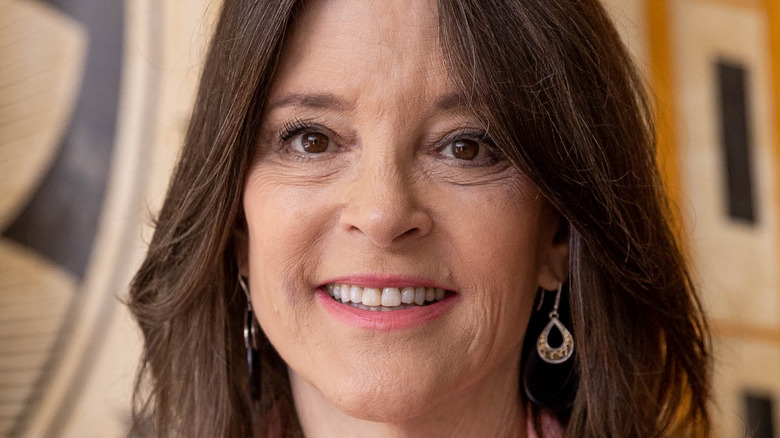 Emma Mcintyre/Getty Images
Regardless of whether you knew her before, if you tuned in to the race for the 2020 Democratic presidential nomination, you almost certainly remember Marianne Williamson. She was an unusual candidate stacked up against the rest of the political hopefuls gunning for the title. Ultimately, Williamson dropped out of the race, but only after going the distance all the way until January, fighting for her spot and sparking quite a few memes along the way.
And now, the bestselling self-help author and so-called spiritual guru is back. Since Donald Trump has also announced his 2024 presidential campaign it's evident that Williamson has every intention of being the 2024 Democratic nominee so she can finally go head-to-head with him for the Oval Office. Williamson and Trump have a bit of a history already, and based on the way the upcoming presidential race is shaping up, they certainly have a future, as well. 
In 2019, Williamson famously addressed Trump during one of the Democratic debates, saying, "You have harnessed fear for political purposes, and only love can cast that out. ... I'm going to harness love for political purposes. I will meet you on that field, and sir, love will win." While love didn't snag her the nomination in 2020, plenty has changed since then, and Williamson believes that this time around will be different. 
Inside Marianne Williamson's eccentric career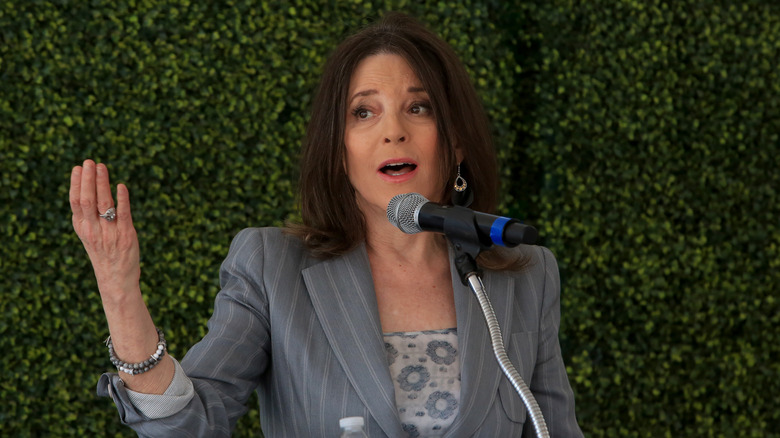 Jesse Grant/Getty Images
Marianne Williamson has had a surprising career thus far, and she's looking to add being President of the United States to her lengthy and unusual résumé. Before Williamson launched her 2020 presidential campaign, she was best known as a self-help author. She's written 14 books and made it to the coveted #1 slot on the New York Times bestseller list on four separate occasions. 
Williamson also famously acted as Oprah Winfrey's spiritual advisor. According to her website, Williamson founded a non-profit organization called Project Angel Food in 1989. The organization was originally envisioned as a way to deliver meals to folks who were suffering during the HIV/AIDS epidemic. Project Angel Food is still going strong today and has brought over 14 million meals to sick patients over the years. 
The crux of Williamson's original presidential platform was a plan to create a Department of Peace, designed to establish alternative resolutions to military conflict. Williamson has also become known for promoting some controversial medical advice, like warning against taking vaccines and antidepressants. She did openly receive the COVID-19 vaccination and rejected the label "anti-vaxxer" but Williamson was still against vaccine mandates at the same time.
She's running for president again in 2024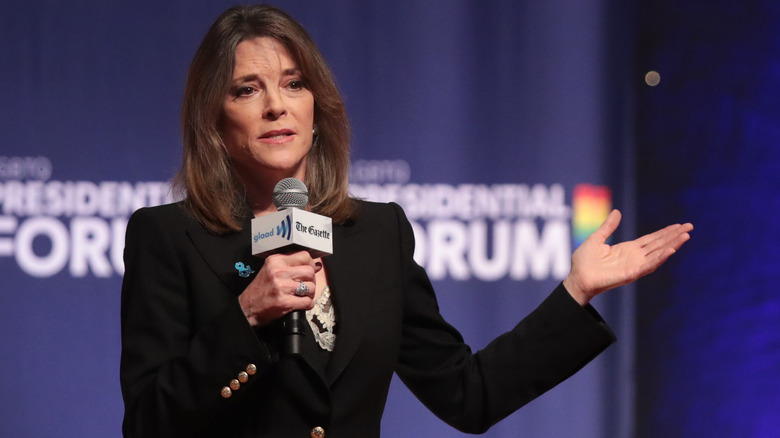 Scott Olson/Getty Images
While many folks who didn't know Marianne Williamson before her initial presidential run may be surprised to hear that she's back in the race, the outspoken pundit shared in a Facebook post published on Saturday, February 25, 2023, that she's ready for the fight. "Since the election of 2016 it's odd for anyone to think they can know who can win the presidency," Williamson wrote. "And I'm not putting myself through this again just to add to the conversation. I'm running for president to help bring an aberrational chapter of our history to a close, and to help bring forth a new beginning." 
The spiritual guru added, "Washington is filled with good political car mechanics, but the problem is that we are on the wrong road." In addition, Williamson also took to Twitter to confirm that she'll be making her official presidential candidacy announcement on March 4. Based on everything we know about Donald Trump's 2024 campaign, it's clear that no matter who else joins the race, this will be a historic fight for the presidency. Fans of Williamson are surely going to be cheering her on every step of the way. But, regardless of what happens next, it's going to be a long road to 2024.