Royal Fashion Hacks You Should Start Borrowing ASAP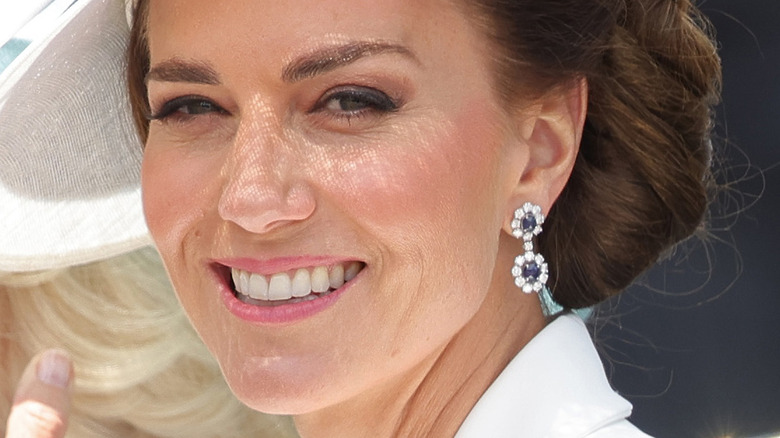 Chris Jackson/Getty Images
Being a member of the royal family carries a lot of weight. Not only is the limelight fixed on them, but the royals also have to put maximum work into maintaining their image. For the women of the royal family, the pressure to be perfectly prim and proper is no joke. Royal expert Elizabeth Holmes captured this reality in her book, "HRH: So Many Thoughts on Royal Style." The author told Good Morning America, "The guardrails with which these women get dressed is one of the most interesting things to me about royal fashion. They have their choice of designers, but they also have the expectations of the British public and the globe, the rest of us following along, that they look and appear a certain way."
With infinite resources, materials, and access to some of the world's greatest style experts, it's no surprise that the royals have delivered some truly iconic royal fashion moments. On the flip side, this family is no stranger to stirring up controversy with the occasional inappropriate royal outfit.
All of their time spent in the spotlight has certainly made the royals savvy dressers, and they've picked up some innovative fashion hacks along the way. Whether it's keeping their skirts in order on a windy day or creatively reusing their best outfits, these royal style secrets are so genius, you'll want to try them, pronto.
Curtain weights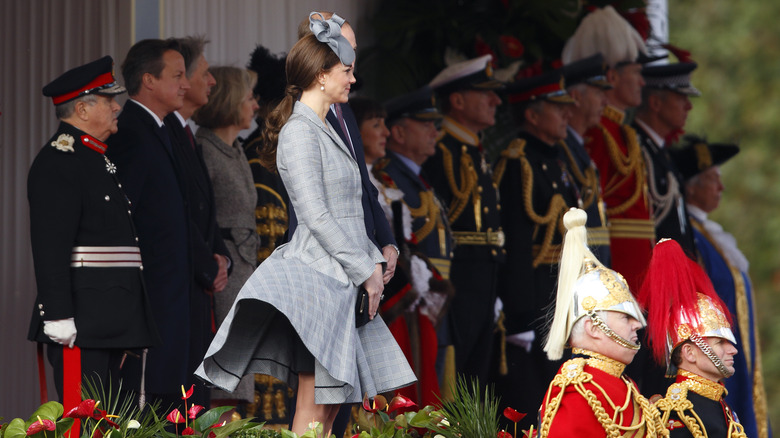 Max Mumby/indigo/Getty Images
The monarchs live by a strict dress code, and modesty is a top priority. Royal ladies have to be especially cautious with their skirts on windy days. After all, it only takes one strong gust to expose the royal undies. While they can't control the weather, the regals do have a simple fashion hack to keep their hemlines under control.
The secret? They have inexpensive lead curtain weights sewn into the hemlines of their skirts and dresses. Stewart Parvin, a former clothing designer for the late Queen Elizabeth II, revealed that these handy little weights are about one inch wide and weigh less than one ounce. "I just pop a couple of weights into the hemline of her dresses and coats and it makes them hang beautifully," Parvin told The Daily Mail in 2012.
Hemline weights are an ironclad solution for breezy days, but they're not suitable for all weather conditions. The Princess of Wales learned that the hard way in 2011, when her dress blew up at an airport during a visit to Canada. Some media outlets dubbed the incident "bumgate." Jenny Packham, who created the dress for Kate Middleton, told The Evening Standard that she received angry letters from fans in the aftermath. "Well, I didn't know it was going to be worn on a windy runway," Peckham said. "But I did think maybe in future I will put in more weighting, just in case."
Bodysuits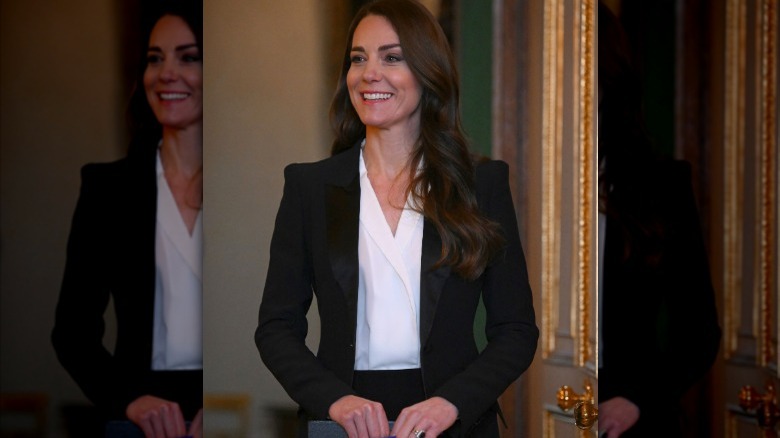 Wpa Pool/Getty Images
When they're not draped in a charming day dress, trouser suits are a stylish choice for on-the-go royals. In 2022, Kate Middleton was photographed wearing a sophisticated navy-blue trouser suit with a crisp blouse. The princess' cream-colored blouse stole the show when fans discovered that the garment was actually a bodysuit. Admirers adored the blouse/bodysuit hybrid because it replicated the slightly billowed look of a tucked-in shirt without the added hassle of having to adjust or re-tuck the garment. For those who want to look prim and professional, blouse bodysuits are a genius hack because they'll give you the look of a sleek shirt while staying perfectly in place all day long.
The regals also have another crafty trick for wearing bodysuits. Just like their secret hemline weights, bodysuits can help keep the royals' hemlines from going rogue on a gusty day — and it's all thanks to static electricity. As etiquette expert Myka Meier told The Sun, "Often they wear bodysuits and clothes that actually increase static so it's much harder for something to fly up."
Tiny hat combs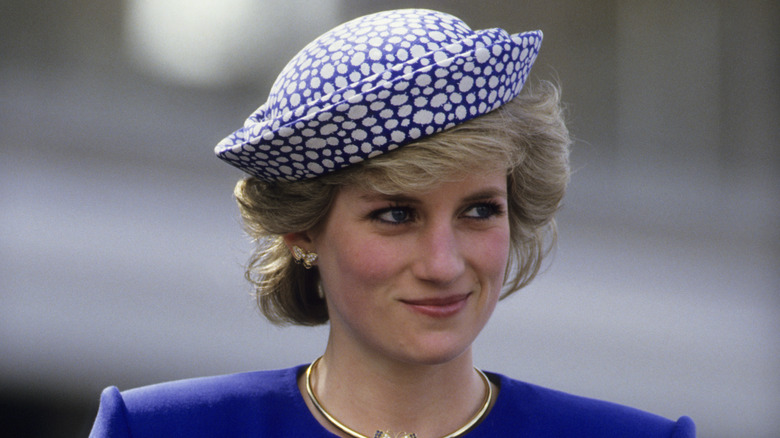 Georges De Keerle/Getty Images
From sporting events to weddings, hats are a rich symbol of royal tradition, and they're also quite functional. For one thing, hats are useful for hiding a bad hair day — plus, they can help protect a royal hairdo during windy weather. But hat-wearing comes with its own set of rules and protocols. Most importantly, your hat must never fall off or blow away during a royal appearance. 
Princess Diana's hat collection was nothing short of stunning. From velvet berets to gigantic sun hats, the late royal looked dazzling in every style. And to be sure that her hat would stay perfectly affixed to her head, Diana had a genius solution: tiny wire combs that were sewn to the inside of the hat. John Boyd, a former milliner for Princess Diana, told The Daily Mail that her sweeping, feathery bob was "quite springy," so the secret hat combs guaranteed a snug and secure fit.
If you're not exactly seasoned in the art of wearing a hat, it can be a bit intimidating. But according to milliner Jane Taylor, the royals know a few tricks for selecting the right hat. "You should ... choose a hat that compliments your face shape," Taylor told Forbes. "For example, if your face is round, opt for an angular hat that cuts across your face, or soften a more angular face with a rounded hat with soft trim."
Skin-toned tights
Max Mumby/indigo
If you've ever wondered how Kate Middleton and Meghan Markle achieve their toned, satiny legs, we'll let you in on the secret: nude tights. Flesh-colored hosiery has been a trusty accessory to royal ladies for years. They were especially beloved by the late Queen Elizabeth. It was long rumored that nude stockings were a requirement under royal protocol — however, royal expert Marlene Koenig begs to differ.
"There are no rules for royal women regarding pantyhose. While most women (royal or commoner) wear pantyhose with suits or gowns for a good slim line, it is not required by any decree from the queen," Koenig told Harper's Bazaar.
As for why the royal ladies have chosen nude as their go-to hosiery shade, etiquette expert Alexandra Messervy says that there's a simple explanation: the regals have an eye for trends. "I think the only reason they have chosen 'nude' in recent years is because they have become so much more fashionable, and the 'bare legs' look became the craze," Messervy told The Independent. Every once in a while, Princess Catherine has been known to switch it up by strutting her stuff in black pantyhose.
Cleavage bags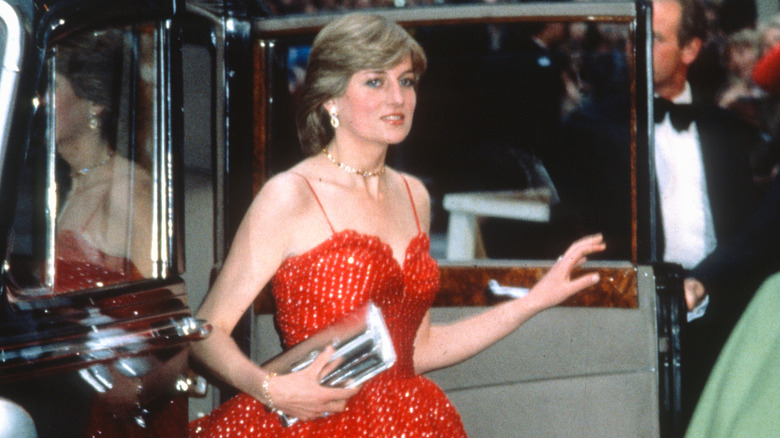 Anwar Hussein/Getty Images
It's no secret that the royal family is under constant scrutiny. Public obsession with the private lives of the royals comes at a severe cost — and nobody knew that cost as much as the late Princess Diana. Wherever the regal went, ravenous paparazzi followed, eager to capture buzzworthy photos of her. To fight back, Diana worked out creative strategies for blocking their invasive camera lenses. The princess would often carry a small, elegant clutch bag, which she would place in front of her chest while bending or stooping down. The clutch worked like a shield, blocking reporters from capturing the princess in a cleavage-bearing moment. Princess Diana used the trick so frequently that her clutches earned the nickname "cleavage bags."
Following her famous exodus from the royal family, it was clear that Diana enjoyed her newfound freedom. Her divorce from Prince Charles was also the start of a style revolution for the former princess. Finally, she was unbound from the strict, stifling rules of the royal dress code — and she took full advantage of the opportunity to wear smoldering dresses with plunging necklines.
Thanks to Diana's trusty cleavage bags, she was able to wear what she wanted without the fear of inadvertently showing too much skin.
Sized up shoes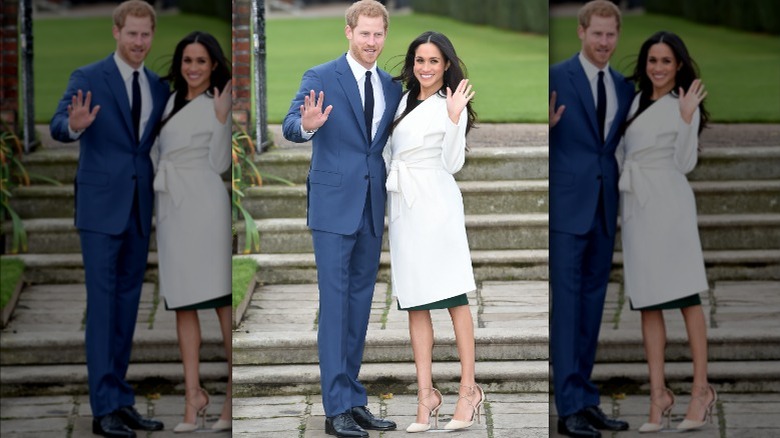 Wpa Pool/Getty Images
If you've ever spotted a regal wearing suspiciously large shoes, your eyes are probably not playing tricks on you. Sizing up in shoes is actually a pretty common practice among the royal ladies, and there's a good reason for it. After a long day of making official appearances, the royal step count is probably quite high. Imagine spending all of that time on your feet ... and in heels. If the thought alone makes your arches ache, then you'll understand why this fashion hack is such a game-changer for the royal family.
When Meghan Markle and Prince Harry posed for their engagement photos in 2017, some fans couldn't help noticing that Meghan's strappy nude heels appeared too big. Fashion expert Harriet Davey was quick to clear up the confusion.
"Celebs often go a size up, or even two, in the shoe department when they're at an event or on the red carpet and it's for one reason we can all relate to — to avoid blisters," Davey told The Sun. "There's nothing worse than uncomfortable shoes (we've all been there on a night out), and when celebs like Meghan are wearing heels for a long period of time, their feet can often swell up. The swelling can cause blisters and, in the long run, bunions."
Bright colors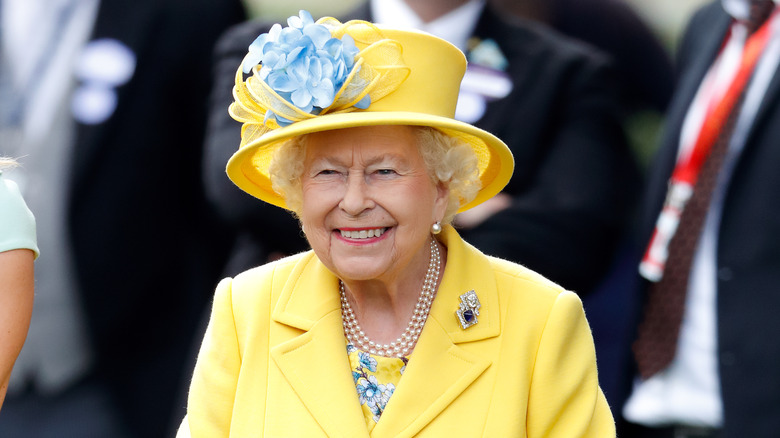 Max Mumby/indigo/Getty Images
There was one style hack that Queen Elizabeth swore by: bright, monotone outfits. From poppy orange to gemstone purple, no shade was off-limits. Although the sovereign was said to have impeccable fashion sense, there was also a practical reason behind her colorful wardrobe — it allowed her to stand out during public appearances. In the documentary "The Queen at 90," Sophie, Countess of Wessex explained, "She needs to stand out for people to be able to say 'I saw the queen.' Don't forget that when she turns up somewhere, the crowds are two, three, four, 10, 15 deep, and someone wants to be able to say they saw a bit of the queen's hat as she went past" (via Town & Country).
The queen always did stand out, but she was never possessive of the color that she'd chosen to wear on a given day. In her book, "The Other Side Of The Coin: The Queen, the Dresser, and the Wardrobe," Elizabeth's former aide Angela Kelly wrote, "When it comes to the royal family, it doesn't matter if they wear the same color as the queen because they are family. Other guests, though, feel they shouldn't be in the same color as Her Majesty, although the queen would not mind if this did happen" (via Express).
Today, Queen Elizabeth's penchant for bright colors lives on through the rising sovereigns. For example, Princess Catherine has been known to take a page out of Elizabeth's perfectly Pantone playbook.
Repeating outfits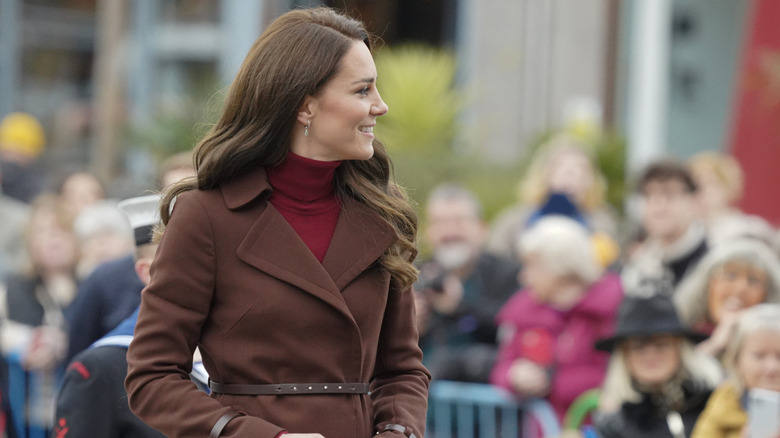 Hugh Hastings/Getty Images
If you want to learn the finer points of rocking a coat dress, you needn't look any further than Princess Catherine. These luxurious, form-hugging fits are a signature look for the royal style icon. With her schedule chock-full of public appearances, you might expect the regal to get bored of wearing the same old coat dresses to every engagement.
But the princess has a genius hack for breathing new life into a well-worn coat. To keep it fresh and interesting, Kate styles her favorite coat dresses with different belts and pins. This way, she can wear her best winter pieces over and over again. According to Glamour, the secret to making this hack your own is to combine your coat with complimentary accessory styles. For example, a formal coat should be paired with a more lavish belt, whereas simpler belts work best with casual coats.  
By the way, this hack isn't only handy for winter gear. Princess Catherine has used this clever trick to repeat a few of her finest evening looks, too. Following the lead of Princess Diana, who was also an expert style recycler, Princess Catherine has been known to sport tailored versions of previously-worn dresses. In a recently re-worn BAFTA look — an elegant chiffon gown — the royal switched her style up majorly by accessorizing with black opera gloves (via Newsweek).
Hairnets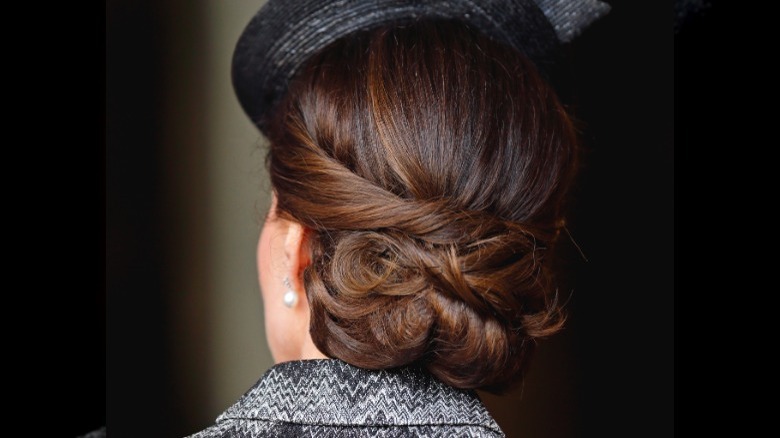 Max Mumby/indigo
If you thought hairnets were only for lunch ladies, think again. Princess Catherine is a hairnet enthusiast — and for good reason. A quick glance at the royal's sleek chestnut strands leaves no doubt that her stylist works overtime to achieve Kate's hair perfection. Indeed, the royal hairstylist, Amanda Cook Tucker, uses an artillery of tools to create the princess' camera-ready hair.
In 2018, Tucker shared a since-deleted Instagram photo of Kate's hair styling kit. According to The Daily Mail, the post featured 13 hairbrushes and six combs in addition to numerous curlers, hair dryers, and hair care products. With the amount of effort that goes into Princess Catherine's iconic updos, it's no wonder that she wants to protect them from the elements. That's why her barely-there hairnets are the perfect hack for delicate hairstyles.
Princess Catherine's hairnets are ultra-discreet and practically invisible. When you look at her netted hairstyles, you probably won't see anything except her immaculately-crafted updos. Thanks to Princess Catherine, hairnets have been reborn as a hair styling staple. In 2018 — shortly after media outlets first shared Kate's hair hack — Stylecaster reported that hairnet sales had increased by 40% at a popular British drugstore chain.
Gloves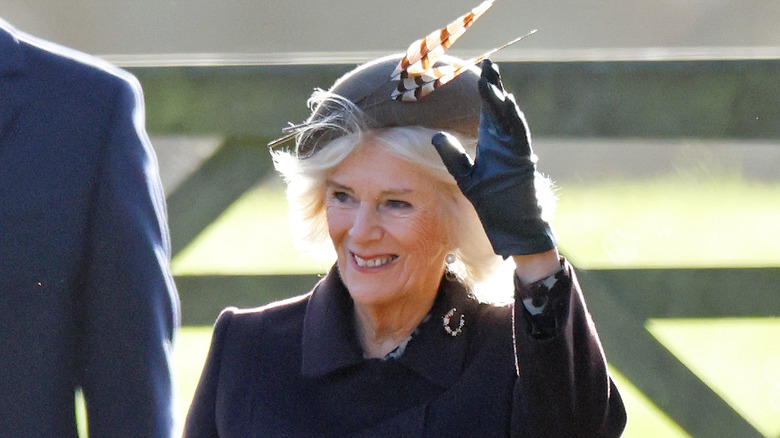 Max Mumby/indigo/Getty Images
When you're famous, you're bound to have a lot of people wanting to shake your hand. In fact, The Daily Mail once estimated that Queen Elizabeth shook over 44,000 hands per year. That's a lot of greetings — and a mass of potential germs. Fortunately, the late queen had an airtight solution to this problem: gloves. During her scores of public appearances throughout the decades, she was almost always outfitted with a pair of elegant gloves. Even when she traveled to warmer locations, Queen Elizabeth never left home without these crucial accessories. Not only were the queen's gloves highly functional — they also added a glamorous touch to her wardrobe, proving that gloves are a sophisticated choice for any occasion.
According to Good Housekeeping, Queen Elizabeth preferred to wear pure cotton gloves over leather or synthetic. If you're looking to add some queenly flair to your wardrobe, there's never been a better time to get into your glove era. Opera-length gloves are currently having a moment in the fashion world. As style expert Erin Gunn told Harper's Bazaar, "Opera gloves never went away. What has changed is how we wear them; now it's much more fun. We see influencers and celebrities wearing them on the red carpet or casually in a multitude of fabrics. It no longer has to be a satin glove worn with an evening gown."
Headbands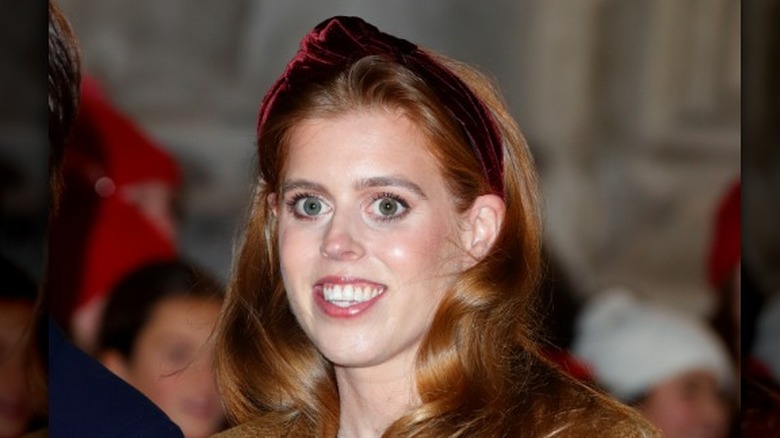 Max Mumby/indigo
Over-the-top hats and flamboyant fascinators are the essence of royal fashion. Headbands don't receive as much hype, but the royals have delivered some formidable looks with these understated accessories. Take Princess Catherine, for example, who doesn't shy away from bold and artistic headbands. Royal headbands are a far cry from the flimsy, awkward hairpieces that many of us wore in elementary school. In the world of the elites, headbands are glamorous adornments.  
Princess Beatrice is one royal who fears no headband. From oversized statement bands to velvety headpieces, Beatrice has proven just how versatile these accessories can be. She's even been known to rock elaborate headbands with veils or flowers on them. With all of her high-fashion headband moments, Princess Beatrice makes a strong case for bringing back these chic hair accessories. Perhaps Beatrice borrowed some inspiration from Princess Diana, who famously (and controversially) wore an antique emerald choker as a headband in the '80s (per Marie Claire).
Even the royal children appreciate a good headband. In January 2023, youngsters Lena and Mia Tindall — the great-granddaughters of Queen Elizabeth — melted hearts in matching navy blue headbands (per Hello).