Meghan Markle Makes An Unexpected Return To Instagram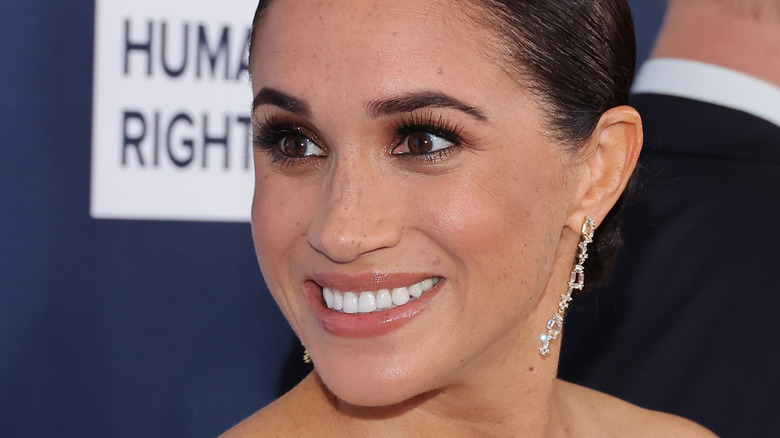 Mike Coppola/Getty Images
We all know there's a rift in the royal family that has everyone picking a side. Yet, Meghan Markle, Duchess of Sussex, has taken to social media for a cause we can all agree on. While you can follow the Duke and Duchess of Sussex @sussexroyal on Instagram, Meghan seldom graces the app, herself –– until now. 
The  "Suits" star made a surprise appearance in a video posted to the Clevr Blends Instagram account on February 27th. In the video, co-founder and CEO of the adaptogenic coffee brand, Hannah Mendoza, discusses how Clevr Blends came to be, from selling superfood coffee out of a van to becoming a full-fledged instant coffee brand getting praise from Oprah Winfrey, herself. 
Clevr Blends was founded in 2016, but according to the video, the company changed forever in 2020. Mendoza credits an unexpected benefactor with changing her brand's fate. So, what exactly does Meghan Markle have to do with a holistic latte company, and why does her quick cameo in this video mean so much? As it turns out, learning a bit more about Clevr Blends just might teach you something you never knew about Meghan Markle.
How Meghan Markle became a coffee brand's first investor
Since Prince Harry and Meghan Markle, Duke ad Duchess of Sussex, left the royal family, they've been diving headfirst into their own careers and ventures. In 2020, Meghan announced that she'd be investing in Clevr Blends, a coffee company that uses holistic ingredients, which the Duchess had come to love. "This investment is in support of a passionate female entrepreneur who prioritizes building community alongside her business," Meghan stated (via The U.S. Sun). She added, "I'm proud to invest in Hannah's commitment to sourcing ethical ingredients and creating a product that I personally love and has a holistic approach to wellness. I believe in her, and I believe in her company."
It's fitting, then, that Meghan returned from her three-year social media hiatus to give the "self-care brand" some extra publicity. In the video where Meghan briefly appears alongside Hannah Mendoza, the CEO explains that, after becoming a fan of Clevr Blends lattes, Meghan became the brand's first investor and advisor. She adds that Meghan was eager to support the brand's "female founders, sustainable sourcing, and food justice give back."
Once she got engaged to Prince Harry, Meghan deactivated her personal Instagram account, which had a whopping 3 million followers, as well as her other social media accounts. For the past three years, she's stayed away from social media as she and her husband were getting plenty of press. Still, the internet may see a bit more of her as she gets opportunities to promote her business ventures.