One Shade Of Concealer Might Not Be Enough For A Flawless Makeup Look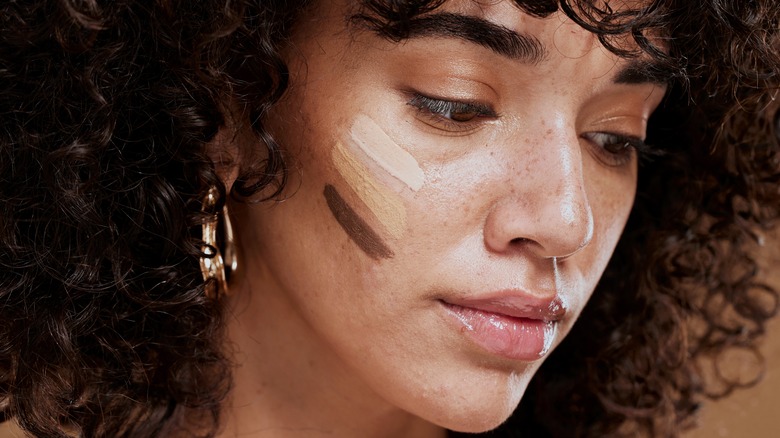 PeopleImages.com - Yuri A/Shutterstock
We may receive a commission on purchases made from links.
Although your concealer and foundation are similar in some ways, each has a specific job, and to create a flawless look, it's essential to understand the differences between concealer and foundation. Generally speaking, concealers are used to brighten darker areas — such as underneath the eye. So, choosing a concealer lighter than your natural skin tone will help cover the discolored area and make it less prominent. This step, in turn, creates a more even canvas for your foundation, which should match your natural skin tone.
Traditionally folks have dabbled some concealer under the eyes and on top of blemishes and called it a day. But these little tubes and wands can be used for so much more than that, especially if you know how to mix and match them interchangeably. With this in mind, the first step is understanding what concealer can and can't do for you. And from there, a few tips and tools can elevate your daily routine, all without adding additional time.
Why you need more than one shade of concealer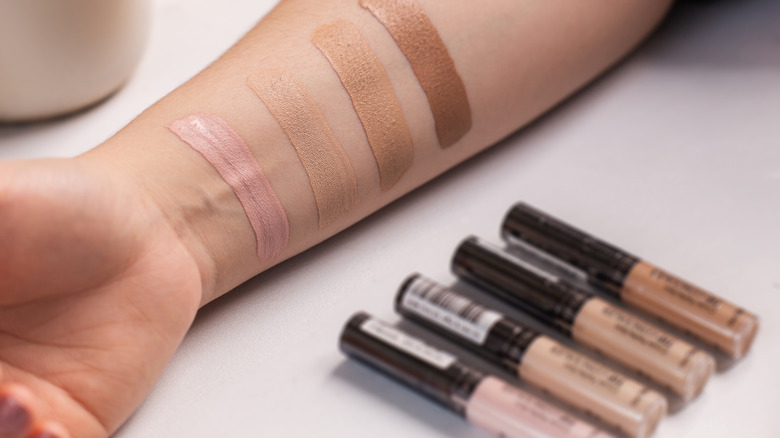 Sergey Zaykov/Shutterstock
Concealer can't change the texture of your skin, but the list of what it can do has earned it a spot as a makeup bag essential. For starters, it can lighten and brighten dark spots or areas of discoloration: meaning, at a minimum, its use as a tool to even skin tone earns it hero status since most people have multi-tonal skin. Add to that any blemishes, undereye circles, or seasonal changes to your skin's coloring, and a strategic touch-up from a dollop of concealer will do wonders.
Beyond basic coverage, concealer is also up to the task of multi-purpose makeup hacks. Let's say you want to know about the bleached eyebrow trend but aren't quite ready to commit. Kelli Bartlett, the director of makeup artistry at GlamSquad, suggests that a bit of concealer can create the look without the long-term commitment. She told Allure, "Take a naked mascara wand and saturate it with concealer. Then brush the wand generously through the brow to coat each individual hair. Finish with a clear brow gel to set the look into place." Bartlett's advice on concealers' hidden talents also applies to a subtle lip, noting a neutral color can be created by putting concealer in your lip balm.
With so many uses for concealer, addressing all of these complexion nuances will generally require more than one shade of concealer. But don't worry, having choices on hand doesn't need to cost a fortune.
Two-step concealer success -- tone down and glow-up
The most critical role of concealer is to help correct discoloration, whether you're toning down a red blemish or neutralizing undereye darkness. Luckily, there's an easy solution — color-correcting concealers. In a tutorial post, makeup artist Christina Maria Kyriakidou explains the science behind a tool known as the color wheel. She explains how to pinpoint the color of the skin issue — a red pimple, for example — and select a concealer on the opposite side of the wheel to neutralize it. And luckily, these concealers are often sold as a complete series of corrective colors in one palette, like this Mehron Correct-It Palette.
A corrective palette will allow you to address various day-to-day issues and will help your routine as the seasons change. Beauty expert Hannah Zahner suggested adding two additional concealers to your seasonal rotation, one lighter than your usual skin tone and one that's also an exact match. Ultimately, you can keep your concealer collection to just three options — a color-corrective palette and two additional skin tone options. Knowing your skin tone changes with the seasons, you can mix and match concealer easily by looking for brands offering smaller, more cost-effective tubes — like the under $2 cruelty-free options at Miss A.
Zahner is also a champion of natural-looking make-up and encourages followers to let their skin breathe. She suggests that well-placed concealer, blended with a soft brush, is often enough. So, go ahead and skip that foundation altogether.