What Size Wedding Is Right For You? We've Got The Calculations You Need To Decide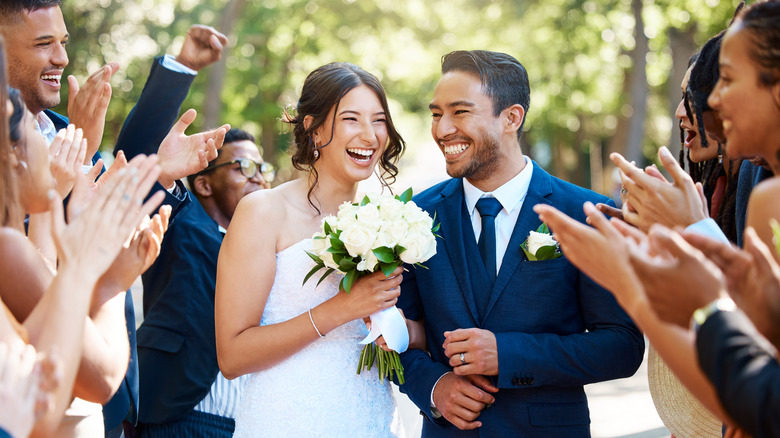 Peopleimages/Getty Images
You finally got that ring and can start planning your dream wedding. But that's exactly when things get real. Planning a wedding is no easy feat and isn't for the faint of heart. Time and money are at the center of the biggest sacrifices made when arranging a wedding. Finding a dress, organizing the wedding party, deciding on flowers, a color theme, and the cake — there are so many factors to budget for. One of the main components when planning a wedding is the guest list. How many people are you hosting? Because with each body present for your nuptials, there's a fee involved.
Wedding sizes range from small, medium, to large grandiose Paris Hilton-esque ceremonies. Small weddings include guest lists of no more than 50 people, as noted by Martha Stewart: medium weddings range from 50 to 150 guests, and large weddings have guest lists of over 150 people. Mini weddings, also known as "micro weddings", according to Brides, are the perfect option for those aiming for a guest list of 15 people or less. 
Finalizing your wedding guest list can be a stressful experience. But at the end of the day, it's all about the two people tying the knot. Often, when factoring in relationships with family, friends, culture, and religion, you can end up inviting more guests than initially intended. Deciding what size wedding is right for you is the first step. 
How do you know which size wedding works best for you?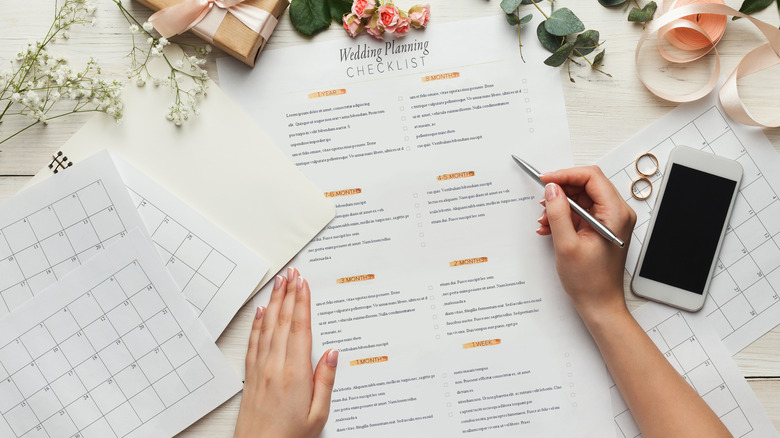 Prostock-studio/Getty Images
A wedding isn't about how many people are at your wedding; it's about you and your spouse celebrating your love with those who are important to you. Wedding sizes can be viewed differently based on the couple. Someone who comes from a large family might see a guestlist of 100 as a small wedding, while someone used to more intimate wedding sizes would see a group of 80 as a big event.
There are a number of factors to consider when finalizing your guest list, with number one being your budget — don't forget these smart hacks to plan on a budget. If you know your immediate family is at least 50 people, a small wedding might not be an option for you. Your guest list and budget go hand-in-hand when planning a wedding, experts say. "If your budget is $65,000, that would mean two totally different things if you had 50 people versus 200 people," wedding planner Tara told Martha Stewart. The budget is what helps determine the size of your wedding. Someone with a small guest list can allocate more money to the vendors and add style to the nuptials. Destination weddings are also a great way to control the guest list. But they can be more costly, with couples who opted for destination weddings spending an average of $35,600 compared to the $29,000 spent on local weddings (via The Knot).
Wedding costs increased in 2022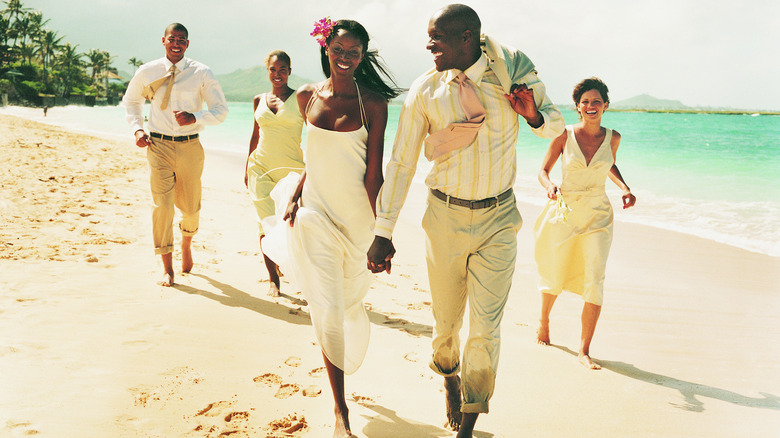 Digital Vision./Getty Images
The budget for a wedding also looks different for every couple. At minimum, you have to account for a marriage license, officiant, and location. The average wedding cost $30,000 in 2022, according to The Knot's 2022 Real Weddings Study. Costly components of the wedding include reception venues averaging $11,200, photographers averaging $2,600, and cakes costing around $500. This is about how much it will cost to feed your wedding guests.
The elements of your wedding that you decide are must-haves all obviously add to the cost, which ultimately determines how many people are on your guest list. For everyone in attendance at your wedding, you'll pay for the food and drinks they'll be enjoying throughout the event. You also might go the traditional route and send each guest off with a gift to remember your special day. And don't forget about those wedding invites to make sure your guests save the date. 
In the end, the guest list plays a huge part in your final total. When deciding on the size wedding that's right for you, experts suggest thinking about the people who matter the most. "If you wouldn't take 200 people out to dinner one-on-one, rethink the pressure of feeling like you have to invite 200 people to your wedding," wedding planner Ashley Mason explained to Brides. "Because you essentially are taking everyone out to dinner — and dessert, drinks, and appetizers." Talk with your partner and decide who's worthy of an invitation to your wedding.