General Hospital Star Kelly Thiebaud Opens Up About Why Britt's Death Felt Right To Her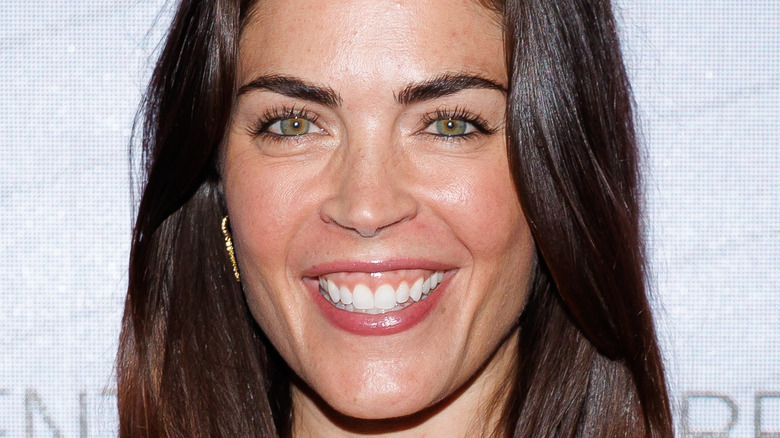 Rich Polk/Getty Images
While some soap opera baddies are so evil that they're beyond redemption, certain characters also exist that, while they start off as scheming manipulators, are eventually able to change their ways. One great example of this is Dr. Britt Westbourne (Kelly Thiebaud) on "General Hospital." Because of Britt's abrasive demeanor, she came to be known as "the Britch," and wasn't liked by many people. Along the way, Britt engaged in quite a few misdeeds to get what she wanted.
Britt eventually became best friends with another schemer, Brad Cooper (Parry Shen), as both worked to redeem themselves. Her parents were international villains Cesar Faison (Anders Hove) and former mad scientist Dr. Liesl Obrecht (Kathleen Gati), and Britt was just shy of being as nefarious as they were. Although Faison never found, or even sought, salvation, and was ultimately murdered, Liesl did manage to turn her life around. 
Britt also completely evolved from a bad girl to a good person over the years. Tragically, though, the Britch went out a hero when she died battling the Hook killer, saving the life of Josslyn Jacks (Eden McCoy) in the process. While many soap characters who die eventually come back via a convenient plot device, it would appear that Britt is one of the few gone for good, and her portrayer has some thoughts about the finality of it all. 
The soap star is actively moving on from Britt
Soap Hub reported on a fan event during which former "General Hospital" star Kelly Thiebaud shared her thoughts regarding leaving the role of Dr. Britt Westbourne behind permanently. The finality of it was illustrated by the actor confirming there was a period rather than a semicolon next to Britt's exit. "I feel great about it being a period," Thiebaud stated firmly. However, she also lamented, "I obviously will miss Britt so much." The soap star remains extremely thankful for all the fans, admitting to feeling "guilty" that one of their favorite characters is gone. 
"I do think she was unique to daytime. There isn't a character like her on 'GH,'" Thiebaud remarked. While understanding that deceased characters often return on sudsers, her acceptance of it being a real ending opened other doors for the actor, with Thiebaud noting: "I needed [Britt] to die so that I, Kelly, can move on from that character." 
Regarding a possible return to the soap world, Thiebaud felt, "It would need to be done in a special way. I don't know if I would want to do that ... It was a tough, a very tough decision [to leave]." She also acknowledged, again, feeling bad for the fans but felt her exit was the right decision overall. Thiebaud left "General Hospital" to reprise her role as Eva Vasquez on the hit ABC series "Station 19" and by all accounts, it was the right move.