What You Need To Know About Miranda Wilson, Days Of Our Lives' Back-From-The-Dead Villainess
"Days of Our Lives" viewers who tuned into the soap opera in the 1980s will likely remember the character Megan Hathaway very well. Megan — played by actor Miranda Wilson — was the biological daughter of Salem's biggest villain, Stefano DiMera (Joseph Mascolo). During her time on the sudser, Megan pined after Bo Brady (Peter Reckell) and even plotted to kill Hope Brady (Kristian Alfonso), per Soap Central. However, Megan never got the chance to carry out her murderous plot as she was killed by Larry Welch (Andrew Hyatt Masset). Of course, like many other DiMera family members, Megan didn't stay dead.
In 2022, Megan showed up on the soap opera's spin-off series "Beyond Salem." She appeared to be alive and well, and it was revealed that she had used the power of the three prisms to bring her cryogenically frozen body back to life. She also shockingly did the same for Bo, whose body she had been keeping in a secret DiMera lab.
In 2023, Megan returned to "Days of Our Lives" to bring Marlena Evans (Deidre Hall), Kayla Brady (Mary Beth Evans), and Kate Roberts (Lauren Koslow) back from the dead in the same way. Now, many viewers are interested in finding out more about Megan, as well as her portrayer, Miranda Wilson.
Miranda Wilson is much more than an actor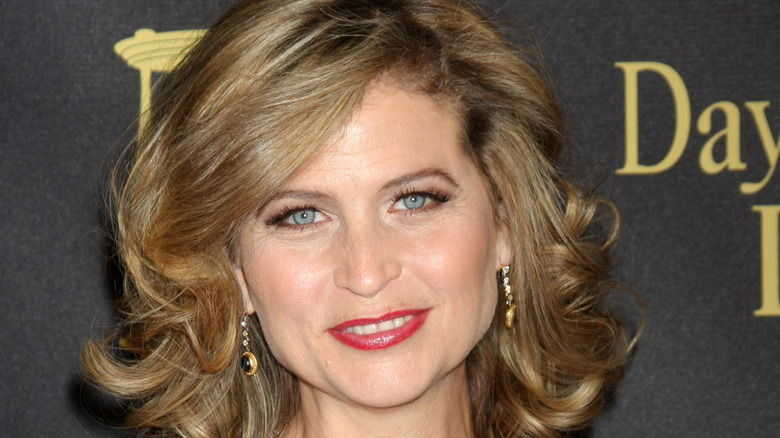 Kathy Hutchins/Shutterstock
Miranda Wilson may be known for portraying the villainess Megan Hathaway on "Days of Our Lives," but in reality, she's a loving mother and educator. The Nebraska native caught the acting bug at a young age and went on to study theatre arts in college, per Soap\Hub. In 1984 she went on her first audition and landed the role of Megan. Her portrayal of Stefano DiMera's daughter even earned her the Soap Opera Digest Award for best villainess.
However, in 1998, Wilson opted to leave Hollywood behind and move her family to the UK. According to Wilson's personal website, during her time across the pond, the actor founded the Lewes New School which focused on holistic learning. She later began working as a dialect coach. Although she did return to her acting career as well, landing roles in projects such as "Second Skin," "An American Attorney in London, "An American Exorcism," "Yellow Jacket," "FBI: International," and more before returning to reprise her first big role as Megan Hathaway on the Peacock soap opera.
Fans are thrilled to have Wilson back in action in Salem and causing trouble. They are especially grateful to the character for returning the beloved and iconic character Bo Brady to the land of the living.