How To Use Hair Color Wax To Find Your Daring Color Shade (Without Unwanted Chemicals)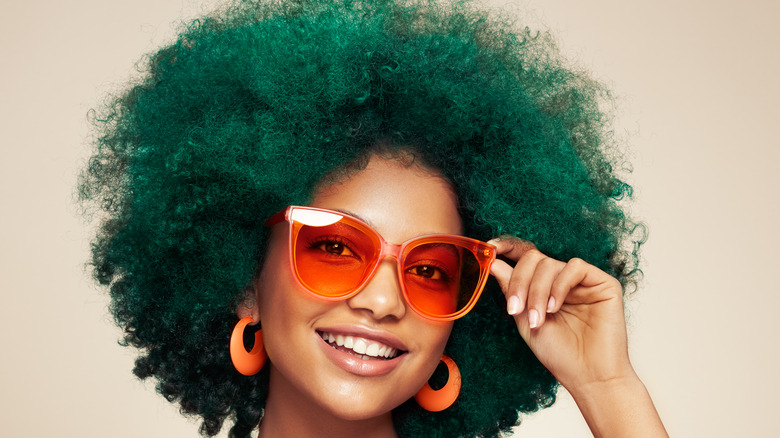 Heckmannoleg/Getty Images
We may receive a commission on purchases made from links.
Human beings are remarkably designed creatures, but one of our regrettable flaws is the limited color varieties of our hair. Black, brown, blonde, and red are the shades we're born with, and eventually gray takes over everyone's head. With all the magnificent colors found in nature — purple spring flowers, deep red sunsets, dazzling blue sky, lush green fields — it seems a pity not to use them on our own locks. But as we know, hair dyeing can be a tedious process. A simple one-color or highlight job at a salon takes a couple of hours; more complex tones like ombré or balayage take longer. Truly dramatic hair coloring, like a neon shade, usually involves a total stripping with bleach just to prep the hair for the dye. Not only is all this work expensive, but it also takes a toll on hair because of the chemicals involved. 
A new type of hair product is changing all that, and the internet is totally here for it. Hair color wax is an almost-too-easy-to-be-true solution for folks who want a big change without the fuss and cost. It's especially popular with users who have natural or very wavy hair; not only does it look especially good, but wax is also free from drying and damaging ingredients. Here's what to know before you order your first jar of wax.
Hair wax offers dramatic results without the fuss
A hair color wax can be the perfect solution for those who love experimenting with color, but don't have the budget to go to the salon every time they want to switch it up. Amazon has listings of wax at about $8 a jar, or a multi-jar collection for under $20 — a bargain compared to the $50 to $200 and up you can expect to spend on a professional job. Hair wax colors range from muted blonde and brown tones to bright blue, red, purple, silver, and green, making them a good option for cosplayers, Halloween partygoers, kids, and anyone who wants to create an eye-catching look. 
The other big plus about hair wax: It's free of ammonia and other drying chemicals. The primary components are beeswax and petroleum jelly, plus the color pigment — fewer ingredients than you probably have in your shampoo. That's what also makes it a great hair dye option for pregnant women; even though it's considered safe to use chemical hair dye after the first trimester, some expectant moms don't like to take any chances when it comes to their baby's well-being.
However, this isn't the route to go if you want a color that lasts for weeks. The wax coats hair without actually penetrating it, the way conventional dyes do. It'll stay fresh for a week or two, but it rinses out when you shampoo. On the other hand, that means you can change up your color as often as you like. 
Using hair wax is messy but easy
Yet another advantage of hair color wax is the ease of use. Whereas boxed dyes involve mixing, squirting, rubbing, waiting, and washing (and sometimes re-washing), hair wax can be applied right from the jar, and there's no endless waiting for the color to set. You'll want to use gloves to keep your hands clean, however, and wear a towel over your shoulders.
As Good Housekeeping explains, it's best to wash and condition your hair first, then apply the wax while your tresses are still damp. Divide your hair into sections, then scoop out a small portion of wax and rub it through section by section, from roots to tip. Depending on the look you want, you can either use the color on a small portion of your hair, or all over. For an even application, comb the wax through, as seen in the TikTok video here. Then let it dry naturally for about 20 minutes; you can also use a blow dryer with a diffuser attachment. If the color isn't strong enough for you, apply a second coat and dry again.
 To remove the wax, you'll need to wash with a clarifying shampoo first, before following up with your normal shampoo and conditioner. Then you'll be ready to go — or to try a different hair wax color!