How To Ask For A Trendy Smoky Brunette Color At The Salon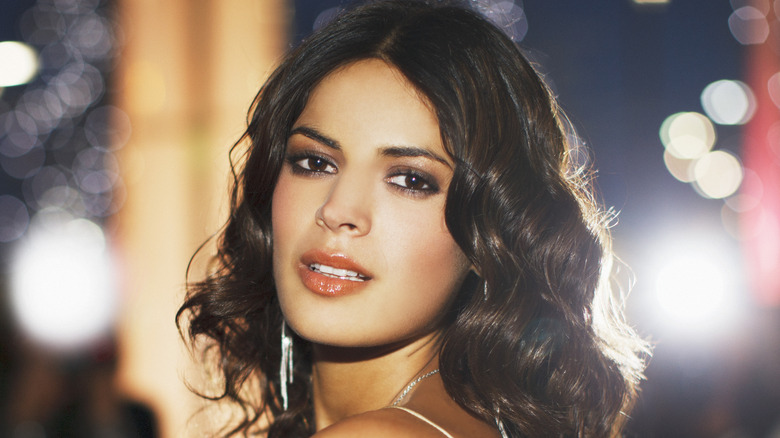 Tom Merton/Getty Images
People say that knowledge is power, and this is especially true when it comes to your trip to the hair salon. Knowing what you want and being specific when you ask for certain colors or styles is essential. Of course, your hairdresser is a professional and should be able to recognize your vision and bring it to life, but newer trends can often make things a little tricky. Therefore, having a solid understanding of what to ask for will make the entire process seamless.
Simply requesting brunette hair is far too vague since so many shades, undertones, and highlight options create different looks. In order to achieve the popular smoky brunette color, you'll need to emphasize its ashy undertones, PopSugar notes. While ashy brown hair typically works best on those with cool-toned skin, pink, red, or blue undertones aren't the only ones who can rock this hairstyle.
However, if you have more natural warmth, your hairdresser may recommend certain changes in order to make this smoky brunette color work for you. So, remaining flexible but clear about what you want is a good approach to take.
How to explain the smoky brunette color trend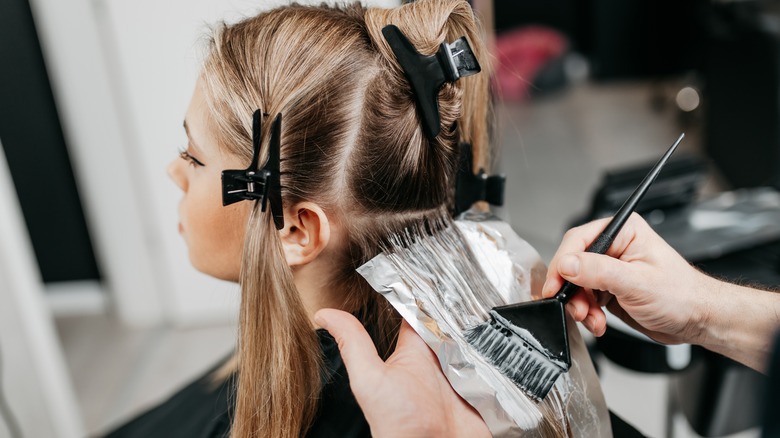 hedgehog94/Shutterstock
Unlike the warm undertones of honey or caramel that are often seen with variations of brown hair, the smoky brunette color hinges on those cool ashy undertones. This gives off a sultry yet complex vibe that's perfect for a new look.
While it's ideal for your natural hair color to range between dirty blonde to a middle shade of brown, your hairdresser can always adjust your base color before focusing on the tone. Since this smoky brunette color can be created using various techniques, knowing the specifics of the results you want will help your colorist narrow down their approach.
For example, you may want one overall color or a more subtle look with added dimension. Understanding the real difference between highlights and lowlights can help you achieve your ideal cool-toned shade. Many of these choices depend on your current hair color and how much time and money you can afford to spend on the dying process. Since most people are unfamiliar with all the techniques that hairdressers can use to achieve certain colors, bringing in multiple photos of the hair trend you want is always advised.
Cool-toned hair is hard to maintain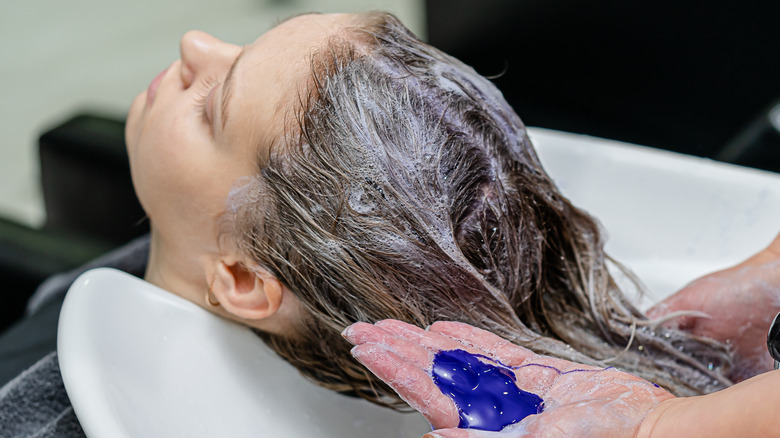 Tetiana Tychynska/Shutterstock
Any time you add or remove color from your hair, there is a good chance that you'll need to frequent the salon for touch-ups. Since color added to your hair naturally fades with washes, and roots grow out over time, learning how to maintain that smoky brown color for as long as possible will be super helpful.
Understanding what blue shampoos actually do or looking into purple conditioners can help you color tone your hair at home and keep that cool ashy hue for longer. Creating that smoky brunette color on someone with natural brown hair often involves removing some of those warmer tones. Adding highlights that strip the hair of its natural color can cause it to feel dry or look damaged. Therefore, asking your hairdresser which products and leave-in treatments will restore your hair's health is important.
Approaching your hairdresser with a new look can feel intimidating, especially when there are various techniques for coloring hair to keep in mind. However, don't let that anxiety keep you from going to the salon and embracing a trend you love. Changing your hair color is a fun adventure and it's not permanent. So, even if you embrace the smoky brunette look for a single season, the process will boost your confidence at the salon.