The Real Difference Between Highlights And Lowlights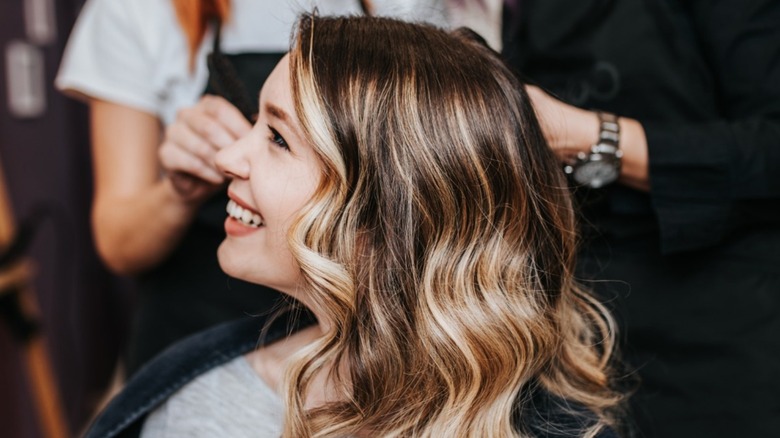 Shutterstock
With changing seasons and changing trends, people across the country will soon be flocking to hair salons to get some much-needed maintenance on their locks. Two popular options to freshen up your look (without undergoing a complete transformation) is by way of highlights or lowlights. These two options can, not only breathe life into your hair, but also cause much less damage than a full head of color. However, achieving the multi-tonal hairdo of your dreams requires knowing the difference between the two as they can yield quite different results. 
Highlights (which are lighter than your base color) can brighten your look by adding a vibrant pop of color, whereas lowlights (which are darker than your base color) can create a lower contrast that adds dimension. Depending on your hair's natural base color and whether you want a more dramatic or subtle look, one option may work better than the other. To help you decide what's best for you, we've compiled some tips from hair care experts.
What are highlights?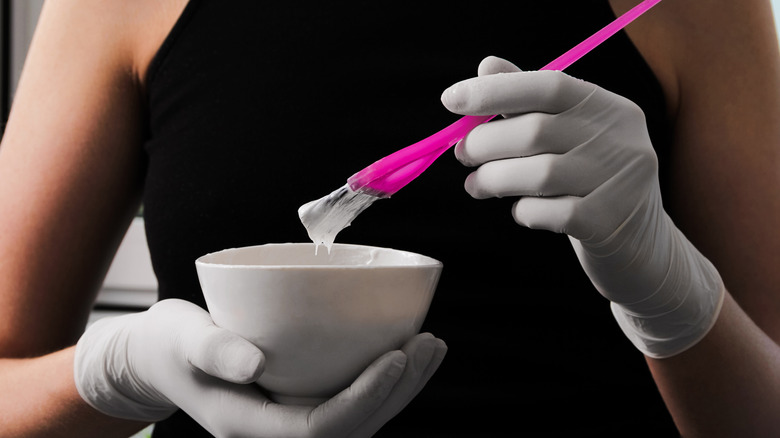 Shutterstock
Highlights are a hair process that have been around since the time of the Ancient Greeks (via Tricoci University). They are a great way to dramatize your look and work by "lift[ing] the natural base using lightener or hair color," according to hair color expert Emily Woodstrom, per Byrdie. 
There is often a misconception that highlights comprise blonde shades only, but any shade that is lighter than your natural color is considered to be a highlight, per the Francesco Group. One highlighting technique includes weaving the color throughout your strands, which can create a shimmering, sun-kissed effect. Another is slicing your hair strands into thin or thick sections, depending on how chunky or bold you want your highlights to appear. Finally, there is the increasingly-popular balayage technique, which is when "the hair color is painted onto the hair to create a graduated, more natural-looking highlight effect," according to The Salon Project owner, Joel Warren, per Good Housekeeping. 
What are lowlights?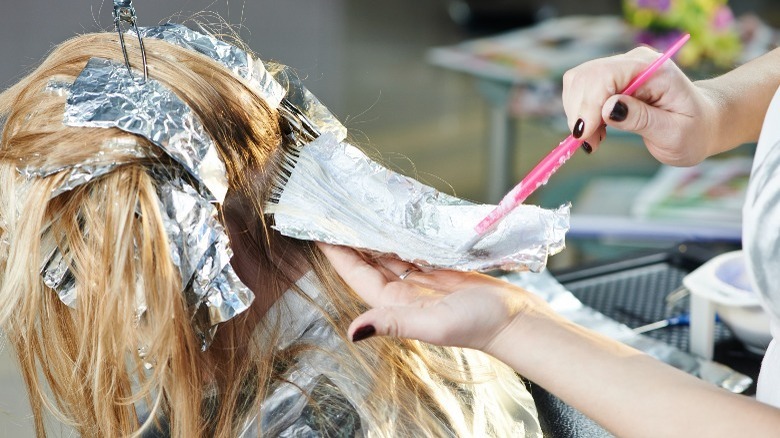 Shutterstock
In contrast to highlights, lowlights work by darkening strands of your hair with the aim of adding contour, per haircare giant Redken. Lowlights can also appear much more subtle than highlights as they are applied evenly throughout the hair. 
According to Redken, the benefits of lowlights include helping to create an optical illusion of volume on hair that is flat or thinner as well as evening out locks that have been over-highlighted. This hair process is also a good option for someone looking to add some richness and warmth to their cooler-toned, or ashy strands. 
As lowlights are not meant to yield dramatic results, hair color expert Emily Woodstrom suggests choosing a color that is one or two shades darker than your base for the most natural results, per Byrdie. A good candidate for lowlights is someone with blonde or light brown hair, as it can help to create the perception of depth.