What Is The Casting Process Like For Hallmark Channel?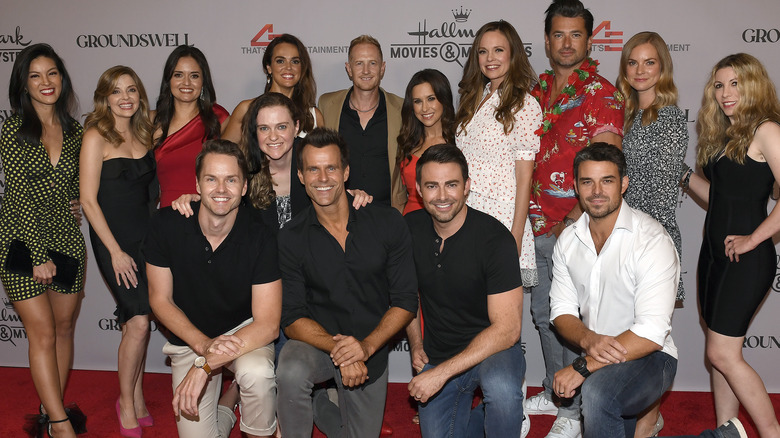 Michael S. Schwartz/Getty Images
Hallmark has been known for producing alluringly cheesy and extraordinarily predictable films, especially during the holidays. The network has produced numerous movies where two unlikely people end up falling in love, yet viewers can't help but tune in despite the repetitive plotline. Can you think of a Hallmark movie where a city girl returns to her small hometown and soon finds love with a local? Yeah, there are several of them.
There's definitely a formula to Hallmark's heartwarming stories, but holiday films have become their forte, and it's what they do best. Despite the repetitive and predictable storylines, these movies have the power to draw you in and have become synonymous with the holiday season.
A major part of the appeal of Hallmark movies is the excellent chemistry between the actors — many of whom have dedicated their careers to the network. If you're wondering how the casting process typically goes, it's pretty straightforward.
Long Lost Christmas' Benjamin Ayres shares how he booked the film
Emily Assiran/Getty Images
Hallmark never fails to bring people together with their touching holiday films each year. While actor Benjamin Ayres was promoting his Hallmark Christmas movie "Long Lost Christmas" last year, he detailed how he got cast in the project. He shared that it's not as random as pulling someone's name from a hat of familiar Hallmark actors, of course, but that one has to fit the role. 
The casting process is pretty straightforward for the talent, Ayres shared. He revealed that he got a phone call, and the next thing he knew, he was booked for a film. The actor told TV Fanatic, "I made a joke the other day about it being the Batman signal. You're just going about your day, and then a phone call happens, and the next week you're in Vancouver starting a movie."
Ayres continued, "The rest of the time, you're just auditioning and waiting to find out if you've booked it or if you're close to something. For example, 'Family Law.' I did an audition, and then I had a callback, and then they flew me from Toronto to Vancouver to do a chemistry read with Jewel [Staite]." After letting Ayres know that he had booked the job, he was then asked to temporarily relocate to British Columbia for filming. The star and his family then spent the summer in the beautiful Canadian province — a common practice for many Hallmark actors
Hallmark's casting executive Penny Perry makes the casting process easier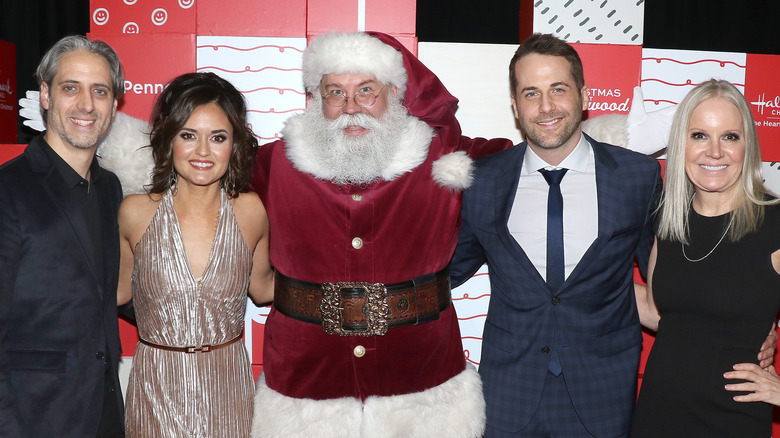 Jim Spellman/Getty Images
The main reason why the Hallmark casting process is so streamlined is because of the casting executive in charge, Penny Perry. She is the Senior Vice President of Talent in Crown Media Family Networks' department, and her responsibilities include negotiating projects on the network's behalf and securing deals. Perry has a gift for picturing actors who she thinks will look great together on screen and make watching Hallmark films worth your time. 
Perry is involved in each project at the script development stage and ensures each role has the perfect actor by casting the leads herself. She is very open about the process, telling Backstage, "Each project is different. Talent that is right for one movie or show may not be the right fit for other projects. Finding the best pairing for the lead roles is also critical — some actors instantly click. In general, it has a lot to do with chemistry, screen presence, and image." She continued, "I work with talent managers and agencies in Canada and domestically in the United States to identify actors who have good chemistry and strike the right balance for each specific project and location."