Trendy Ways To Style Your Favorite Cowboy Hat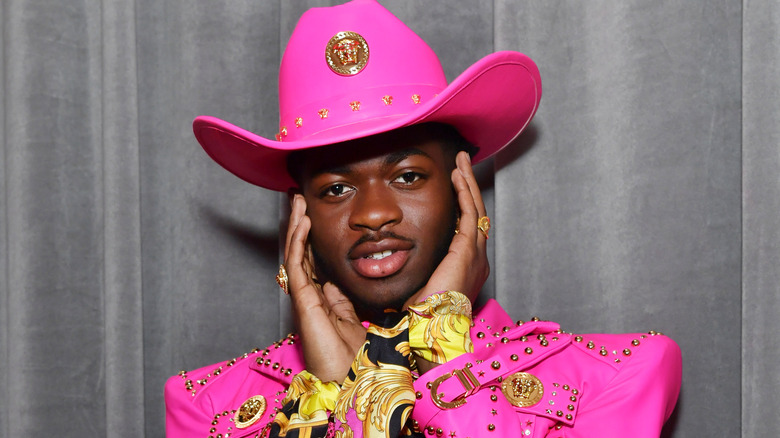 Emma Mcintyre/Getty Images
Cowboy hats have been a part of American culture for over a century, with iconic Western wear brand Stetson creating the "Boss of the Plains" hat in 1865. This original hat gradually changed in shape, design, and material over time to better suit the needs of those who wore it and transformed into the curved-brim hat we call a cowboy hat today. Though we tend to associate cowboy hats with the Wild West, these hats were seen depicted in Mongolian paintings as far back as the thirteenth century. 
And though the popularity of cowboy hats has ebbed and flowed, it has always been a part of American culture, whether seen on mid-century country music icons or, randomly, Bret Michaels (who constantly wore a cowboy hat in the early 2000s for unknowable reasons). These days, the cowboy hat is definitely having a revival. Maybe it was Lil Nas X's unforgettable all-pink Grammys outfit topped with a pink cowboy hat. Maybe it's a newfound appreciation for country music stars of the past, like Dolly Parton, Patsy Cline, and Merle Haggard, who were all known to don cowboy hats. Whatever the reason, cowboy hats seem to be here to stay. If you're interested in jumping on the yeehaw bandwagon, you may not know exactly where to start. After all, if you're not typically into a Western aesthetic, a cowboy hat can easily veer into costume territory. But don't worry. We're here to help with 12 trendy ways to style your favorite cowboy hat.
Bohemian Western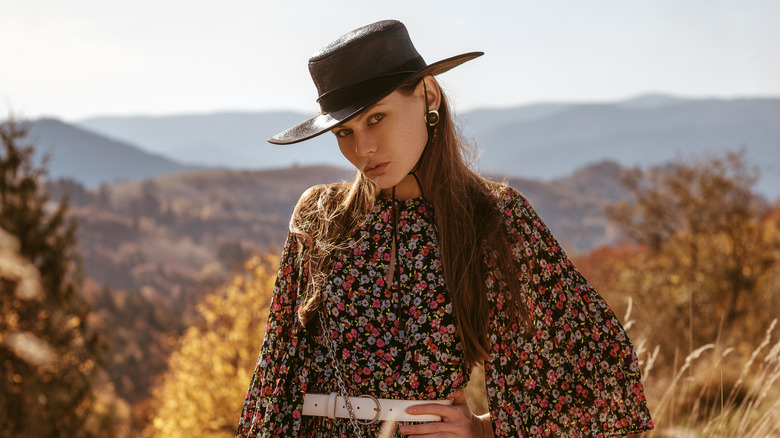 Victoria Chudinova/Shutterstock
When you think about a bohemian aesthetic, you may think of the following descriptors: free-spirited, casual, nomadic. And similarly, when thinking about a Western aesthetic, those types of terms also come to mind. Cowboys are, after all, known as lone rangers with nothing but freedom and the open road ahead.
So it makes sense to pair a cowboy hat with a laidback, bohemian outfit. Whether this comes in the form of a billowing, prairie-style dress, suede pants, or a retro, boho tunic, adding a cowboy hat offers a bit of charm and trendiness to your look. Wardrobe stylist Samantha Brown notes that "Cowboy hats are a fun way to add personality to your wardrobe without making a huge investment." You can find one that you like and build outfits around it, making it a statement piece (not to mention a practical investment when it comes to sun protection). "They come in a wide range of textures and colors, so you can experiment with what you love," Brown adds (via Byrdie).
All black everything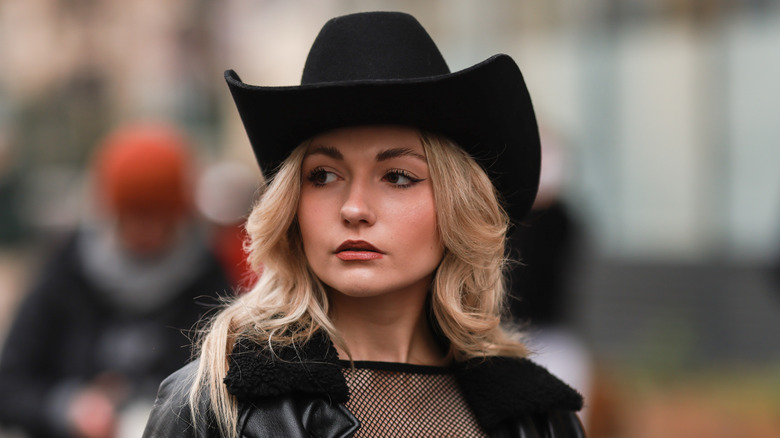 Jeremy Moeller/Getty Images
Most of us agree that an all-black outfit lends an air of sleek sophistication to anyone who opts for the monochromatic look. However, adding a black cowboy hat can take the look up a notch, creating a juxtaposition of Western style with edgy all-black. Wearing all black with a cowboy hat is a way to take part in the trend in a more subtle way while still making a statement. You can opt for a black leather cowboy hat for a biker-esque vibe or go with a black suede cowboy hat for a classic look.
According to cowboy hat etiquette (yes, it is a thing), black cowboy hats are typically reserved for more formal affairs, while straw and palm leaf hats are for casual events. This may be something to keep in mind if you plan on donning a black cowboy hat, though it's unlikely that the people around you will hold you to the specific rules of cowboy hat etiquette -– unless you spend a lot of time with cowboys, that is.
Y2K cowboy
Early 2000's fashion brings to mind a few things: low-rise pants, halter tops, bright colors, velour, and denim. It was an era of experimentation, and many of the popular clothing trends of the time involved futuristic elements that seemed appropriate for the new millennia.
Another staple of early 2000s fashion was a more classic, less futuristic accessory — the cowboy hat. Along with other Western-inspired looks like fringe and oversized belt buckles, cowboy hats were spotted regularly on celebrities like Brad Pitt, Jessica Simpson, and Paris Hilton in the early 2000s. These days, you can pay homage to the early aughts by channeling Y2K fashion and donning your favorite cowboy hat since both Y2K and Western style is trending. Take a cue from Kendall Jenner, who looked straight out of 2002 in an Instagram snap featuring her wearing a cow print cowboy hat with a slinky, pink-and-purple zebra print outfit — and a fluffy bag to pull it all together.
And for more laidback takes on a Y2K/Western look, Kendall's Instagram is full of inspiration. She pairs cowboy hats with tons of different looks, from beachy straw cowboy hats with swimwear to a fur cowboy hat with an editorial, retro look.
Festival-inspired fringe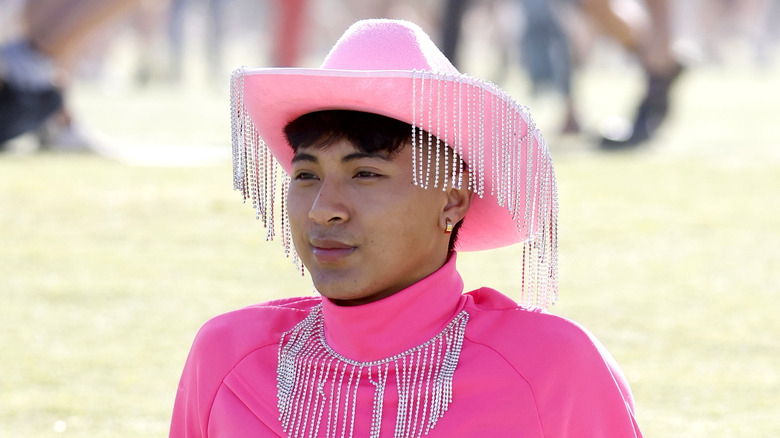 Frazer Harrison/Getty Images
A glance at Coachella photos from the last few years will show you a few things: dramatic, glittery makeup, cut-off shorts, and Western-inspired style, from cowboy boots to double denim. Cowboy hats have also appeared on the Coachella style radar, and for good reason. Cowboy hats are a staple in the music industry. Though cowboy hats were first donned by vaqueros, or Mexican cowboys, who wore sombreros while herding cattle, the iconic hat quickly made its way to Hollywood by way of Western films and country music stars. From Patsy Cline to Johnny Cash to modern stars like Miley Cyrus and Orville Peck, the cowboy hat has stuck around as an emblem in the music scene.
Any cowboy hat can pack a punch, but if you're looking for a fun, festival-ready look, a fringed cowboy hat takes Western to the next level. Reminiscent of wild summer nights and the queen of cowgirls, Dolly Parton, a fringed cowboy hat is a fun and on-trend option for 2023. Pair your hat with a matching set in the same color as your hat for a fun and flirty vibe.
Disco vibes
One way to know if something's about to be a major trend is if Beyonce is caught wearing it. And in the case of cowboy hats, Beyonce appears to be a fan. Back in June 2022, a stylist of Beyonce's reached out to designer Abby Misbin's Etsy shop, "Trending By Abby." Abby was asked by the stylist to create a reflective, disco ball-like cowboy hat for Beyonce — and Abby was "thrilled" to make the hat for Queen Bey (we would be too!). Abby had no idea what was in store for her. After Beyonce wore the hat several times in promotional content for her "Renaissance" tour, Abby's shop started getting a wild influx of orders. So many that she had to close down her shop temporarily. Clearly, Beyonce has created a trend that many are eager to follow.
Now, when it comes to styling a cowboy hat that quite literally looks like a disco ball, a bit of playfulness is key. You could take a note from Beyonce and go for a full-on monochromatic silver outfit to match the hat, which would create a futuristic look perfect for going out. Or you could style the reflective hat with other pieces reminiscent of disco vibes. Flared, colorful pants or swingy, sequined minidresses are just a few options. Whichever direction you go in, be sure to have fun with it. A disco ball cowboy hat, more than pretty much anything else, is a statement piece that's meant for creativity and playfulness.
High-end resort style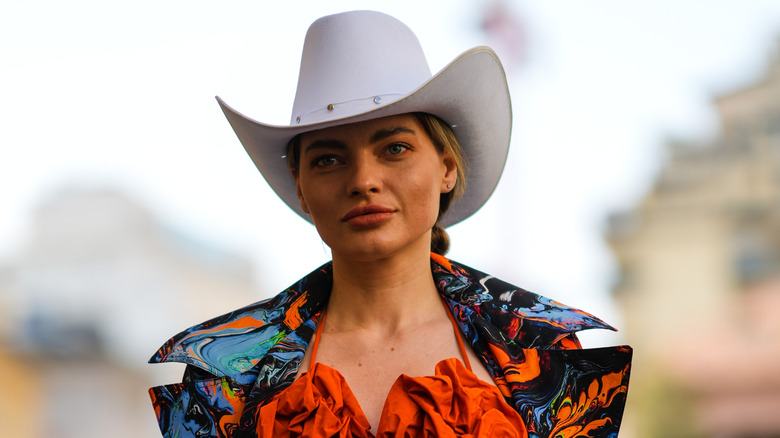 Edward Berthelot/Getty Images
Can a cowboy hat look high-end? We'd say that the working man's staple can lend an air of luxury to any look, depending on how it's styled and the materials the hat is made from. Cowboy hats often look casual when they're styled with casual clothes like jeans and basic shirts. However, styling a cowboy hat with more expensive clothing items, like a silk or chiffon dress, can take a cowboy hat from casual and country to luxe and trendy.
One of the most important factors is the material of the hat and the clothing you pair it with. You want to avoid materials like leather and suede and instead go for light, high-quality materials like silk and cotton that will contrast nicely with the cowboy hat and give a luxurious, resort vibe. And for the hat itself, it's important to choose a high-quality material like felt, which is appropriate to wear year-round, unlike wool cowboy hats, which are reserved for cooler months — or straw, which lends a more casual feel to any look.
Beachy cowgirl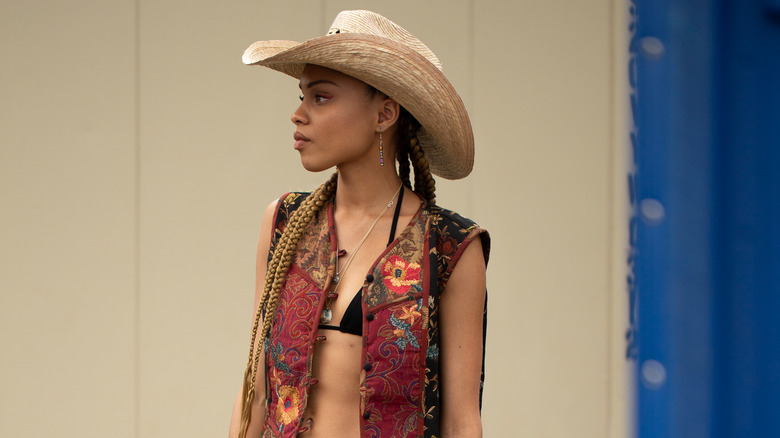 Matthew Sperzel/Getty Images
Want to dip your toe into the cowboy hat trend without going full throttle? We'd say that the perfect way to style a cowboy hat in a subtle way is by going for a beachy cowgirl vibe. Next time you hit the pool or the beach, throw on a cowboy hat to complete your look. Not only will you be participating in the Western-influenced fashion trend, but you're also giving yourself some crucial sun protection.
When it comes to beachy cowboy hats, you'll likely want to avoid materials like wool or felt, which will be too warm for hot weather and may also clash with more casual outfits. Instead, going for a hat made of straw is probably your best bet. You can easily throw one on with a sundress or cutoff shorts for a casual and effortless Western look. "Cowboy hats are typically best worn in more casual settings," says wardrobe stylist Samantha Brown (via Byrdie). "Straw and woven versions are great in the summer to shield the sun."
Classic cowboy attire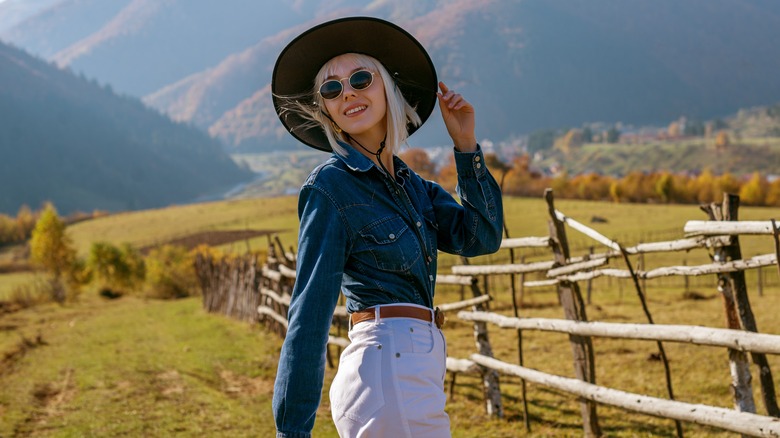 Victoria Chudinova/Shutterstock
Trend forecasters are anticipating denim to be a major staple of 2023 fashion, which is convenient since denim is also a staple of classic cowboy 'fits. When you think about cowboys and cowgirls, the usual get-up involves a buttoned shirt, jeans of some sort, boots, maybe a bandanna — and a cowboy hat, of course.
So if you're looking to embrace the Western trend, why not go big and do an entirely Western-inspired outfit? According to fashion retailer Jill Martin (via The Guardian), "Cowboy couture is cool." We're not saying you have to get chaps or giant belt buckles, but embracing the practicality of cowboy style is a no-brainer when you're thinking about how to style a cowboy hat.
If you do opt for a fully Western outfit, one thing you want to be sure of is that your cowboy hat fits well. According to wardrobe stylist Samantha Brown (via Byrdie), "A cowboy hat should sit on top of the head and come down slightly on the forehead." Anything too big or too small may end up sitting at an awkward position, which can easily kill the whole cool-cowboy vibe.
Snakeskin, cow print, zebra — you choose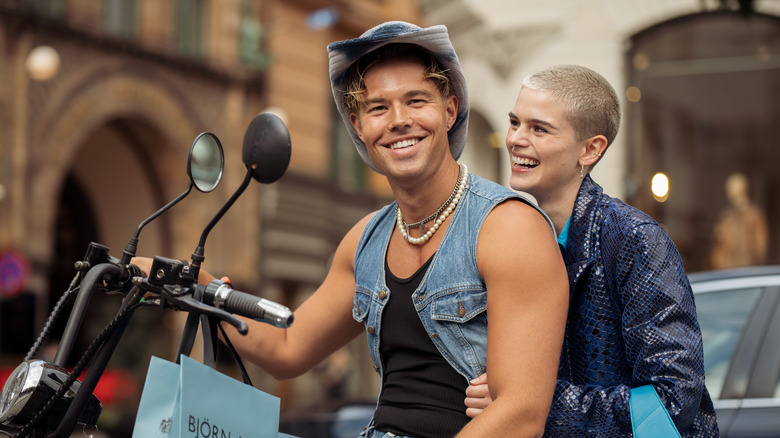 Raimonda Kulikauskiene/Getty Images
One major trend we've noticed with celebrities who have taken to wearing cowboy hats is that they tend to choose loud, bold, printed cowboy hats. If you're looking to try out this trend, why not fully embrace the Wild West and opt for an animal-print cowboy hat like Kendall Jenner and several other celebrities?
Opting for a cowboy hat in an animal print may seem to take things a bit far, but have no fear. Over-the-top fashion (verging on irony) is also in for 2023. Styling a cowboy hat with a wild print is not for the faint of heart. You're not going to slide under anyone's radar with a snakeskin or leopard print cowboy hat, so it's best to go for this look with confidence. If you need some outfit inspo, just look up #Westerncore on TikTok. There, you'll see that the Western trend is alive and well, and you'll also find endless iterations of fun outfits to get some inspiration from.
Classic and elegant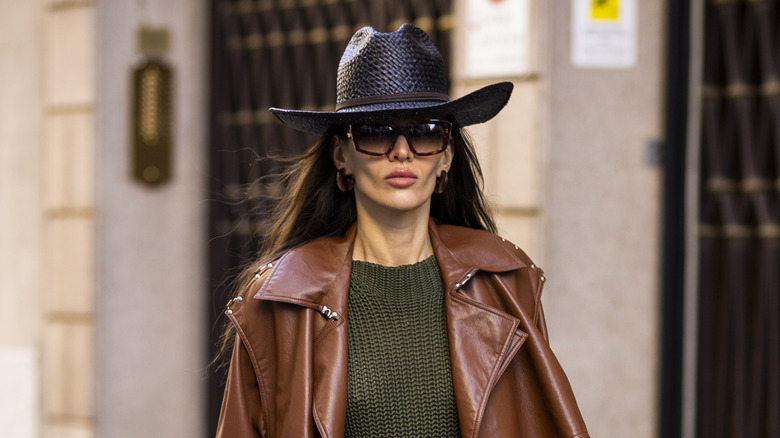 Claudio Lavenia/Getty Images
Cowboy hats aren't just a trend when you choose a classic shape and material and style it with other timeless pieces. Opting for a felt cowboy hat, for example, is not only practical for the colder months, but it also adds an air of sophistication to any look. Felt and wool cowboy hats are typical colder-weather cowboy hat materials, and they look chic and classic in neutral colors like black, brown, and tan. Straw and palm leaf hats are typically reserved for warmer months, though they can be versatile enough for cold weather, too.
If you're someone who sticks to a pretty minimalist or classic style, you shouldn't find it too hard to integrate a cowboy hat into your wardrobe. Pairing a cowboy hat with a simple but chic outfit, whether that's a pair of trousers and a tailored jacket or a more casual look like jeans and a simple white tee, can be a great way to participate in the Western trend without feeling like you're in costume. And if you're not ready to commit to a Stetson, you can always try out other cowboyish hats like a chapeau or fedora.
Colorful, playful, and trendy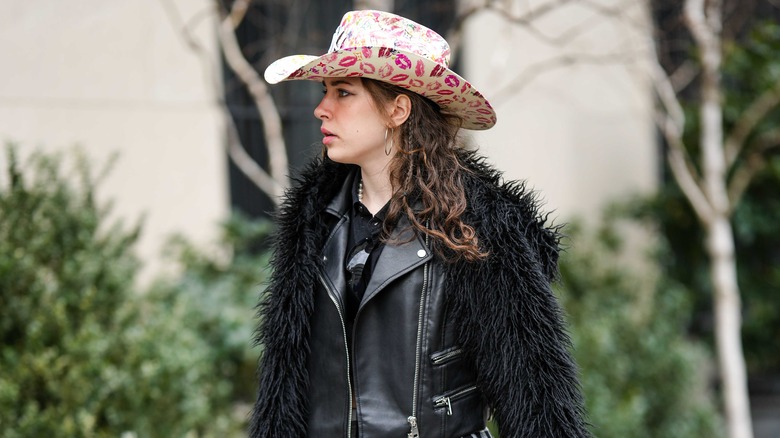 Edward Berthelot/Getty Images
If you really want to giddy up with the cowboy hat trend, one of the most fun ways to do it is by getting the brightest and most outrageous cowboy hat you can find. Celebrities have modeled this trend many times. Lily-Rose Depp wore a pink felt cowboy hat with matching sparkly earrings. Bella Hadid was seen in a unique red-striped, woven cowboy hat. Miley Cyrus wore a white bedazzled cowboy hat alongside Madonna in a joint performance (Madonna also wore a black, sparkly cowboy hat). And country music icon Dolly Parton has been seen in many cowboy hats over the years, including a sparkly pink cowboy hat.
Choosing to go bold and funky with your cowboy hat is probably not suited for everyday wear — unless you're Bella Hadid or Dolly Parton, that is — but fun hats work well for nights out or for other events that allow some experimentation and creativity. Take note of Dua Lipa, Kacey Musgraves, Bella Thorne, and Doja Cat, who have all been spotted in popular cowboy hat retailer Neon Cowboys. The eclectic options from Neon Cowboys not only come in bright colors, but they also literally light up thanks to battery-operated lights within the hat. It really doesn't get more fun than that.
Yellowstone inspired
"Yellowstone" is a hit TV show that centers on the Montana-based Dutton family, owners of the biggest ranch in the United States. The show is full of drama and intense storylines, and it's received positive critical reception and increasing viewership with each season. But one unexpected thing people have really taken away from the show is the Western aesthetic.
"People want to look and live like a Dutton," Jill Martin, co-founder of Shop the Scenes, told the Wall Street Journal (via The Guardian). The plaid shirts, rugged pants, cowboy boots, and cowboy hats have made quite an impression on viewers of the show. According to Stetson's marketing vice president, Tyler Thoreson, "Yellowstonecore" has led to an increase in demand for cowboy gear. "We're thrilled that so many people have discovered and embraced Western style and culture over the past couple years. It's been a challenge to keep up with demand," Thoreson said (per The Guardian).