The Young And The Restless Stars Celebrate 50 Years On Air Opening Time Capsule Buried 25 Years Ago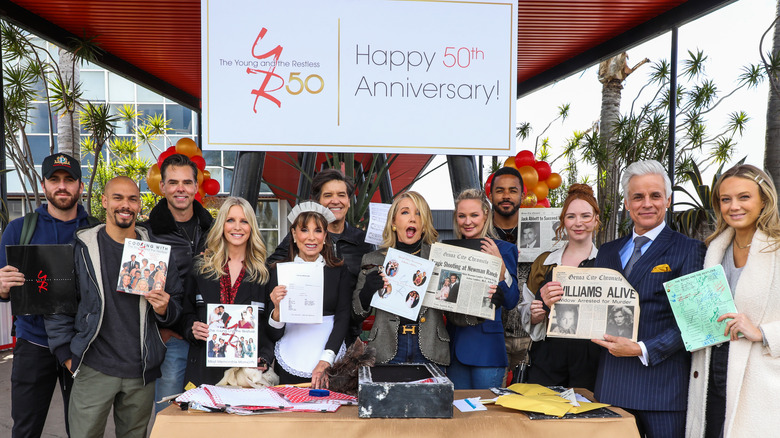 Paul Archuleta/Getty Images
"The Young and the Restless" is one of the only daytime dramas left on television, and this year, they're celebrating a monumental milestone: 50 years on the air. While it's not the longest, as "General Hospital" is touting their six decades on TV this year, it's still quite the impressive feat. Over the decades, "Y&R" has given viewers countless dramatic moments and romances for the ages. From the longtime love story of Victor Newman (Eric Braeden) and Nikki Reed (Melody Thomas Scott) to shocking showdowns like Sharon Rosales (Sharon Case) fighting with Phyllis Summers (Michelle Stafford), resulting in Phyllis landing in a coma (leading to the infamous Phyllis switch), there's something for everyone. 
The soap also frequently pulls on the heartstrings. Whether it's mourning the passing of beloved fallen cast member Kristoff St. John (Neil Winters) or the tragic on-screen death of teenager, Cassie Newman (Camryn Grimes), the writers understand how to elicit emotions from fans. 
The anniversary season of the show is slated to feature numerous blasts from the show's past, many of which have already made their appearances in either a full-time or part-time capacity. Michael Graziadei's Daniel Romalotti returned to Genoa City around Thanksgiving, and his comeback has been directly tied into most of the subsequent returns to the show. However, past characters aren't the only things being unearthed to celebrate 50 years on the air. Based on a recent Instagram video, there's a lot more buried in the vault. 
Melissa Ordway revealed clips from Y&R's time capsule reveal on Instagram
Melissa Ordway recently took to her personal Instagram account to document herself and numerous costars of "The Young and the Restless" unearthing a time capsule from 25 years ago. This reveal comes as part of the show's 50th-anniversary extravaganza, and everyone from long-time star Melody Thomas Scott to newcomers like Connor Floyd (Chance Chancellor) were in attendance.
In the video, Ordway documented the contents of the reveal, which contained fictional items pertaining to the storylines and also personal items from the actors at the time. One of the highlighted items was a Genoa City newspaper detailing how the character Nick Newman (Joshua Morrow) was sent to jail after being accused of shooting another man. Another key set of items depicted in the video are past scripts from previous episodes of the series. The show airs five days a week every week of the year, so the amount of storylines and moments between the capsule burial and the reveal is astonishing. 
In her caption, Ordway wrote, "25 years ago, @youngandrestlesscbs celebrated 25 years by placing a time capsule in the ground, in front of Television City. Today, to celebrate the 50th anniversary, the time capsule was opened. What a cool thing it is to be a part of this legendary show!"