Soap Vet Ashley Jones Recalls How The Young And The Restless Changed Her Life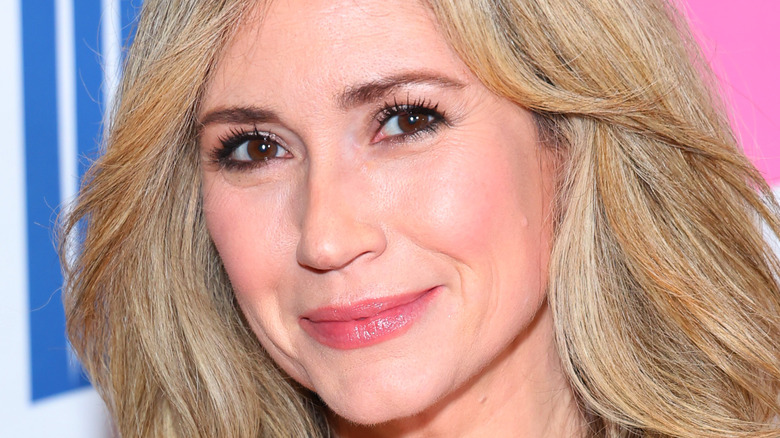 Leon Bennett/Getty Images
Actress Ashley Jones has been entertaining her fans for 30 years on various movies and TV shows, including the cult hit "True Blood," "Criminal Minds," and the short film, "We Die Alone," for which she won Best Supporting Actress at the FilmQuest film festival. The Texas native is known to soap opera fans not only for portraying Bridget Forrester on "The Bold and the Beautiful" but also for her short stint on "General Hospital" as Parker Forsyth. Her "GH" character was involved in a romance with Kristina Corinthos-Davis (Lexi Ainsworth), which was highly controversial because Parker was Kristina's college professor.
However, it was Jones' role as Megan Dennison on "The Young and the Restless" from 1997 to 2001 that put her on the soap map, garnering her two Emmy nominations for Outstanding Younger Actress in a Drama Series. Megan was a naïve rich girl who got involved with bad boy Tony Viscardi, originally played by Nick Scotti, and later recast with Jay Bontatibus in 1999. Megan's parents struggled to break the two up, and ultimately Tony was struck while riding his motorcycle, and he and Megan had a deathbed wedding before he succumbed to his injuries.
Considering the amount of drama stirred up in the few short years that Jones was on "Y&R," it's a no-brainer that she would be asked back to participate in the show's 50th-anniversary celebration.
The actress reminisces about her Young and the Restless days
On Instagram, Ashley Jones recently reminisced about her time on "The Young and the Restless" and its impact on her life. She posted several pictures from her "Y&R" days, writing, "I was a teenager when I got a call from [Ro Diamond] and [Steven Kelley Jang] (still my agents) that Bill Bell hired me as a possible recurring guest star on his hit show @youngandrestlesscbs to play Megan Dennison. It turned into a long run with the Bell family — with two Emmy noms playing sweet Megan. (I lost both times to cast mates on Y&R: the amazing Camryn Grimes and my dear, immensely talented Heather Tom). I've always said Bill Bell changed my life."
Regarding the 50th anniversary celebration of the show, Jones continued, "I cannot wait to celebrate with many friends, new and old. And to celebrate with y'all!! Soap fans are the best fans. I'll make sure to take lots of [behind the scenes] stuff at the party." While family and close friends sent loving memories, one fan chimed in, saying, "Amazing. Look forward to seeing your pics. Soap fans are very loyal, hope to see you on 'Bold' later this year." A surprised fan also complimented Jones, replying, "Whoa! You haven't changed!
We can't wait to see all the major comebacks during the 50th anniversary of "Y&R" and wherever Jones pops up next!