The Major Comebacks In Store For The Young And The Restless' 50th Anniversary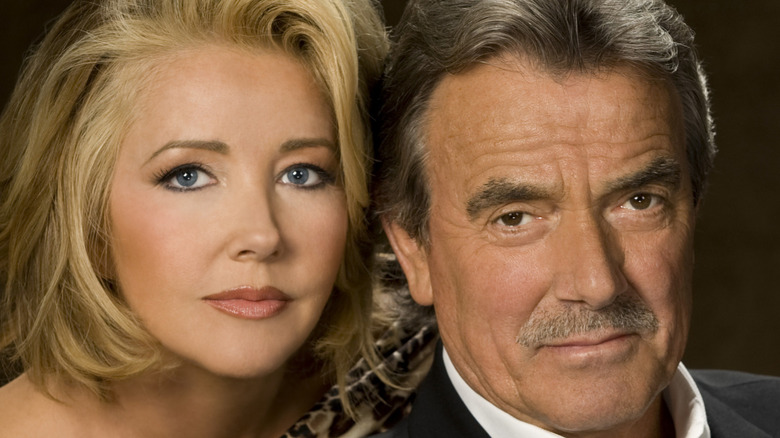 CPY/Robert Voets
Anniversaries are abound in the soap world, lately. 'General Hospital" is celebrating its 60th anniversary in April, but the festivities start at the end of March with a tribute episode to the late actor Sonya Eddy. Coming in a close second is "The Young and the Restless" which debuted on March 26, 1973, and will likewise be celebrating its 50th anniversary. The proceedings began late in 2022, with the show making big changes for its milestone — on September 30, "Y&R" unveiled its new logo and new opening credits sequence.
Prior to that, on September 20, the show had a fun crossover with the sister series, "The Bold and the Beautiful." Deacon Sharpe (Sean Kanan) went over to Genoa City on "Y&R," while Nikki Newman (Melody Thomas Scott) later paid a visit to Los Angeles on "B&B." Michael Damian reprised his role as Danny Romalotti on "Y&R" in December. He told Soap Opera Digest, "I was surprised to get the call but it was perfect timing," adding, "Without giving too much away, Danny is on tour and he has a break, so he's popping in for the holidays and checking on everybody." More recently, Michelle Stafford and Greg Rikaart shared fun from the "Y&R" anniversary photoshoot.
Now, even more exciting details about the show's 50th celebration have been announced.
Fan favorites return
On March 26, the CBS soap opera "The Young and the Restless" will be airing a 50th anniversary extravaganza with many actors returning to reprise their roles. Soap Opera Digest reported on the highly anticipated event, explaining who will be coming back. The aforementioned Michael Damian will again appear as Danny Romalotti, and joining him will be Danny's sister, Gina Roma, in the form of the returning Patty Weaver. Tricia Cast will also bring her character Nina Webster back to Genoa City, having last been seen in 2021. Fan favorite Barbara Crampton — who last appeared on the show in 2007 — is coming back as celebrity journalist, Leanna Love. And Veronica Redd will be returning as housekeeper-turned-mother figure Marnie Johnson. 
Fans were thrilled when Michael Damian shared Soap Opera Digest's news on Twitter, writing, "Hey friends, you asked for it and we got it! Big Y&R Returns!" A truly excited follower responded with, "Michael . . . I just heard this wonderful news! I am so excited you have no idea. MORE OF DANNY is exactly what Y&R needs! Maybe they can even build a bigger storyline around your character. Can't wait to see where this chapter of your life on the show takes us!"
With all these great celebrations and milestones happening, we're thrilled to see what direction the soap world takes us next.