The Benefits Of Dry Brushing Your Face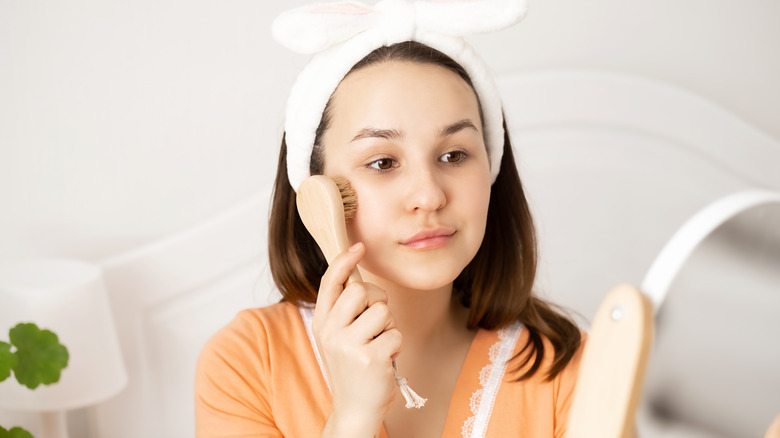 Irina Belova/Getty Images
We may receive a commission on purchases made from links.
One of the keys to maintaining radiant skin is exfoliation. About every 30 days, the outer layer of our skin turns over, revealing brighter, newer skin. To speed up that process, skincare lovers turn to exfoliation, a great option to help with hyperpigmentation, anti-aging, and brightening. Over the years, these skincare aficionados have traded their harsh physical exfoliators for innovative chemical exfoliators like retinoids or glycolic acid.
The 2020s have ushered in more skincare routines, including a hyperfocus on body care. Rather than just focusing on the face, BHA body wash can be found right alongside your faithful Dove beauty bar and tub of Cetaphil lotion. One major skincare practice that's grown popular? Dry brushing. An Ayurvedic practice that originated thousands of years ago, dry brushing helps to shed dead skin on the body while boosting lymphatic drainage and reducing cellulite.
With the skin on the face being more sensitive than that on the body, it's common practice not to mix products and techniques that are designated for the other. However, some skin care experts are saying that dry brushing the face comes with a load of benefits.
Why you should dry brush the face
Like dry brushing the body, using it on your face can increase blood circulation and lymphatic drainage, firm loose skin, and get rid of lingering dead skin, revealing a smoother, brighter face. Unlike dry brushing the body, however, you want to use a different brush on the face. While the bristles for body brushing can be a bit rough, using a brush that's specifically made for the face and neck can help prevent any risk of irritation.
To dry brush, prep the skin by cleansing and drying your face. Start out on the chin and move upwards in a circular motion. Move outwards towards the jaw, the same way you would use a gua sha. Once done with the face, start under the chin and move downwards. When you're done, rinse off the face and brush and apply your skincare products.
Although dry brushes for the face — as well as your movements — should always be gentle, it's not always suited for every skin type. If you have problems with eczema, psoriasis, or irritation, you should speak to a dermatologist before taking up dry brushing.
Shop the best dry brushes for your face
Great for exfoliation and detoxifying, the Primally Pure Facial Dry Brush helps to reduce buildup that results in blackheads and milia. Made with soft goat hair bristles, it's gentle on the skin.
With plush nylon bristles and round peaks ideal for massaging, the Aveda Tulasāra Radiant Facial Dry Brush lifts dirt and dead skin from the face to reveal smoother skin. Its oval shape and innovative crests provide a unique exfoliation experience.
Created with a long handle that gives the user a strong grip, the Skin Gym Facial Cleansing Brush provides a deep cleanse. With stiff, nylon bristles, this facial brush isn't suitable for sensitive skin types or dry-brushing newbies.
If you're looking for full-body exfoliation, try the Belula Premium Dry Brushing Set. Equipped with a dry brush for both the face and body, as well as exfoliating gloves, this $20 set gives you smooth, radiant skin from head to toe.