The Ghost Layers Haircut Trick Gives Fine Hair Subtle Shape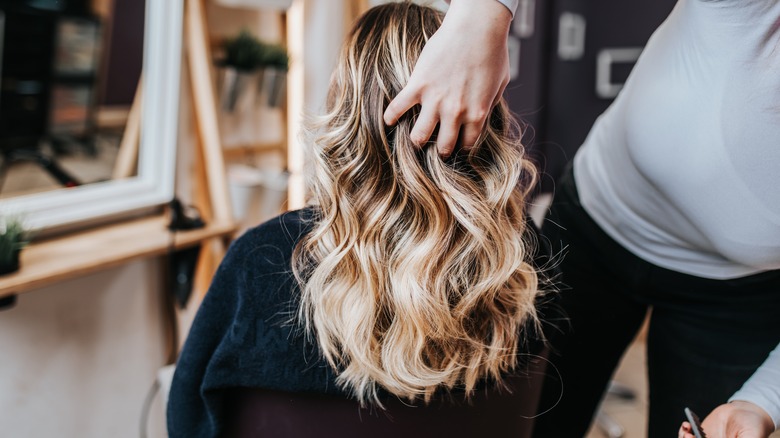 hedgehog94/Shutterstock
The struggle of having fine hair is real. Thick-haired people have their own hair problems (hello, heavy-duty brushes and long dry times), but a shortage of workable hairstyles is just not one of them.
Anyone with fine hair knows how hard it is to find a suitable hairstyle that won't make your hair look like it's about as thick as a sheet of paper. This couldn't be any truer than when it comes to layers. Adding layers to fine hair could spell disaster because there's not enough existing volume for a stylist to work with. Sadly, that means bouncy cuts are off the table, and voluminous hairstyles are simply out of the question for our fine-haired friends.
...Or does it? The latest haircut hack called ghost layers begs to differ. Although the name might sound a little spooky, trust us, these layers are more like Casper, the friendly ghost of haircut hacks. This haircut is the perfect trick if you want more volume and a defined shape for finer hair.
The trick behind ghost layers
The technique is called ghosting. The chilling name was coined by stylist Ramòn Garcia, the creator of ghost layers. Thankfully, it's not the kind of ghosting that leaves you feeling blue and confused. It's an inventive trick stylists use to create the illusion of depth to otherwise fine hair. And that's precisely how ghost layers earn their name: you can't actually see them.
This magician's trick was explained in detail during a Glamour interview with elite hairstylist Hollie Rose Clarke. "Only the very top horseshoe section of the hair is layered or sliced into to create the perfect tailored-to-you movement," Clarke divulged. Instead of layering all sections of hair, which is common with regular layers, ghost layers are only cut into the crown section of hair while leaving out longer layers to conceal the ghost strands. This builds depth and creates more movement. As an added bonus, diagonal cutting means retaining your length and getting whatever shape your heart desires.
How to style ghost layers
Our favorite part about the invisible layers haircut trend? As its originator, Ramòn Garcia put it during a chat with Mane Addicts; ghost layering is a cut that works for all hair types. Curly or straight, thick or thin, it doesn't matter what hair you have; it can be styled with ghost layers. We adore a haircut that anyone can rock.
Another huge appeal of this haircut (besides, you know, not making you cry over lost inches) is how many ways you can style the cut to make it look even more fabulous. For those with fine hair, we recommend asking your stylist for a more tousled look that will add dimension. 
Don't think you can't rock ghost layers just because you like to keep your hair short. As we said, and this stylish Instagram post shows, cuttable hair lengths and all hair types can absolutely get a glow-up with ghost layers added to the mix. You should definitely give this cut a go if you want your hair to look stylish without sacrificing volume.