Harry And Meghan Play Coy About Official Invite To King Charles' Coronation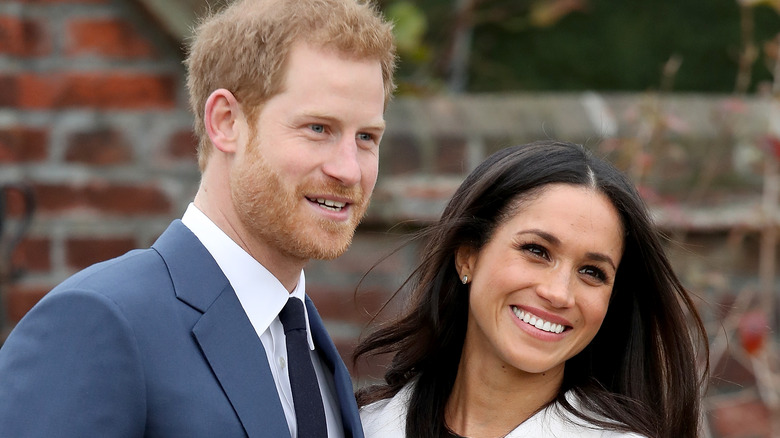 Chris Jackson/Getty Images
Shakespeare's King Lear famously said, "How sharper than a serpent's tooth it is/To have a thankless child!" Centuries later, that same quote could easily be applied to King Charles III. Although the British monarch, obviously, loves both his sons equally, Charles is said to be less than pleased by the recent actions of Prince Harry, the Duke of Sussex. Since his withdrawal from royal duties, Harry has used his newfound freedom to speak out extensively about his upbringing. 
As the world now knows, Harry feels he was dealt an unfair hand as the "spare" second son. Because he is lower in royal status than heir apparent brother William, Prince of Wales, Harry claims his needs and feelings were often ignored. He also alleges that his wife, Meghan Markle, the Duchess of Sussex, has been maligned in the press to make Catherine, Princess of Wales, look better by comparison. Keeping to the palace's stiff-upper-lip tradition, Charles has not responded publicly to any of his son's allegations. 
However, his recent decision to order the Sussexes out of their Frogmore Cottage estate may have been Harry's punishment for crossing Charles's one "red line" — speaking unfavorably about his wife Camilla Parker Bowles, Queen Consort. Some royal experts reckon that the king should send an even stronger message by not inviting Meghan and Harry to his coronation on May 6, with speculation lasting for weeks. We finally have an answer — he did — but now a new question is brewing. 
The Sussexes haven't provided an RSVP yet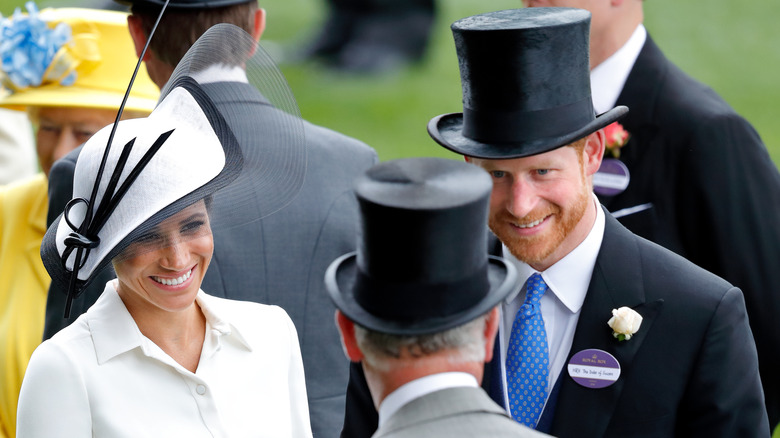 Max Mumby/indigo/Getty Images
On Sunday, March 5, the BBC and other outlets reported that Prince Harry and Meghan Markle have indeed been invited to King Charles's upcoming coronation. "I can confirm the duke has recently received email correspondence from His Majesty's office regarding the coronation," a spokesperson for the Sussexes said. "An immediate decision on whether the duke and duchess will attend will not be disclosed by us at this time." Evidently, it's a matter of unity vs. pride for the disgraced couple. 
The royal family has snubbed the Sussexes a number of times since Megxit and thus far they have refused to offer the apology Harry asked for during an interview back in January. But if he and Meghan decline, no matter how graciously, it won't sit well with Charles; plus, they're sure to get even more bad press as a result. As royal commentator Richard Fitzwilliams reasoned to the Daily Mail, "[T]he dilemma is theirs." 
Fitzwilliams continued, "They won't be missed if they don't come by much of the British public. However, if they don't, they risk appearing [irrelevant]. ... I suspect they [dare] not stay away. We shall see." If the Sussexes do attend, they'll be "strictly controlled" and their interactions with the royal family will be limited to small talk about the weather and other trivial matters. Any attempts at reconciliation will have to wait for another occasion.