Blush Contouring: How To Use Blush To Lift Your Cheekbones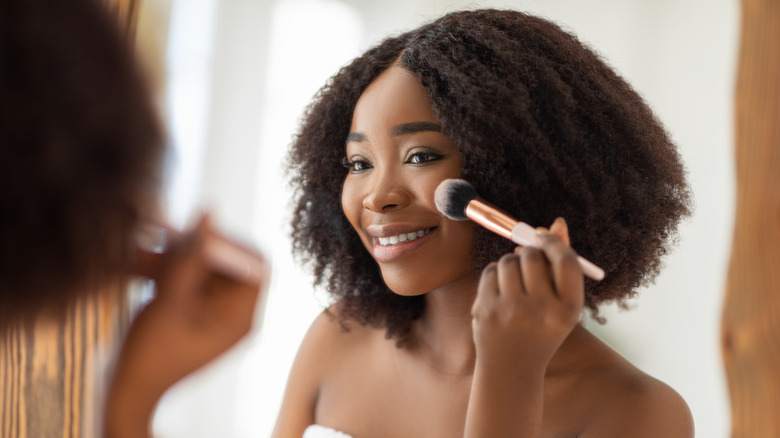 Prostock-studio/Getty Images
A good contour can make your face look instantly snatched. It adds definition and angles you didn't even realize you had. You've likely been working hard to perfect your contouring and bronzing game. It helps that there are dozens of different contouring hacks on TikTok to keep you on point. The newest viral craze won't have you reaching for your contouring kit though. 
Instead, it's time to give yourself a sun-kissed glow using just your blush. Blush contouring isn't hard. It simply takes your tried and tested contouring technique and gives it a rosy glow. But, rather than coming out of your contouring session giving off those sleek Kardashian vibes, you'll instead have a healthy-looking highlight that's sure to garner a few looks everywhere you go.
To make your skin look effortlessly radiant and dewy, you need to grab your favorite blush. The key to this look is to use your darker and lighter blushes to create contrast. Thus, there's a bit of a trick to getting the technique perfect. You want a sun-kissed glow, after all, not Ronald McDonald. 
How to contour with blush
The first step to getting a beautiful blush contour is to ensure you have the right consistency and different shades of blush on hand. As makeup artist Nydia Figueroa pointed out to Allure, "A powder can be used in a more natural way or dramatic way without much effort." However, several influencers on TikTok have demonstrated how to create a beautiful cherry glow with cream blushes. So, you should work with the product you feel most comfortable with.
Blush contouring comes in several different flavors. Indulge in just a cursory search on TikTok and you'll be bombarded with dozens of different application techniques. The easiest and most successful one around, for our money, is to add the blush along your temples, cheekbones, and tip of your nose. While you can apply it with a contouring brush, your finger works pretty well for the initial application. Then, just use a fluffy brush to blend it all out seamlessly. 
To get the most out of your contouring session, you'll want to play around with the application and technique too. Luckily, the online makeup gurus have also offered a few tips to give you a little extra pizzazz. 
Tips to get the perfect sun-kissed look
Not every face is created equal. Additionally, not everyone wants to contour theirs the same way. Fortunately, there are plenty of tips to help you get the perfect look for your face shape. For example, if you want to elongate or thin out your face, you might want to stay away from the apples of your cheeks. Focus your attention more on the outer edges to provide a little highlight and make your face look longer. 
When it comes to getting that perfect lift on your face, the cheekbones are where it's at. Another important tip to get the perfect touch of pink is to not go in with the brightest shade you have. You don't want your face to look scorched. Makeup artist Jillian Dempsey advised Allure that deep shades work best. She said to use "a contour shade with a touch of peach, deep apricot, or deep caramel tone, depending on the skin tone." 
No matter how you choose to contour your face, the perfect tone will help keep it looking natural and youthful. Keeping it light and using the best shade for your skin can keep you away from a blush contouring disaster. And always remember that blending is your friend. If in doubt, blend it out.