Aja Naomi King On L'Oreal Paris' Women Of Worth 2023 And Beauty Routines - Exclusive Interview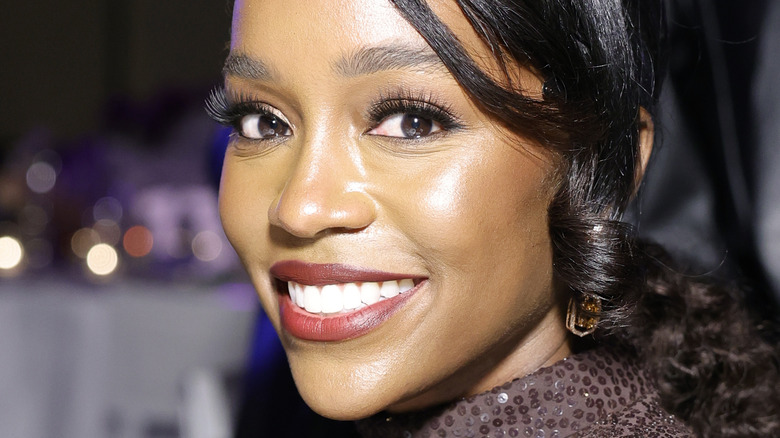 Stefanie Keenan/Getty Images for L'Oréal Paris
Aja Naomi King radiates beauty inside and out. The actress, best known for playing Michaela Pratt for six seasons on ABC's "How to Get Away with Murder," is also a brand spokesperson for L'Oréal Paris, a role she's held since 2017. 
As the face of L'Oréal Paris, King is involved with L'Oréal Paris' Women of Worth, a philanthropic program that, each year, honors 10 women as "Women of Worth." Each is awarded $25,000 to support their charitable cause, mentorship opportunities with the L'Oréal Paris network, and a national platform to help promote their cause. The women are honored each year at a special end-of-year celebration. This year will be no different, with King hosting the 2023 special event just as she did in 2022 — People even obtained exclusive photos from last year's event.
With nominations for the award open until March 8, King spoke with The List all about her love for the brand, how the charitable program supports women benefiting their communities, and how you can nominate a deserving woman you know.
Her role with L'Oréal Paris Women of Worth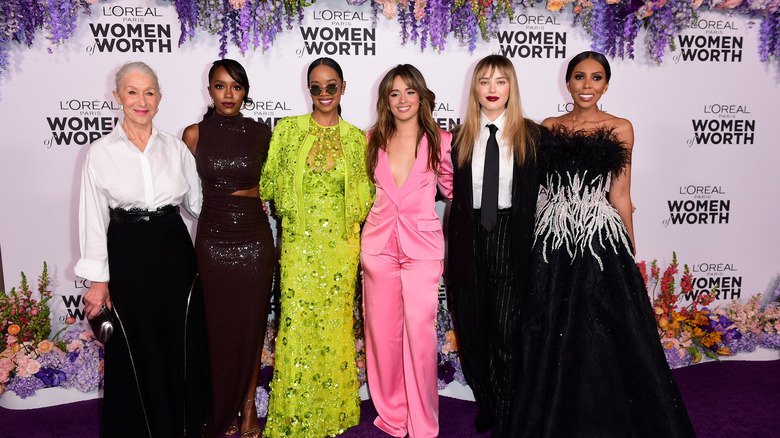 Vivien Killilea/Getty Images for L'Oréal Paris
You've been a spokesperson for L'Oréal Paris since 2017. How did you first get involved with the brand and with its Women of Worth program?
My relationship with L'Oréal Paris actually dates back to when I was a child. I used to watch my mother put on makeup in the morning, and she had her L'Oréal lipstick. Watching her go through what felt almost like a ceremony of preparing herself for the outside world was a remarkable experience for me and taught me a lot about how I look at beauty today and what it does for people.
Cut to 2017, I had the amazing privilege of becoming a spokesperson with them, which has been a phenomenal experience because I have learned so much about what L'Oréal does as a global brand that I didn't know before, like this Women of Worth program. I had no idea that for more than 18 years, L'Oréal Paris Women of Worth has been this philanthropic program where they take the time to highlight and honor extraordinary female nonprofit leaders who selflessly volunteer their time to uplift and serve their communities.
Being in this space with these women and learning more about what they've accomplished — the lives they've been able to positively impact — gives you so much hope for us, hope for all of humanity. These women ... [are not] super well off or have tons of access. [That's] part of the problem on the most basic level. There's a lack of funding and awareness for these nonprofits to get a jumpstart. By L'Oréal Paris elevating them, it sends this clear message about how community-based projects are compelling and transformative and worth it. If you ever get an opportunity to be in a space with these kinds of honorees, it's truly life-changing.
As part of your role, you have helped select the winners in the past. What about this year?
Last year, I had the opportunity to take part in narrowing down who would be the 10 honorees ... There were so many submissions, so many incredible women doing such fantastic work. It was hard to narrow it down to 10, [because] our class of honorees last year was incredible. This year I will, [as] in years past ... lend my voice and platform to continue to amplify what the program is about, what these incredible nonprofit leaders are doing, so they can get the recognition they deserve and help other people learn about their programs and get involved so we can all take a hand in helping make progress and [create] change for people in communities all across the nation.
What key qualities does the program seek in its applicants?
What we're looking for are true change makers who are building something that can be expanded. Many of these organizations start in their local communities, but can be taken to a national level, which is great because a lot of them have, [for example], dealt with food insecurity or with helping our frontline healthcare workers. It's more about the impact each organization is trying to achieve and how L'Oréal can best amplify that. Bottom line, what we're looking for is tremendous passion and heart, which is what fuels these organizations in the first place, because these women take on these years-long challenges to get these programs running. We're looking for passionate women trying to expand their outreach.
The impact women can have on their communities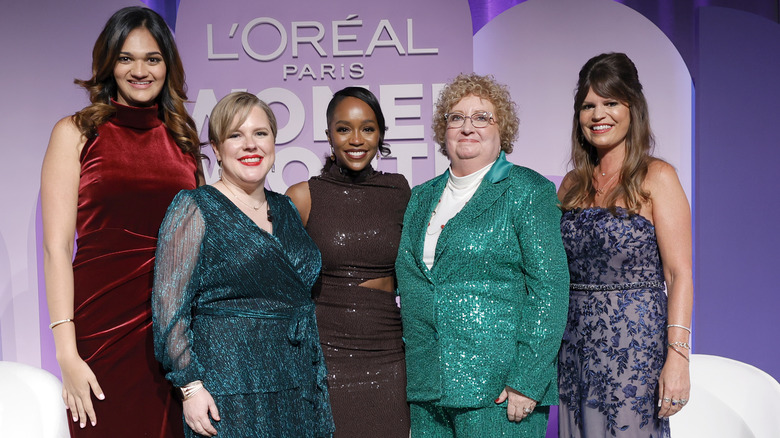 Stefanie Keenan/Getty Images for L'Oréal Paris
What do you find most enjoyable or inspiring about your involvement with the program?
A lot of the time, these women have created organizations to help people that are [not what] I ever thought of. I am in awe, because I was so ignorant as to what some needs truly were in some communities. For instance, Susie Vybiral, one of our honorees from 2022, has an organization, Room Redux, where she goes into the homes of children who have been abused, and she redecorates the entire room so that it is no longer a space that reminds the child of abuse that might have occurred there. It helps to empower the children to be able to move past what has happened to them. 
I hear something like that, and I'm like, "Oh my God, I never would've thought of that." How essential is that — to be able to make your environment, especially the environment of a child, feel safe? That's one of our honorees from last year who's doing such incredible work.
Another woman, Mindy Atwood from Patches of Light, helps parents whose children have received a medical diagnosis where there are going to be a lot of long-term medical bills and [other expenses]. She helps them pay their other bills to make sure they can keep the lights on in their own home, assists with their food bills, things like that, which I never would've thought of. It's these women who make sure people who are truly struggling are being seen and heard and helped in ways that people like you and me may not understand or know about, which is why it's so tremendously necessary to amplify their work to help them have a larger impact to help more people.
Now through March 8, International Women's Day, everyone has the opportunity to nominate a nonprofit leader in their local community for a chance to be named one of the 10 L'Oréal Paris Women of Worth honorees. [It] is truly amazing because not only do they receive $25,000 to support their charitable cause, but they also receive mentorship opportunities with the L'Oréal Paris network and community as well as a national platform to amplify their cause.
That is amazing to hear you talk about it. What a great opportunity.
Yes, just go to womenofworth.com now through March 8, because I am sure we all know a woman who is impacting massive change in her community, and she deserves to be honored.
What other projects are you currently working on?
I just wrapped a project that I'm really excited about for Apple TV+ called "Lessons in Chemistry." It's me and Brie Larson, and this is going to be amazing. It's set in the '50s. It's based on the book "Lesson in Chemistry" by Bonnie Garmus. It's such an incredible story of community ... the way in which we share each other's lives and how we're a benefit to one another and how we're stronger together when we're able to find our community and what we can achieve together. Especially since it's set in the '50s, there are a lot of obstacles to overcome as women trying to get things done and make a better impact on the lives of others. It's an incredible story, and I'm really excited for it.
How her personal makeup and skincare routine is a form of self-care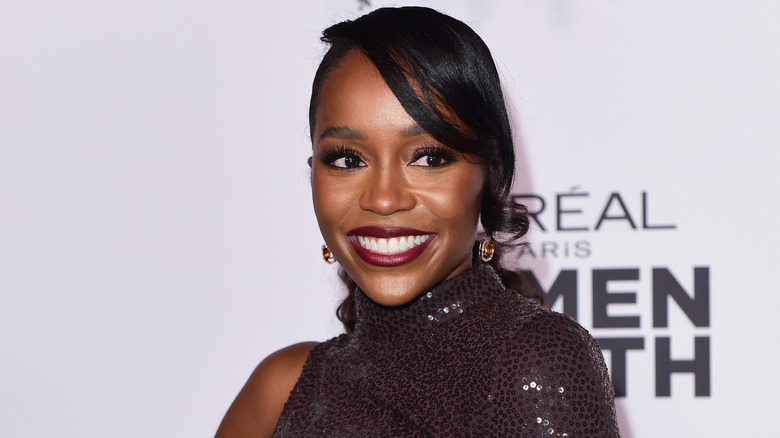 Vivien Killilea/Getty Images for L'Oréal Paris
You spoke about watching your mom with her beauty routine while growing up. What's your own beauty routine like? Has it changed at all since becoming a mom?
I shouldn't say my beauty routine has changed since I've become a mom. It's more that my feelings around having a beauty routine evolved since I began my journey into motherhood. I've known about Revitalift for many years, and it's been an essential part of my beauty routine. When I became a mom, I fell into that same trap a lot of women fall into where you feel like you must sacrifice everything and only focus on your child. I had to be reminded that spending time on myself also matters, that I matter, that I am also worth it and deserving of this time ... to make myself feel special ... That's what it has been for me.
In the morning, I love to wash my face and then use my Revitalift Vitamin C serum and my Revitalift hyaluronic acid serum and take the time to massage them into my skin. Not only are they amazing for my skin, I credit these products for the evenness and the plumping and the moisture, and it also makes me feel good. I know from getting makeup done, the way in which the makeup artist will start by massaging your face, that is the gift I have given myself using these products and doing a little massage to feel special and wake up my face and make my skin feel good. I love giving that to myself in the morning. 
I love my True Match foundation. I love how easy it is to apply and how blendable it is with my skin and that I don't have to think about it. I can just put it on. I'm obsessed with my telescopic mascara. That's typically [my favorite way to] start the day. [It makes me] feel like me. It feels really good to enter the day with. Then, I can go be a mom and give my son the energy he requires but also know I held something for myself.
It's much the same in the evening, which is a lot more peaceful because he's asleep. I get to wash my face and put on my hyaluronic acid serum again ... as well as the Revitalift water cream. I love putting that on at night and layering it on so I can feel it soak into my skin overnight. It feels good to have great skin, and it makes putting on makeup even more fun because I feel like I'm glowing. I'm flawless.
Thinking about it as a form of self-care is great because it often feels like washing our face at night or our nighttime routine is just another thing we have to do in the day.
Yes. Everything is so "go, go, go." We can't live our lives pushing ourselves into the next thing. We deserve to take a minute, a moment of stillness to check in with ourselves. It's vital.
L'Oréal Paris Women of Worth, now in its 18th year, is calling on people across the nation to nominate a fearless female non-profit leader for a chance to be one of 10 honorees inducted into this year's class and receive a $25,000 grant to help advance their charitable causes, mentorship, and a national platform to grow their grassroots organizations. Nominations are open through March 8, International Women's Day, at WomenofWorth.com.
This interview has been edited for clarity.